Earthmoving expertise from Eagle Equipment
---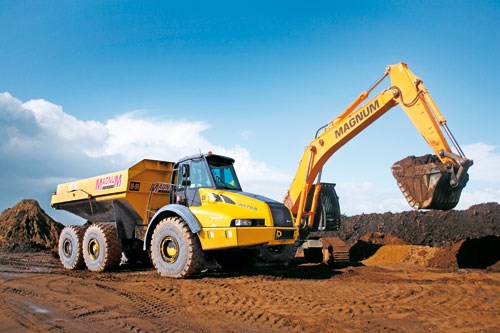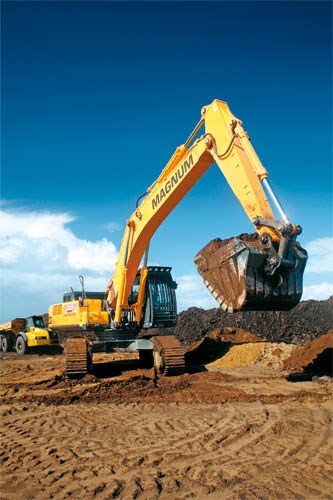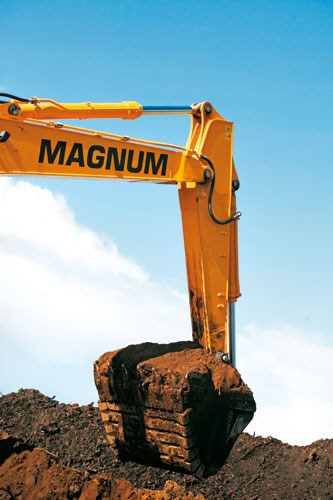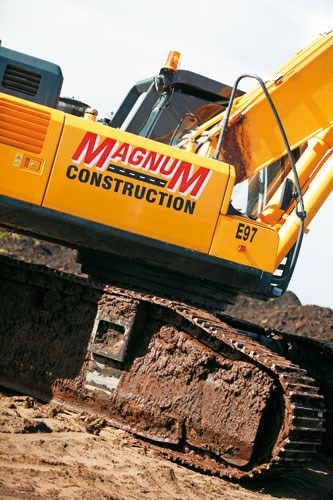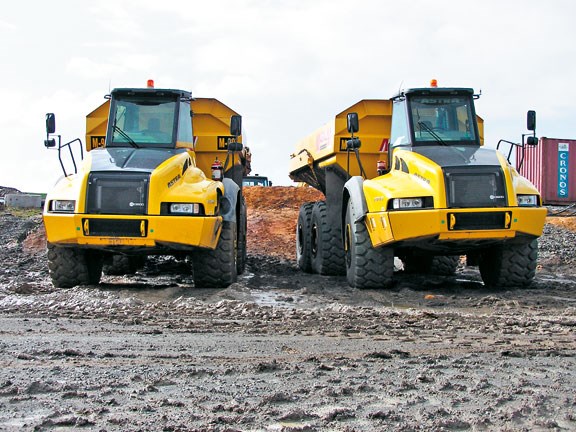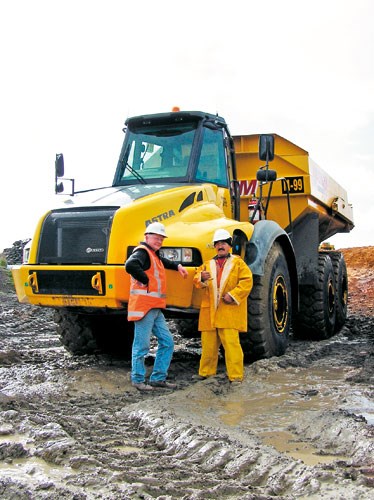 Machines have always made the earth move for Magnum Construction Ltd's assistant general manager, David McKelvey. Also a civil engineer, he recalls clambering into his first bulldozer as a keen, gangly teen in the 1960s. "Everything was hand operated back then," he reminisces, "you had to be strong to wrestle with the gears and levers. They [bulldozers] didn't have cabs, and air conditioning was whatever nature threw at you."
The construction industry, of course, has gained a lot of ground since then.
A Te Kauwhata-based business, owned by Nolan Magee and his family and employing around 30 staff, earthmoving contractors Magnum Construction Ltd operate a large fleet of 40-tonne articulated dump trucks (ADTs), excavators up to 80 tonne, bulldozers, motor scrapers and 50-tonne, rigid dump trucks.
Highway road construction, industrial site development, mine contracting and quarry stripping all help the fleet to earn its keep. The company is currently rebuilding 20km of unsealed State Highway between Cape Reinga and Waitiki landing. It is also involved, alongside HEB contractors, in a large industrial subdivision in the Marsden Point area.
Closer to home, Magnum Construction has spent the last three and a half years working for Solid Energy and HWE Mining at the Rotowaro coal mine complex, around 10km west of Huntly.   
            
Once a small, underground mining township, the Rotowaro complex consists of three present day open-cast mines: the Waipuna mine – now backfilled; the Township mine – currently in the process of being backfilled; and the current mine Awaroa no.4. 
Magnum Construction's role at Awaroa no.4 has recently seen the company purchase two Astra 40-tonne, six-wheel-drive ADTs from Eagle Equipment Ltd. Relatively new to New Zealand, the compact, maneuverable trucks are ideal for taking the last of the overburden off the top of a coal seam. "They're relatively small compared to the up-to-230-tonne rigid dump trucks the mine operates," McKelvey explains. "They need big gear to move the bulk from the top. We go into tighter areas and do all the fiddly stuff where the coal ducks and dives at the bottom of the pit."      
Muddy working conditions are often a problem at coal mine sites, and Rotowaro is no exception. Haul roads made from fireclay, a type of mudstone generally found around coal deposits, quickly turn to slush when it rains.
"It [fireclay] is extremely unpleasant stuff to work with," says McKelvey.
"Under the ground it's really hard, but it weathers rapidly, breaking down into mud once it gets the sun, wind and rain on it. It's got no guts."     
The Astra trucks, however, have plenty of guts. Because they are six-wheel-drive they have few excuses for wet days off work – even in the roughest New Zealand conditions. Roaring on three axles through the soupy, winter fireclay, while their bigger, two-wheel-drive counterparts can only watch in wonder and hope for sunshine, they've proven they have what it takes to get the job done.   
In terms of serviceability however, McKelvey admits the jury's still out. With only a few hundred hours under their sleek, yellow bonnets, the trucks are just too new to judge. The operators, on the other hand, have already delivered their verdict. "The guys are saying they're very nice and very comfortable to drive. They have all the bells and whistles – air tight cabs, so they're not breathing in coal dust and other nasties, modern radios… It's like when you go and buy a new car and it's the bee's knees. That's what it's like with the guys."  
Also brand new, popular with the guys and laden with assorted bells and whistles, is the 50-tonne Hyundai excavator Magnum Construction purchased from Eagle Equipment at the same time as the Astra trucks.
The company now own three large Hyundai excavators, all of which have had the benefit of quick, efficient service from Eagle Equipment Ltd should any problems arise. It's partly because of this service Magnum Construction has such a long association with Porter Group Ltd. "One of the reasons we continue to use Porter Group is because of their professionalism, availability, their policies and the way they treat their customers."     
Although a "figures man" for the company, McKelvey's still passionate about working with big machinery. "It's why we do it," he grins.
The company's new Astra 40-tonne, six-wheel-drive ADTs, are a long haul from anything he could have imagined as a youngster choking on dust and wrestling with the gears and levers on his open-air bulldozer.  He's seen a lot of soil shifted during his working life and knows there's a lot more earth to be moved in the industry yet.
"Machines are all electronic now, you just push the buttons and away she goes. We had oil pressure and water temperature gauges, if there was a problem – you couldn't miss it. Today's operators call up and say the machine just stopped, or the light's come on in U123, or whatever – `what's that?,' they ask. The next thing, of course, will be machines operated by remote control, it already is. That's the way of the future."
Keep up to date in the industry by signing up to Deals on Wheels' free newsletter or liking us on Facebook.