A long shot with great results
---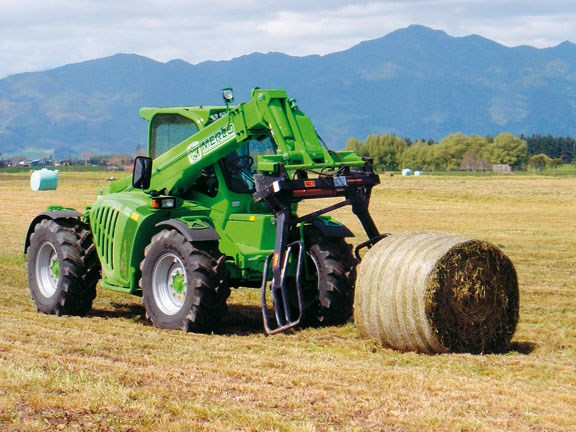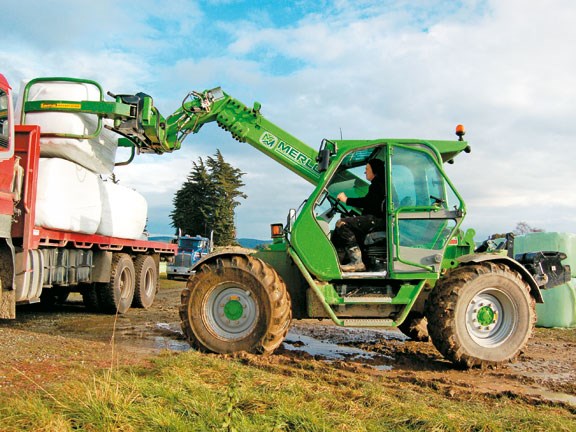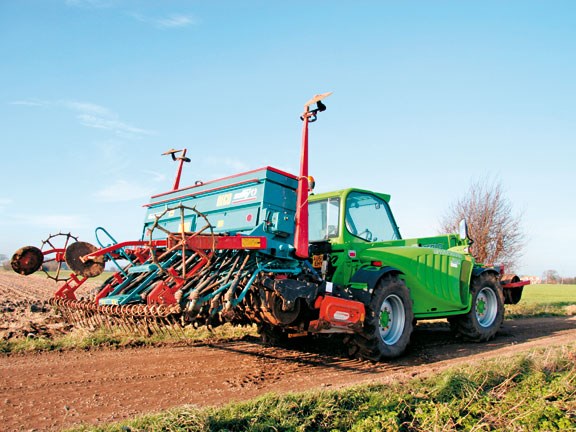 When Milton Haymaking contractor Tony Scanlan was first looking to replace one of his front-end loaders, he never thoguht of getting a telehandler...
"They had featured prominently at some of the field days I'd attended but I considered them a specialist machine that could only perform limited lifting functions," says Scanlan.
When Peter Watt Machinery – the local Powerfarming outlet, showed Scanlan the Merlo machine with a three-point linkage, he had to take a second look.
As a contractor, Scanlan had no room for a prima-donna machine; he was interested in plant that earned its keep all the time. What appealed most to Scanlan was that the Merlo Multifarmer was not only a telehandler, but a 100hp tractor complete with PTO and three-point linkage.
"I was only half convinced in the early days of ownership, however now that I'm used to the machine my opinion has changed.
"It is far better at loading bales than the tractor front end loaders, being faster and more manoeuvrable and, let's face it, truck drivers always manage to stop in the worst places possible. We use it regularly with a tedder or swather instead of a dedicated tractor. It has a good road speed of 40kph and is rigged for a trailer, so for limited range deliveries of bailage you can deliver and unload with only one operator.
"While I don't have a measurement for productivity, it certainly has made the job easier."
The long reach boom is handy for other jobs like fitting beams on sheds, and Scanlan has purchased a man cage for working at heights. A recent purchase is a concrete mixer that will also dump the concrete wherever it is needed as well. According to Scanlan it must be useful, as he has clocked up 500 hours on it so far.
Merlo has recently launched a second Multifarmer machine only two metres wide and 2.2m high that offers real versatility by going where even a tractor will not fit. It's not only for contractors, because farmers with feed lots who use a telehandler can speed up loading, and with the ability to use the Merlo for other farm duties, the Multifarmer may fit the bill.
With the increasing mechanisation for today's feeding systems, a farmer needs to minimise the time required to load the feed mixers and get the animals fed on time. Powerfarming's Ken Bill reckons nothing is faster than a Merlo.
"With its variable speed range from 20 metres per hour up to 40kph transmission, the drive is smooth and precise and heavy tasks are done effortlessly via a left-hand reverse lever and the foot throttle."
Whether it's loading the mixer, the silage trailer or the muck spreader; or handling round, square, or pit silage, you can't go past a machine made for the job.
"Farmers these days don't do much ploughing," says Bill. "Instead, something like 70 percent of their work involves handling-type operations, and a tractor was needed for anything that required a rear linkage or PTO. Well, here's an alternative to the tractor mounted FEL and it's a machine that gives you more reach, better manoeuvrability and more lift capacity, as well as basic rear linkage and PTO facilities."
The Merlo was the first machine with the specially designed chassis that integrated three point linkage and PTO with a telescopic boom. It is capable of lifting 4.3 tonnes on the quick hitch rear linkage, and with a 540/1000rpm PTO incorporated it can tackle most farm jobs done by a normal 100 hp tractor. The main lift is parallel, and the front end attachments are coupled and uncoupled from the driver's seat via Merlo designed "Quick Tac", which first appeared on Merlo over 30 years ago.
Standard features on the four models available are: a new spacious cabin, climate air conditioning, boom suspension, diff lock, electro engage PTO and radial tyres.
Murray and Christine Ferris of Piriaki Farms in Taumaranui, 200km south of Hamilton, were so happy with their 30.6 Multifarmer, they bought a second one. They believe they have, quite literally, transformed the working process, giving savings in both manpower and machinery. Their 170-ha main unit is an all-grass system with 560 milking cows, a stocking rate of 3.1 cows/ha. They also have some 140 replacement heifers and 140 bull calves, so there is no shortage of work for the three full-time workers.
Murray estimates that 25 percent of his machine's work requires the three point linkage and PTO.
"We have a 16m3 silage feeder and have used a spray tank and seven disc Kuhn mower on the back," says Murray. "And we've adapted a local Pearson grader blade so we grade and maintain all the races on the dairy block. We load about 1000 tonnes of pumice annually for race maintenance."
Two other inventive adaptations make common tasks a single man operation. An 800 litre 60 teat calf feeder has been fitted with fork pockets so that it can be lifted over a hedge and dropped neatly into a field. At the end of the feed it is simply lifted out, obviating the need for controlling and stressing the calves during the process. Similarly, a calf tray holding 20-30 calves can be picked up and the calves transported and unloaded without further handling.
"It's just in use all the time" says Chris.
"Obviously there's a lot of simple pallet work unloading calf meal, but they can pull up posts, and they're wonderful for trimming trees, handling and stacking bales and makes a really neat job of squaring up the silage stacks making covering much easier."
As there's a run-off block two kilometres from the main farm, the 40kph road speed is useful and Murray appreciated the boom suspension option for travelling on bumpy roads.
Although telehandlers from Cat, Manitou, JCB and John Deere are or were on the market, it is only recently that PTO and three point linkages are on offer from Landini and New Holland.
Keep up to date in the industry by signing up to Deals on Wheels' free newsletter or liking us on Facebook.