Sumitomo Dash 5 fuel savings impress
---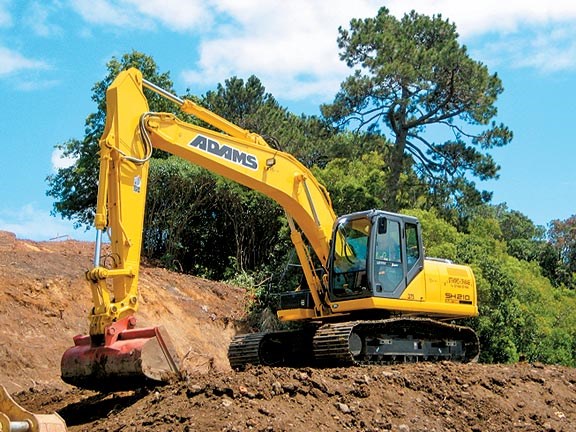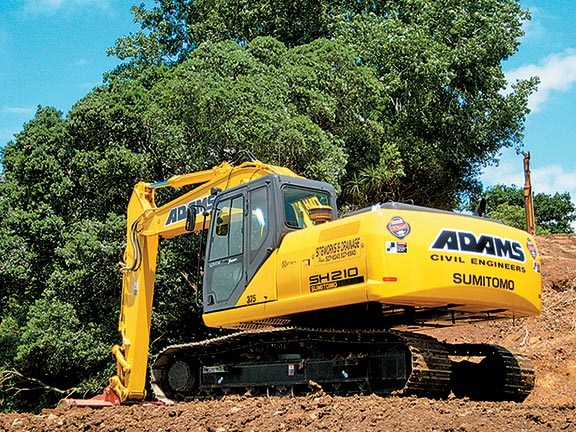 New Zealand distributor AB Equipment recently delivered a Sumitomo 210-5 excavator
Fuel consumption savings have been impressive," says Managing Director Michael Adams. "The Sumitomo SH210-5 uses 25 per cent less fuel on average than we use on other machines. At this rate, if we could apply these savings across our entire fleet, we would be able to purchase a new excavator every year."
Adams Landscapes are part of the Adams group of companies providing a complete package of general and civil work from drainage to moving dirt.
The company also owns a quarry at Beachlands and were the first to introduce a concrete recycling operation.
The Sumitomo-5 Series excavator, which was introduced by AB Equipment earlier this year, has been described as a very well packaged excavator that combines exceptional performance with lower operating costs and improved operator comfort.
This is achieved firstly though the introduction of the Space 5 Advanced Engine System, which is a powerful system that is specifically designed to deliver improved durability and reliability.
Secondly, the SIHS (Sumitomo Intelligent Hydraulic System) is designed to improve the operators workload with an eight per cent increase in bucket digging force, a 24 per cent increase in bucket closing speed, a four per cent increase in traction force and a seven per cent improvement in arm closing speeds under heavy excavation, with a five per cent increase in workload performance using SP (Speed Priority) mode.
Operator comfort in the Sumitomo Dash 5 is a prime consideration, with improvements to every aspect of the cabin space, including a larger work area, increased visibility and lower noise levels. Adams excavator operator Jason Cairns, who has clocked up over 30,000 hours, can't believe how quiet and easy the Sumitomo is to operate. "Usually it takes time to familiarise yourself with a new machine, but in this case there was none of that." 
The quick and smooth control response, coupled with Sumitomo's multi-functioning capability, when using the attachment, slew and travel, the operation is excellent, without any loss of travel speed momentum.
Other interesting aspects of this well packaged Sumitomo Dash 5 excavator are the high performance filters keeping the hydraulic oil at its optimum, increasing hydraulic component life, providing less downtime, and further reducing costs.
Improved EMS (Easy Maintenance System) keeps the pins and bushes lubricated at all times, minimising wear and further extending their life.
Safety is also a key part of the Sumitomo, with the inclusion of an anti-theft system as standard, as is the easier entry and exit from the cab and better access to the upper structure, which are all designed to provide the operator with more protection.
Sumitomo manufactures a range of excavators from 7500kg to 80,000kg.
Keep up to date in the industry by signing up to Deals on Wheels' free newsletter or liking us on Facebook.