Safety: Sika event
---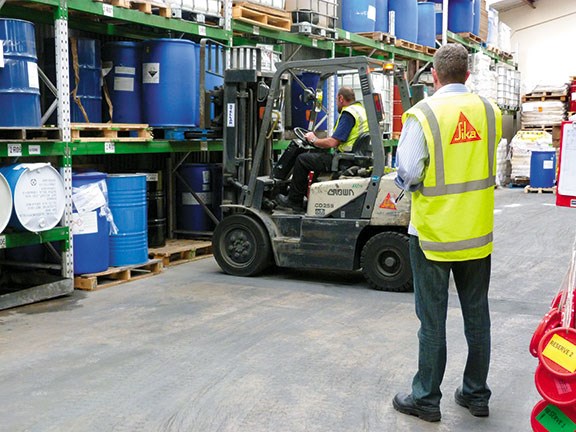 Operations manager and Sika Safety Day organiser Allan Hunter assessing warehouse supervisor Steve Kerr, as part of the forklift competition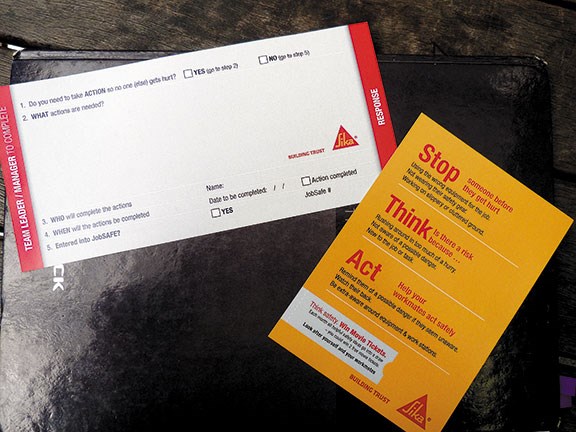 The names of Sika staff members who contribute innovative safety ideas participate in a monthly movie ticket draw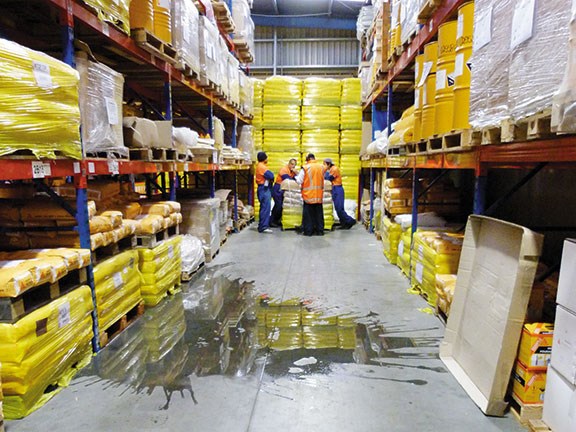 Water was used to simulate a chemical spill in the warehouse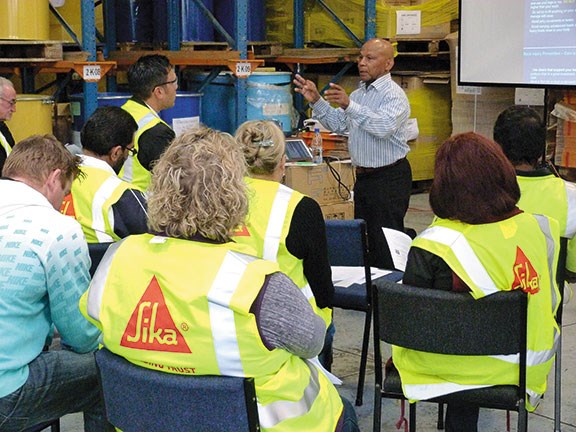 Weightlifting legend Precious McKenzie MBE uses humour to reinforce the importance of safety in the workplace

It's a Sika corporate initiative that all companies in the group worldwide devote an entire day in the second week of September to safety in the workplace.
The delivery of a training schedule for the day was the responsibility of Sika NZ operations manager Allan Hunter, who quickly set about gathering together a number of health and safety professionals to deliver a programme relevant to each department within the company, at the same time as being interactive and interesting.
The day's events were divided into four separate segments which were specific to different areas of the business and were identified as the 'biggest risks' within the organisation.
The four segments covered were spill management, driver training, workstation ergonomics and back injury prevention. However, due to time constraints, 'Lock out — Tag out' which is aimed at making machinery and plant safe during servicing, was to be covered on a separate day.
Completely by coincidence, Chris Campbell of National Standards training company, AMS Group, who contract to Sika, was in Auckland providing training to Sika staff and was able to see first-hand that his training was being put to good use.
Hunter, he says, is a strong advocate of providing all his staff with a high level of training in every aspect of the Sika operation.
Spill management
This was the first session of the day in which 20 litres of water was deliberately spilled in the warehouse and groups of four staff members were given a check-sheet containing a random set of action-steps which they needed to number in order of priority.
The spilled water in this scenario represented a particular Sika solvent-based product. The same pool of water was used in a second scenario in which it represented a leak from a container stored on racking but this time with different characteristics, requiring a different set of priorities.
The group then reassembled in the transport yard, where a forklift tine had supposedly pierced a 1000-litre tote of yet another product which was placed on the back of a truck. However, in this instance, emphasis was placed more on containing the spill and minimising the leak.
Other items covered in this segment were a 'refresher' on how to call for specialist services (Fire, Ambulance etc.) placement of fire extinguishes and alarms and how to find material safety data sheets (MSDS).
Driver training
This segment was aimed at drivers of company vehicles. The 2.5hr session was held as a classroom format, as it would have been impossible to have given practical tuition to the thirty or so attendees in the given timeframe.
However, David Bishara from the AA conducted an interesting mini-seminar focusing mainly on driver behaviour. One of the many tools he used was a video clip of a vehicle travelling along a country road.
The object of the exercise was to see if the audience was paying attention to what was coming the other way, along with any other potential hazards.
At the beginning of the session everyone had the opportunity of participating in a 'scratch' driver training test, in which several participants obtained 19 out of 22.
A useful tool found in the compendium provided by AA was a reaction-time card which is graduated in five coloured segments marked from 'Pretty Good' to 'Hello? Wake Up!'.
The idea is to get someone to hold the card vertically and let it go, to see if you can catch it between your thumb and forefinger before it gets to 'Hello? Wake Up!'.
I suggest you get hold of one of these to find out just how quickly you can react. It could be an interesting exercise.
Workstation ergonomic assessment
While Sika NZ conducts workstation assessments on an on-going basis, Allan Hunter and his team must have considered this segment of the operation to be of such importance that he asked Kate Rensen, occupational heath nurse, to give some general pointers on staying healthy. These included how to maintain a correct posture while carrying out sedentary work and to explain the correlation between good posture and a healthy muskuloskeltal system.
During her session, Rensen focused on the importance of taking what she referred to as "micro-pauses", where the worker takes ten seconds or so, every three-to-five minutes, in order to break the repetition of typing, writing and the like.
During this pause you may be performing the likes of flexion/extension (chin down/chin up) exercises, along with finger stretches, shoulder circles and wrist rotations. All of this, she says will help to reduce the build-up of lactic acid and will minimise the opportunity for symptoms of pain and discomfort associated with repetitive work.
She also spoke of giving the ciliary muscles of your eyes some exercise, by taking a break from the computer monitor and looking out the window, even if it's just for a second or two. Your eyes, she says, are not designed to gaze at a fixed distance for too long.
Rensen says variety is the name of the game. Alter your sitting posture or get up from your chair and walk around the room every fifteen minutes or so. Clock-watch if necessary to ensure these breaks are taken– it'll make you more productive. Another piece of great advice she gave was to take a short walk at lunchtime.
Some of the other key points included in the presentation were:
Ensure the workstation set up is adjusted to meet your individual needs
Familiarise yourself with the adjustable features of equipment provided
Stress associated with both work and non work factors may contribute to discomfort.
For more information email info@sosafe.co.nz.
For the latest reviews, subscribe to our Deals On Wheels magazine here.
Keep up to date in the industry by signing up to Deals on Wheels' free newsletter or liking us on Facebook.