Event: New Zealand Contractors' Federation conference
---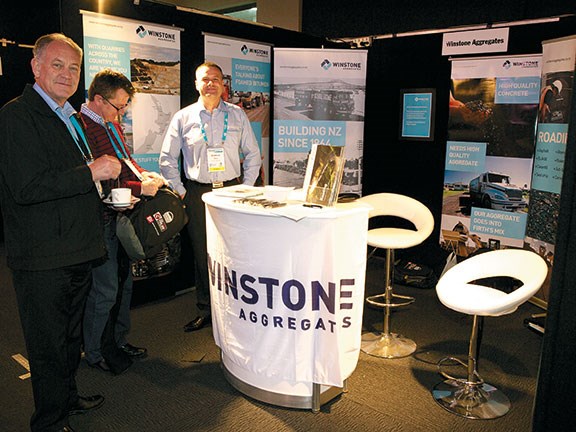 The trade show is always a popular part of the NZCF conference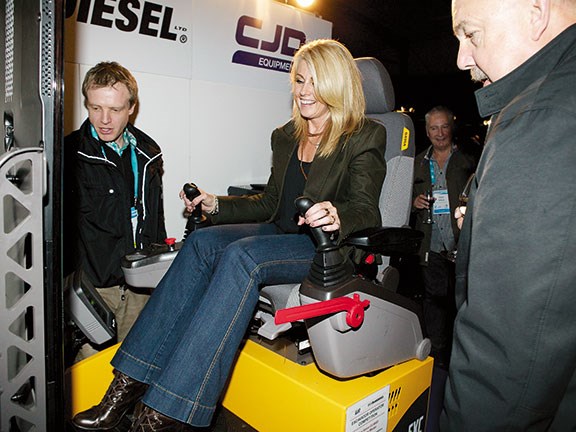 Transdiesel had a Volvo simulator there to play with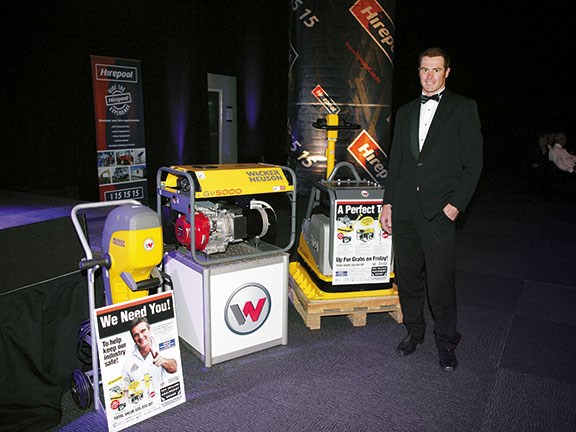 NZ Equipment Group auctioned off equipment with proceeds going to the NZ Construction Safety Council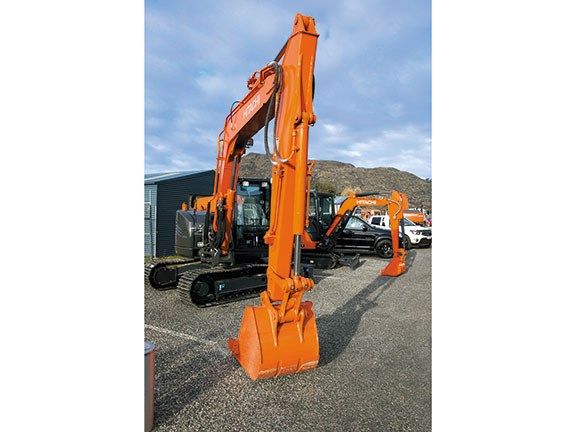 No contractors conference is complete without some machines to look at

This year's New Zealand Contractors' Federation conference saw Australia's Civil Contractors Federation join forces with its Kiwi counterparts for three days of guest speakers, great innovations... and good wine in Central Otago.
There's a casino in Queenstown these days, although in our minds the real gamble in holding the 2013 New Zealand Contractors' Federation (NZCF) conference in New Zealand's pre-eminent winter playground would be packing the three-day program with enough diverting speakers, activities and insights to stop assembled delegates spending their entire time staring out of the windows at the scenery.
Make no mistake: that scenery really is breathtaking (every time we're lucky enough to get to Queenstown, its alpine vistas stop us in our tracks), but thankfully for all concerned the conference organisers managed to engineer a packed schedule of guest speakers and a great line up of exhibitors, as well as plenty of opportunities for a beer and a catch-up with acquaintances old and new against the stunning backdrop of the Remarkables and Lake Wakatipu.
Of course, the big change this year is that our own NZCF conference joined with the Civil Contractors Federation (CCF) of Australia. Rather than jokes about worrying sheep or underarm bowling, though, the ANZAC spirit was evident from the very start: everyone, including Joe Edwards and Ross Barrett (current NZCF and CCF presidents, respectively), commented at large about the idea sharing and networking potential of bringing contractors and peripheral businesses from both sides of the Tasman together.
The idea really seemed to work well and we wouldn't be surprised if this year's conference will form the blueprint for those in the years ahead.
As to be expected, both the extensive list of companies occupying the exhibition hall, as well as the line-up of guest speakers on stage represented both Aussie and Kiwi interests thoroughly.
In the exhibition hall the likes of Kiwi stalwart Hirepool could be found directly opposite Aussie outfit Coates Hire. New South Wales headquartered Reinforced Earth Ltd neighboured with our own Winstone Aggregates, and operations with offices on both sides of the ditch — KernMobile, MAPEI, Groeneveld and Interbloc to name a handful — occupied conjoined floor space, reinforcing the idea that our twin industries have many similar players and environments, as well as challenges.
Under the bright lights on stage, the familiar face of MC extraordinaire Greg Ward presided over events (so omnipresent were his booming tones throughout, I wouldn't be surprised if more than a few delegates went home at the conference's conclusion still hearing his voice interrupting their thoughts). This year, though — and again reinforcing ANZAC unity — Ward tag-teamed with Australian financial journalist and fellow MC, Michael Pascoe.
Together they ushered a wholly impressive line-up of guest speakers onstage. Following Queenstown Mayor Vanessa Van Uden's formal welcome (in which she queried the Freudian nature of 'Queen' as a dress-up theme for this year's NZCF/CCF Contractor's Dinner), Kiwi political journalist and analyst Colin James and Michael Pascoe — wearing his media hat for a moment — gave their thoughts on the political and economic climates in their respective countries.
On the New Zealand side of the coin, James' assertion that we should be reimagining ourselves and our offerings as 'fresh, safe and natural' on the world stage — rather than the increasingly hackneyed 'clean and green' — was an interesting one. Where he suggested New Zealand's economy is relatively stable at the moment (albeit heavily tied into advancing economies like China's), Pascoe believes Australia needs decent infrastructure policies — something no party has any interest in looking at before the general election — to aid future economic growth outside of the all-conquering mining boom.
Next up, former Hirepool CEO and Hunter Powell Investments director Tenby Powell focused on New Zealand's vibrant SME companies. With 54 percent of NZCF member companies fitting into the SME category, his was a message that resonated around the conference hall. Powell's point that businesses boasting fewer than 50 staff members employ over half of New Zealand's workforce certainly underlined the need for renewed focus on small business innovation.
Day one of the conference also included presentations dealing with new technologies, workplace health and safety and also a look at best practice within civil engineering: citing as an interesting example Transpower's complex, wide-ranging Wairakei Ring transmission line replacement project. Construction manager Peter Rasul took delegates through the $141m project, which employed exclusively Kiwi companies and sub-contractors in installing 105 new towers and 41km of transmission line, in the largest project of its type staged here since the 1960s.
And that was just day one...
Day two's business sessions included Aussie adventurers Cas and Jonesy on tackling challenges (using fascinating details of their epic unsupported return trip to the South Pole as an incredible example of overcoming adversity) and Perlina Thomas from New Orleans District Louisiana Associated General Contractors, who gave delegates an overview of the devastating Hurricane Katrina and its aftermath from both a social and civil construction viewpoint.
Her topic covered a remarkable event of one sort, but this year's NZCF (and CCF) conference was certainly a remarkable event of its own: a positive, engaging, enjoyable three days spent with some remarkable people in an equally remarkable location.
For the latest reviews, subscribe to our Deals On Wheels magazine here.
Keep up to date in the industry by signing up to Deals on Wheels' free newsletter or liking us on Facebook.