Greater diversity is fundamental to Road to success
---
The Te ara ki tua Road to success programme welcomes a more diverse range of applicants and the traineeship is opening doors to a new pool of entrant drivers.
For operators, joining the Te ara ki tua Road to success programme may ultimately be about filling a spot on their driver roster. However, for those businesses already involved, the traineeship has opened doors to a new pool of entrant drivers that are not typical of our industry and represent a much more diverse future workforce.
Road to success not only welcomes but is also already achieving a diverse range of applicants who we would not traditionally associate with road freight transport.
School leavers, career changers, women, Maori, Pasifika, refugees, and migrants have all signed up to be part of the traineeship and are keen to make a career in truck driving.
From a cultural perspective, this is important. New Zealand has come a long way over the past 10 to 20 years and has become a much more inclusive, multi-ethnic society, and this needs to start being reflected in our industry.
Some may write this off as just being a load of warm fuzzies. However, the benefits of being open to a more diverse workforce go far deeper than that.
Firstly, road transport competes in an extremely tight labour market with other industries that in many cases have some natural advantages over us—more consistent hours, less responsibility when it comes to safety, better rates of pay, etc.
This means we have to work doubly hard to attract and retain our staff. Operators who show real intent to foster an inclusive workplace naturally look far more attractive to job seekers, particularly young people, who not only prefer but also expect diversity in their workplace.
There is a range of other benefits, too. A workforce that includes a variety of backgrounds results in diverse ideas and opinions, which naturally translates to greater innovation and introduces new—and sometimes better—ways of doing things.
It's also proven that a more diverse organisation results in better employee job satisfaction, which obviously helps with staff retention. According to the American Trucking Association (ATA), female drivers have a lower turnover rate (i.e. stay in the job longer), have fewer preventable accidents, and actually log more miles than their male colleagues.
In a recent column in the influential US journal, Transport Topics, chief executive of major logistics company U.S. Xpress, Eric Fuller, outlined why he's so focused on promoting diversity across the US trucking sector.
Today, young professionals are not focused exclusively on the job with the highest pay. Yes, they're searching for opportunities that offer professional challenges, but they're also seeking out employers that provide opportunities to work alongside people who share their philosophies, and in a place where they can feel welcomed for who they are without fear of hate or discrimination.
Today's young people want to live and work in diverse and inclusive communities and are looking for companies that share that vision. I ask all trucking leaders to start down a path of exploration.
Begin by engaging with team members from minority groups within your organisation and listen to them. Ask them how they view the openness and inclusion within our industry. Listen to their concerns and frustrations. Put yourself in their shoes.
Think about the advantages that you have and how different their experiences are from yours. Embrace the reality of why their experiences are different. Trucking and logistics leaders large and small must begin cultivating a culture more accepting of others.
As an industry, we'll struggle to attract the talent we need to compete in a global economy if we don't start having these conversations and enacting real change.
The good news back here in New Zealand is that perhaps we don't have some of the centuries-old prejudices that exist in some parts of the US. With Road to success, we also have heaps of trainees from a variety of backgrounds ready to go. All we need now are the employers to take them on.
I can assure business owners that the team and I work hard to connect the right trainees with the right businesses all over the country. In this way, operators can have confidence in investing in training someone from entry to full Class 5 and beyond.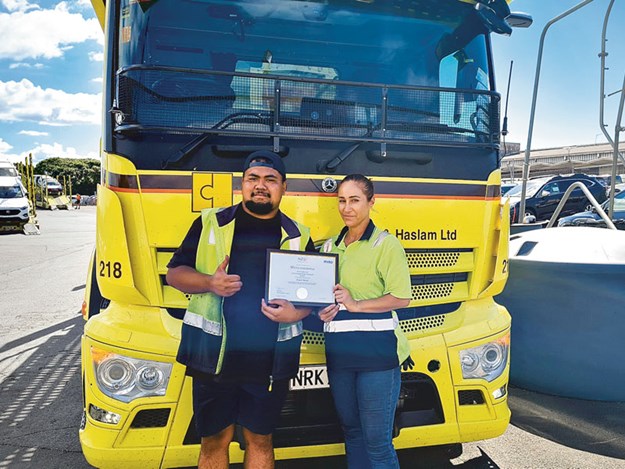 So, if Road to success sounds like it could work for your business, please visit our website (roadtosuccess.nz) and fill out an application form. 
Find new and used heavy machinery for sale in NZ
Keep up to date in the industry by signing up to Deals on Wheels' free newsletter or liking us on Facebook.