Business profile: Temuka Transport
---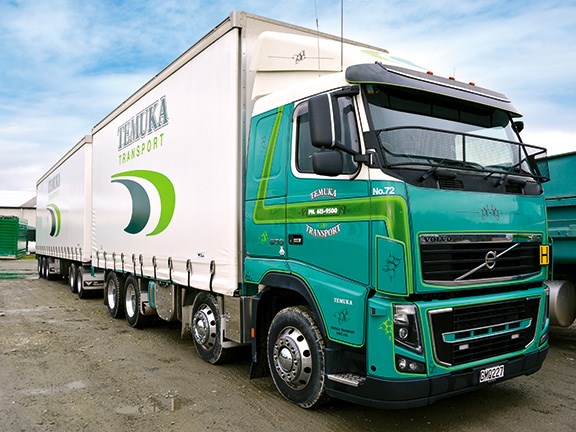 The pride of Temuka Transport's curtainsider fleet is this new Volvo FH16.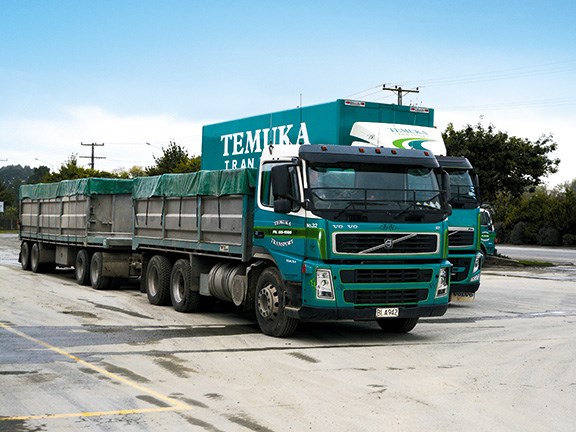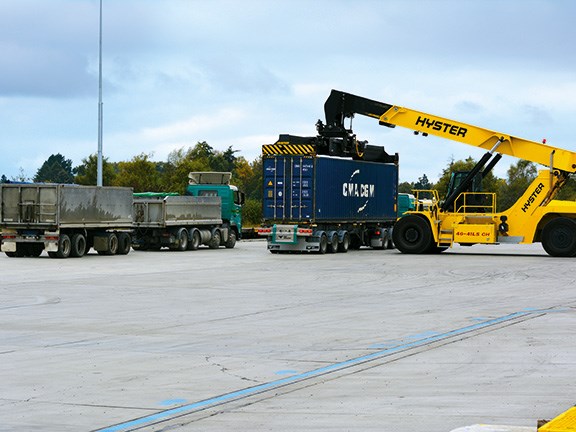 One of the two top loaders at the Temuka railyards loading another container to be sent off around the region.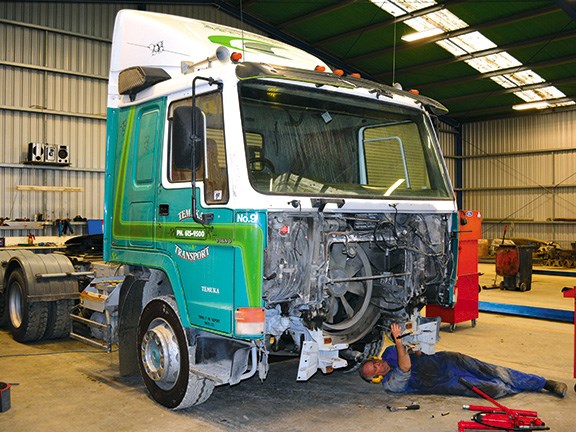 Any issues with the trucks can be quickly sorted in the on-site workshop.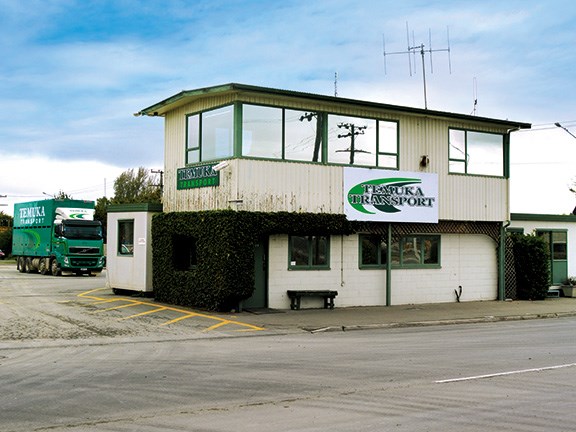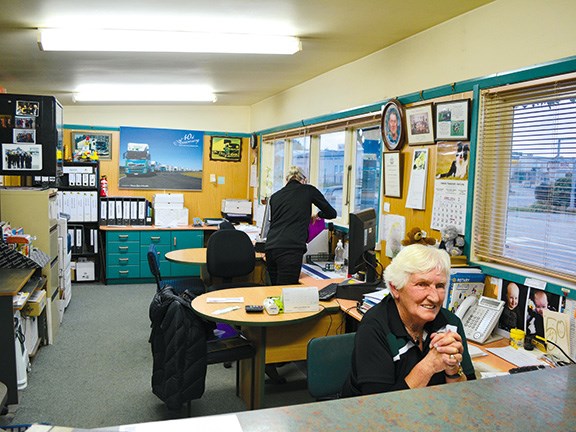 Call into the offices and you'll receive a warm welcome from Margaret herself!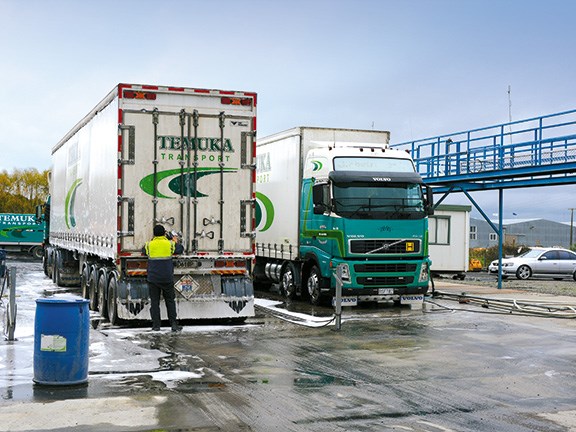 The fleet is kept looking in top condition thanks to the truck wash at the company's large yard.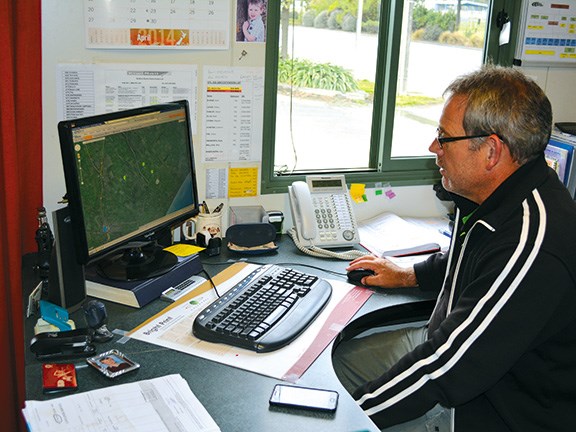 From the hub in Temuka the staff can keep track of all their trucks at the click of a mouse.

Not many family-owned and run businesses can come close to Temuka Transport for diversity and sheer determination to provide its customers with top quality service and community spirit. We spent some time at the South Canterbury firm and came away more than impressed.
Temuka Transport started off with 11 trucks and has since grown into one of the largest trucking companies in New Zealand, with over 79 trucks on the road today. It's a country-town trucking firm owned and operated by the Aitken family and is a key player in the dairy export business, yet still remains firmly in touch with its rural roots.
Temuka Transport 1967 Ltd has a long history of excellent service under the leadership of Rowdy and Margaret Aitken. Purchased by Rowdy and three other business partners in 1967, the business at the time also consisted of Excavation Machinery, which one of the partners took over and ran as a separate business.
The other two partners eventually moved on to other business adventures, which left Rowdy and Margaret free to manage and grow the entire operation in 1972. They then added a few more trucks to the fleet after purchasing Rex Wilkinson Transport (another local transport company in Temuka) in 1986.
Starting as a small rural business, Temuka Transport's main venture was carrying out stock and general cartage, as well as servicing the four small cheese factories in the district. There were 10 drivers on staff for several years.
The small factories have since merged into the renowned Fonterra Dairy Site at Clandeboye, which is one of the largest food-processing plants in the world. Consequently, the business has grown with the rural expansion and dairy industry in the area.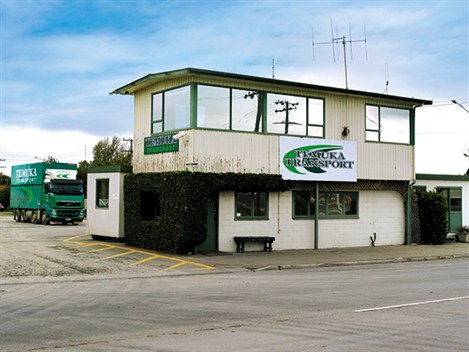 The company purchased its first Volvo truck in 1987 and now has 63 Volvos in a fleet of 79 trucks, which consist of stock units, bulk cartage bins, computerised fertiliser spreaders, curtainsiders, container lifters, and water and milk tankers. It now employs a staff of 100-plus, including four mechanics and four engineers in a separate large workshop and engineering shed.
Temuka Transport is also a registered supplier to carry water, servicing Mid and South Canterbury, providing household and stock water, filling swimming pools, or supplying tankers for events requiring drinking water. These tankers can supply 10,000 to 27,000 litres of clean drinking water in one go.
Dairy farmers in the region and beyond are well serviced, with the cartage of bulk feed for stock and the transport of cows to and from winter grazing, plus the bobby calf season when approximately 25,000 bobby calves are taken to Oamaru and Ashburton.
The Temuka yard is the nerve centre of this expanding business, with all facets controlled from here. There's also a branch at nearby Pleasant Point, catering for the arable farming industry and ground spreading services.
Temuka Transport is also unique as it is a real family business. Rowdy and Margaret's three sons, Garry, Brian, and Brendan, each joined the business, bringing a range of skills and experience from other careers to add strength to the company.
The boys are now managing different sectors of the company, which has allowed Rowdy to look at separate but allied business interests. These include five large dry good storage sheds within Temuka, which provide storage for dairy products, plus an overnight stockyard for transport companies in transit.
Brendan manages the rural division at Temuka and Brian manages the rural division at the company depot in Pleasant Point and both are kept busy with the growth in the rural sector with fertiliser spreading, general cartage, and transporting livestock throughout New Zealand. Temuka Saleyards are adjacent to Temuka Transport and have the largest weekly livestock sale, which is an asset to the company.
Garry manages the dairy product side of the business and this has grown significantly in recent years, so much so that the company now has top loaders based at Fonterra and at the Temuka Rail Centre for container loading.
With the continued growth of Fonterra and dairying in the area, Temuka Transport has had to keep its fleet right up to the mark. The latest edition to the fleet is a Volvo FH16 curtainsider, certainly one of the prettiest big rigs around, and its being well used, transporting goods throughout the South Island.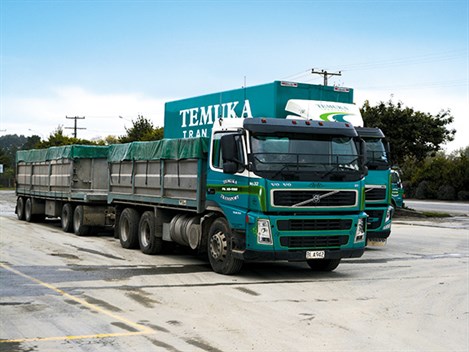 It's a good indication of the company's work ethos and community spirit when you note that many of the same clients have been with the firm since it started. And that community feel is reflected in the staff, with many being sourced mainly from the local area of Temuka. Temuka Transport takes pride in matching and training its staff in their particular area of passion, which in turn creates a great, workable team.
Big thanks to Margaret and the team at Temuka Transport for their time showing us around their large and diverse company. It's certainly one of the busiest transport companies we've been to and it's easy to see why they've become an institution in this small South Canterbury town.
For the latest reviews, subscribe to Deals On Wheels magazine here.
Keep up to date in the industry by signing up to Deals on Wheels' free newsletter or liking us on Facebook.