Tackling wilding pine problem
---
Patrick Cox discusses New Zealand's wilding pine problem in his latest forestry column for Deals on Wheels magazine.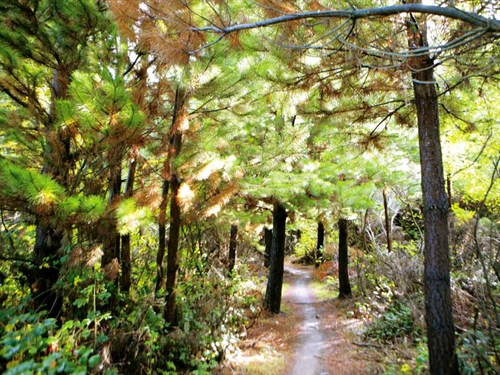 The logging industry in New Zealand is our third biggest exporter and the majority of wood harvested is Pinus Radiata.
Pinus Radiata was imported from California around 1860. In its home state it was known as Monterrey pine or Insignis pine, and is also found in Mexico. Add to this nine other pine species: Bishop pine (Pinus muricata), Corsican pine (Pinus nigra), Dwarf mountain pine (Pinus mugo), Lodgepole pine (Pinus contorta), Maritime pine (Pinus pinaster), Ponderosa pine (Pinus ponderosa), Radiata pine (Pinus radiata), Scots pine (Pinus sylvestris), Douglas fir (Pseudotsuga species), and European larch (Larix decidua); and we have one big problem in New Zealand.
All of the above contribute to the wilding pine problem in New Zealand. Apart from Radiata pine, the others were known as minor species and many a bushman would have logged these. Out of all the pine species introduced into New Zealand, Radiata was the only one to grow to a decent size and was easily treated, dried and converted into building construction material.
Logging Contorta was like harvesting wheat. Not that tall, very lightweight, the early blocks were never thinned and the size reflected this, reasonably long skinny trees with plenty of branches that had to trimmed with a chainsaw, they would not break off when being extracted.
Corsican Pine, although fatter round the butt, had logs that tapered very quickly, therefore all the branches had to be trimmed manually. The only good thing about Corsican is that it is heavy, so it was easier to produce tonnage and the blocks were very clean underneath. A strong heavy canopy and the shedding of millions of pine needles stopped any undergrowth.
Ponderosa pine, another stunted tree similar to Corsican, this did not grow well in the colder areas and the canopy was very open, letting in plenty of light, this encouraged a lot of undergrowth and, particularly in Kaingaroa, the Monowai bush thrived underneath Ponderosa. Piece size varied but on average in Kaingaroa, 120 trees were required for a 26-tonne truck load.
Douglas Fir, a pine that grew well in New Zealand, was lighter than Radiata but reached a good height and size. Douglas Fir did not require treating, was easily sawn and made good construction timber. Because of its slower growth, there has not been any second crop planting.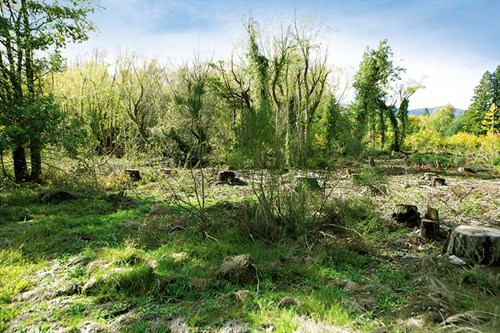 All of these species help make up the wilding pine problem that New Zealand is facing. If we cannot control the problem, then it will change the face of the landscape in New Zealand.
Currently seven percent of New Zealand is affected by wilding pines with the South Island worse the than the North Island. Many North Islanders who travel State Highway 1 over the Desert Road would have noticed all the small pines growing by the roadside. These are mostly Contorta pine that have escaped from the Contorta pine plantations of Tangiwai Forest west of Waiouru.
All the pine species grow cones, good for burning, but in the wild with plenty of sunlight and heat they split and let their seeds spin out into the breeze. With one wing having the seed attached at the bottom, they can travel for miles on the wind.
They will grow anywhere – on cliff faces, hard rocky ground, pumice. Left unchecked, they will grow so tightly together, it is impossible to walk through them. They cannot be managed as a plantation forest, they reduce the value of managed pasture, displace native bio-diversity, reduce water availability and eventually alter the character of the landscape.
The Kaweka ranges are being seriously infected and, left unchecked, will destroy a huge amount of high country famous Sika deer stalking. Fortunately this problem has not gone unnoticed and the Department of Conservation, local bodies and government have come together to fight the problem.
There will be a cost to the country of many millions of dollars but there is no choice, if we do not start the fight now, by 2025, 20 percent of the country will be seriously affected by wilding pines.
What can we do as individuals? This country is traversed every day by trampers, campers, deerstalkers and pig hunters, to name a few. If you happen to walk past one of these nasty wilding pines and it is small and just starting to grow, pull it out.
Contractors are being employed to cut down the worst infected areas. They have to be cut as close to the ground as possible for if there is one green needle left below the cut, it will continue to grow. Such is the versatility of the wilding pine.
Funny how we go about our daily business never giving a thought to what might be happening to this wonderful country we call New Zealand.
Governments of the past backed and invested huge money in the development of our forest industry and this has created jobs and dollars for the New Zealand economy. They were not aware of the problem that they were letting loose on New Zealand soil.
The Government of today has no choice but to stump up with the biggest contribution to battle this pest. So next time you feel like protecting our native trees, look at getting involved with groups, councils and the like who are out there fighting the wilding pine invasion.
Never miss Patrick Cox' monthly forestry column. Subscribe to Deals on Wheels magazine here.
Keep up to date in the industry by signing up to Deals on Wheels' free newsletter or liking us on Facebook.