Youth into Industry Careers Day at MOTAT
---
On Wednesday 24 June, a group of year 11 to 13 high school students will have the opportunity to gain hands-on experience of the construction, civil engineering, trucking and agriculture industries at MOTAT.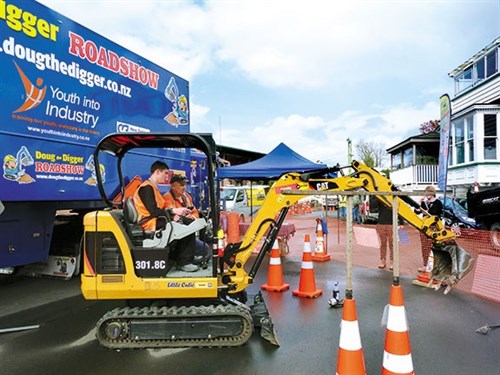 Supported by companies from various industry sectors, this partnership between the schools, MOTAT and corporates, is an innovative way to engage the students in a safe, supportive worksite environment and offer them a valuable insight into potential career options. Here they can find out how it really feels to be a member of the New Zealand workforce.
Presented by Alistair McIntyre, the author of popular children's book Doug the Digger and founder of the Youth into Industry initiative, the programme gets the important messages across – the importance of a good educational foundation, making healthy choices and developing life skills – in a fun and interactive way.
Mr McIntyre notes: "many students who struggle with traditional learning methods are at-risk youth who could easily hit a downward spiral." However, he adds, "these youngsters can quickly be brought back on course if given the opportunity to connect with learning methods which they understand and can relate to. This serves to raise their confidence levels and ultimately leads to them becoming positive members of society."
MOTAT education and experience programme manager Brent Hemi commented: "MOTAT is constantly seeking to collaborate with organisations, such as Youth into Industry, to showcase its transport and technology collection in a creative and hands-on way. It's through programmes like this that the Museum can educate students on New Zealand's proud history of ingenuity as well as inspire them to become the innovators of the future."
To ensure students know exactly what is expected of them in the workplace, Industry Day includes a toolbox meeting at the start of the workshop. The importance of applying themselves with a positive attitude to learn skills such as reading, writing and arithmetic is emphasised in order to give students the best possible opportunity of gaining future employment.
One of the many advantages of Industry Day is that students get to meet real people working daily across various industries. This helps them to understand the expectations of employers and allows them to make informed decisions regarding their future career paths and what they need to do to achieve their personal goals.
During the course of the day students will gain experience in several disciplines including health and safety compliance, workplace safety awareness, weights and measures and vehicle safety compliance. They will also learn more about the operation of mini excavators and other industrial equipment.
MOTAT is currently working closely with Mr McIntyre and secondary schools around Auckland to determine which student groups would benefit from attending Industry Day at MOTAT.
For the latest news, reviews and features, subscribe to Deals On Wheels magazine here.
Keep up to date in the industry by signing up to Deals on Wheels' free newsletter or liking us on Facebook.