NZCF Conference 2014
---
Rotorua played host to this year's New Zealand Contractors' Federation conference, which heralded both firsts and lasts for the industry.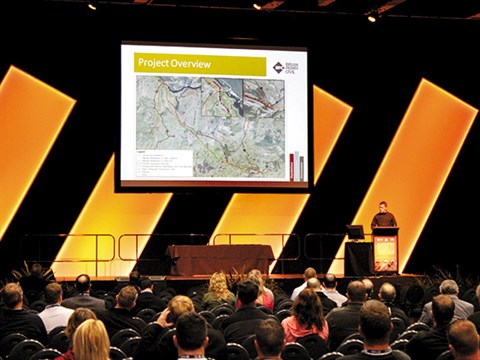 The NZCF ACENZ RNZ Tripartite Conference 2014 featured the well-established mix of a wide variety of trade exhibitors, local and international guest speakers, and social and networking engagements, as well as awards ceremonies recognising the world-class abilities and scope of New Zealand's civil construction industry.
Perhaps the biggest news stemming from this year's conference (a tripartite affair for the first time) was the unanimous vote by members of the New Zealand Contractors' Federation (NZCF) and Roading New Zealand (RNZ) to merge the two organisations into one industry body.
From 1 September the two organisations will be one, known as Civil Contractors New Zealand.
In a press release following the announcement, NZCF chief executive Jeremy Sole (who will lead the merged organisation) said the move is designed to: "...avoid duplication of resources and enable us to focus on representing our membership and carrying out our responsibilities to local and central government and New Zealand Inc more effectively."
While the announcement will no doubt change the look and feel of next year's conference, the variety of speakers at this year's event covered a wide raft of issues pertinent to the combined civil construction, roading, and engineering sectors.
Kicking the plenary sessions off, John Gamble, from Canada's Association of Consulting Engineers, gave an entertaining overview of his home country's experiences with Public Private Partnerships (PPPs). Gamble suggested PPPs can hold as many benefits as they can risks, with a clear message that choosing the right team is essential from the very start.
"The PPP model ensures you will have to live with each other for a very long time," Gamble said.
The ever-present issue of safety played a large part of plenary session topics as well, with Martin McMullan from NZTA championing a Zero Harm policy across the industry. McMullan told those assembled in the auditorium that the concept of Zero Harm is a step change, with the total safety of the entire workforce — including all employees, sub-contractors, subbies of subbies, and labour hire teams — the end goal.
"It's not about simply adhering to legal or contractual requirements in the workplace," McMullan said, "but about working together as an industry to look after everyone on the job site."
NZCF chief executive Malcolm Abernethy spoke on the forthcoming Health & Safety Reform Bill legislation and what the proposed changes might mean for the wider industry, while WorkSafe CEO Gordon Macdonald took delegates through his agency's priorities for 2014 and beyond.
"We don't want to inspect the country to death — we need to achieve our goals in partnership, not alone," he said.
Later, the challenges facing smaller businesses — from resourcing to finance to the trials of establishing remote branches and dealing with substandard staff – were covered in a broad and productive couch session chaired by Margot Connell, director at Connell Contractors, Janet Brothers from LifeCare Consultants, and the BNZ's Mike Whitehead.
And delegates even tapped into their grey matter with Dr Norman Chorn, an 'organisational architect' who mixes economics with psychology in order to figure out how individuals and organisations interact.
"Embrace the fact that the future is uncertain," Chorn suggested.
With the announcement of the new industry organisation, along with the ever-changing landscape of the civil construction scene in New Zealand — amidst elections on one hand and talk of "rock star economies" on the other — delegates were well advised to take that advice to heart.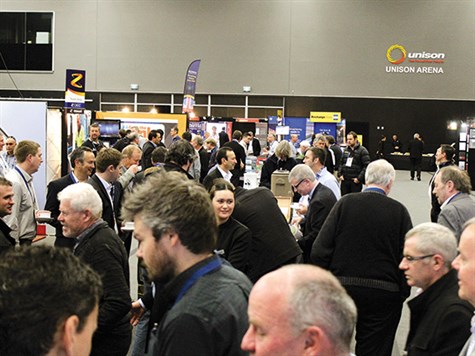 Z Energy People Awards
Two young Aucklanders took top honours at this year's hotly-contested Z Energy People Awards.
The Z Energy People Awards recognises the outstanding achievements of individuals within the civil construction industry.
Fulton Hogan contract manager Imraan Mohammed won the Emerging Leader Category while Fletcher Construction foreman Mike Butcher was named Trainee of the Year.
Imraan, from Mt Wellington in Auckland, joined Fulton Hogan as a junior engineer in 2004 after gaining a diploma in civil engineering from Unitec.
Since then he has successfully led many challenging projects including introducing innovative approaches to the paving project for the Hobsonville Deviation.
He has also continued to study while working, gaining a Bachelor of Engineering Technology (Civil) degree. He is currently contract manager for the company's Auckland Transport, Great Barrier Island, and South East Urban Road maintenance contracts.
Mike Butcher, from Pukekohe, worked in quarrying before joining Fletcher Construction, where he seized the chance to significantly upskill and gain formal training.
He has now completed 15 of the 17 units of the National Certificate in Infrastructure Works (Supervision) Level 4 ahead of schedule and is planning further study in infrastructure and Business Management.
Matt Stewart, one of Z Energy's key customer managers, said both men were an inspiration.
"To have achieved what Imraan and Mike have in a relatively short period of time is nothing short of remarkable," said Stewart.
"Both are juggling the demands of work and study with raising young families and achieving at a very high level in their work."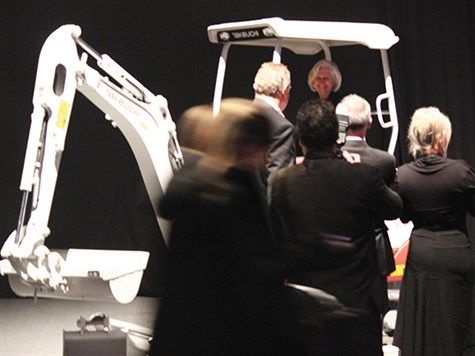 Hirepool Construction Excellence Awards
With silverware handed out at a gala dinner within the Rotorua Energy Events Centre as part of this year's annual conference, the 2014 Hirepool Construction Excellence Awards once again saw the stars of the industry shine brightly.
A diverse group of winners took to the stage at the 2014 Hirepool Construction Excellence Awards, from a company responsible for a farm bridge over the Motu River at Gisborne, to the constructors of the multi-million dollar Lower Hatea River Crossing at Whangarei, as well as those responsible for Christchurch's southern motorway.
In what will prove to be the final time the New Zealand Contractors' Federation and Roading New Zealand share joint convening roles in their present forms, the awards recognised excellence in civil construction projects, asset management, and maintenance carried out by New Zealand companies both here and overseas.
There were a record number of entries this year, vying for top honours across six categories covering projects with budgets ranging from less than $0.5m to greater than $30m.
Category one – for projects with a value of less than $0.5m Won by Katikati-based Bridge It NZ, for a project to replace a 1950s farm swing bridge over the Motu River.
Category two – for projects with a value $0.5m to $5m Won by McConnell Dowell Constructors for repair works on the historic Arapuni Power Station diversion gate and tunnel.
Category three – for projects with a value $5m-$30m Won by McConnell Dowell Constructors for the Lower Hatea River Crossing at Whangarei, which features a rare rolling bascule designed in the fashion of a fish-hook, allowing river traffic to pass underneath. The rolling bascule design is the first to be built in New Zealand within the last 50 years.
Category four – for projects with a value greater than $30m Won by Fulton Hogan for the Christchurch Southern Motorway Stage 1. The road was the first of NZTA's Roads of National Significance to be built in the South Island. Additionally, McConnell Dowell Constructors were highly commended in this category for construction of the Te Mihi Geothermal Power Station at Taupo.
Category five – Excellence in Maintenance and Management of Assets Road Science won this section for its work for NZ Transport Agency in Waikato.
Category six – Excellence in Routine Maintenance Won by Downer New Zealand for its long-standing contract to provide water and wastewater services for Horowhenua District Council.
For the latest news and reviews, subscribe to Deals On Wheels magazine here.
Keep up to date in the industry by signing up to Deals on Wheels' free newsletter or liking us on Facebook.