Review: Navman MiVue Drive LM
---
A first in Australasia, the Navman MiVue Drive LM is an in-car digital drive recorder and GPS all-in-one.
In this day and age, a GPS could almost be called obsolete. Everyone has its features on their smartphone, but this particular navigation device proves Navman is staying ahead of its game by adding an abundance of extras.
The main stand-out feature is the wide-angle camera. The HD recorder allows you to drive with ease, knowing any incident that may occur will be captured with high quality video to a removable (supplied 8GB) micro SD card including sounds, time and location. More importantly, it's programmed to run on continuous loops.
The best part is if the shock sensor notices something particularly bumpy, something like a crash, it will ensure that footage is protected and not written over. Of course you can also manually select to protect certain clips.
The 135-by-84-by-21mm touchscreen is clear and allows you to easily pinch and slide your way around the map to see what's around you if required and has a video in socket for the ability to connect to a rear reversing camera.
Navman offers a lifetime map guarantee and free monthly updates with the MiVue Drive, plus you're always presented with a variety of routes to choose the best way to your destination (the fastest, the easiest, the most economical and the shortest). For some reason, traffic updates have been removed from this update by Navman which isn't ideal. It took a few minutes to find the satellite when first setting up but after that, any route or re-route was set immediately.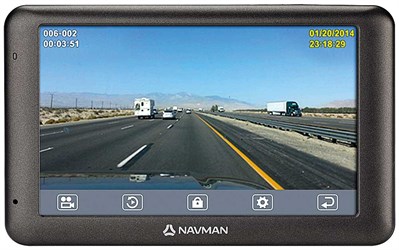 A feature I particularly liked was its landmark guidance. Instead of trying to guess how far away 500 metres was, it would point out a specific landmark by telling me to "turn right at McDonalds", making it easier to navigate exactly where I needed to turn.
The device also has auto zoom meaning it flicked to a 3D image of major intersections just as I felt extra guidance was necessary, plus pays special attention to which lane is appropriate to be in. It's these small additions that bump the MiVue Drive (even just the GPS part alone) ahead of the maps app on my iPhone.
The biggest issue I was faced with was its battery life. It seems as though it constantly needs to be plugged in to its charger to work at all.
The verdict
Different people require different features from an in-car GPS device, but as far as they go, anyone wanting one should be able to find most things they want in the Navman MiVue Drive LM. Those needing to log their kilometres for expense claims will find downloading their journeys into a spreadsheet especially helpful. Retailing at around $350, it won't take long before it pays itself off, especially if you ever get caught in a 'whodunit' crash scenario.
Features
120-degree wide-angle 720p camera with HD recorder and G-shock sensor
Full Australia and New Zealand map coverage with monthly updates
Driver safety and speed limit alerts
Language options
Lane guidance and 3D junction views
Digital logbook
Video in socket to connect to a reversing camera
For the latest news, reviews and features, subscribe to Deals On Wheels magazine here.
Keep up to date in the industry by signing up to Deals on Wheels' free newsletter or liking us on Facebook.