Product feature: At Large Audio and At Large Energy
---
Looking for portable audio and energy solutions for when you're on the road or working in sheds or workshops? At Large Audio and At Large Energy have you sorted.
With the world increasingly relying on smartphone technology, the last thing you want when you're on the road is to run out of juice.
Yes, the bland-looking portable chargers do the trick but how about a trade-in with a fancier-looking and sustainable solar panel. It's small, it's portable, and it looks great on the dashboard. Enter, At Large Energy solar panels.
Light and portable and weighing a mere 300 grams, the solar panels, under direct sunlight, will charge any USB-powered device as fast as a wall charger.
There are three solar panels available, with the slightly bigger panel offering an 18-volt output, which can charge At Large Audio speaker suitcases—more on those in a bit—and trickle charge 12-volt batteries such as your ute or boat battery.
Additionally, you can charge devices and more with At Large Energy's portable solar generators. The generators are available in two sizes and can be charged by solar panels, vehicle cigarette lighters, or wall chargers. The ultra-light generator, with USB, 12-volt and 100-watt AC output, is great for camping and as an emergency power backup.
The more commercial Powerhouse 300 Generator has a 300-watt inverter, making it ideal for keeping tools charged on a construction site, powering off-grid adventures, or using as an emergency backup in power outages.
At Large Energy is owned by best friends Sam Bennett and C.P. Moore. The pair source high-quality portable solar panels and generators to charge mobile phones, tablets, speakers, tool batteries, and more.
But it all started with At Large Audio. Bandmates Sam and C.P.'s audio brand evolved from the pair's love of camping, travelling, and, of course, music. Too many parties and adventures powered by below-average speakers inspired them to create their own portable units.
Sounds good
At Large Audio portable Bluetooth stereo systems are perfect for filling large spaces
with high-quality sound. The speaker units are handmade in New Zealand from vintage suitcases and new and vintage speakers, with new batteries, amps, and other components to ensure top-quality sound and long battery life.
"With an At Large Audio speaker, you're getting home audio that's portable, not just a little pill that plays tinny music," Sam says. "Our speakers put out great full-range sound at almost any volume."
The handmade speakers range from small but powerful models to large, purpose-built PA systems. With 10–20 hours or more of battery life, the speakers are ideal for camping, boating, or keeping the team motivated on outdoor jobs.
You can also use them to play music and movies at home; iPhones, tablets, laptops, instruments, and turntables can be connected via Bluetooth or an auxiliary cord for an easy mobile entertainment set-up.
There are a number of styles and colours to choose from, but if there's a specific look you're after, the boys can make you a custom case.
To purchase At Large Audio or At Large Energy products, discuss a custom build, or enquire about hireage, contact on 027 9566 320 or theteam@atlargeaudio.co.nz or visit atlargeenergy.co.nz.
Win a portable solar panel, worth $99
Win a $99 portable solar panel from At Large Energy.
Click here to enter the competition.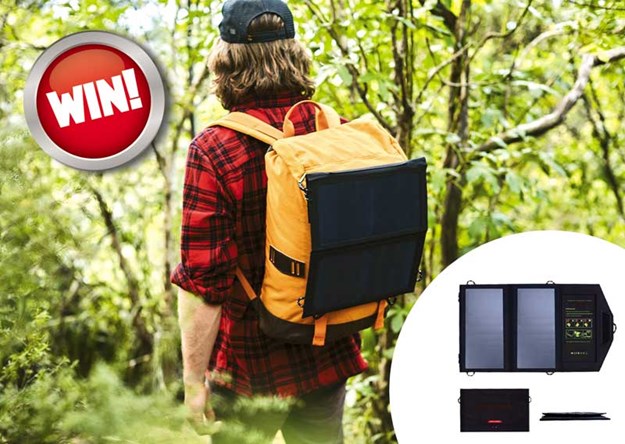 Keep up to date in the industry by signing up to Deals on Wheels' free newsletter or liking us on Facebook.