Profile: Craig Walker Building Removals Ltd
---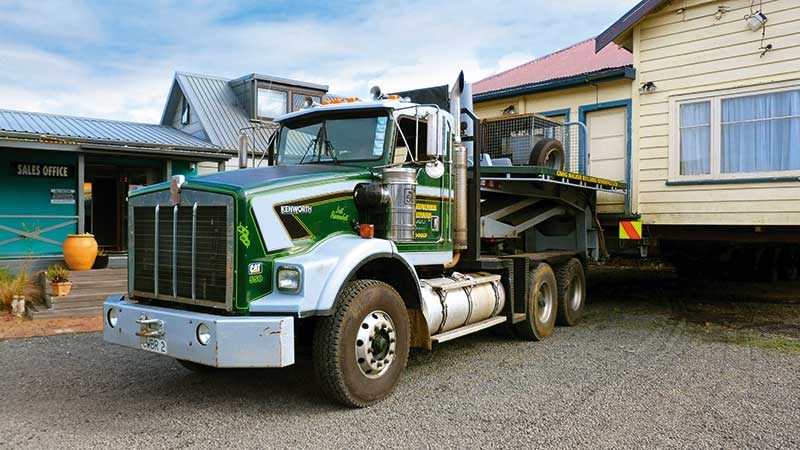 One of the 550 HP Cat-powered Kenworths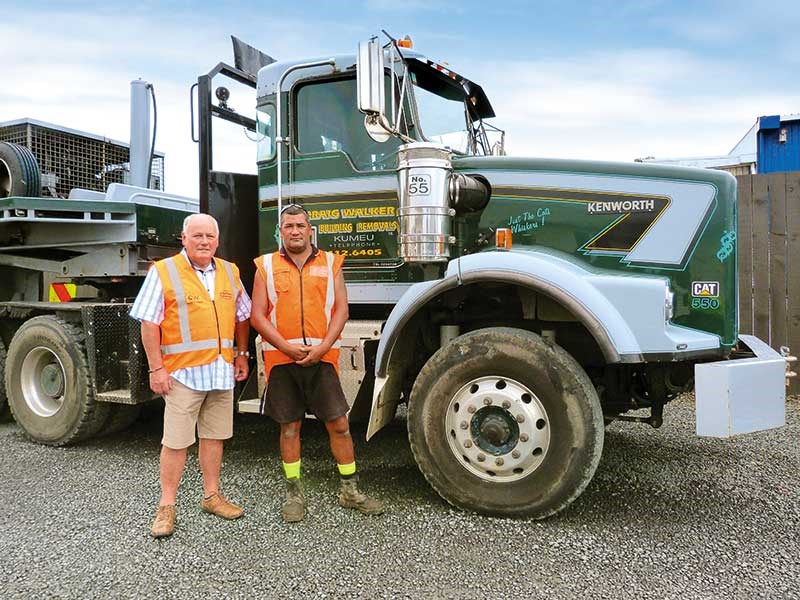 The man himself: Craig walker on the left with foreman Rangi Joyce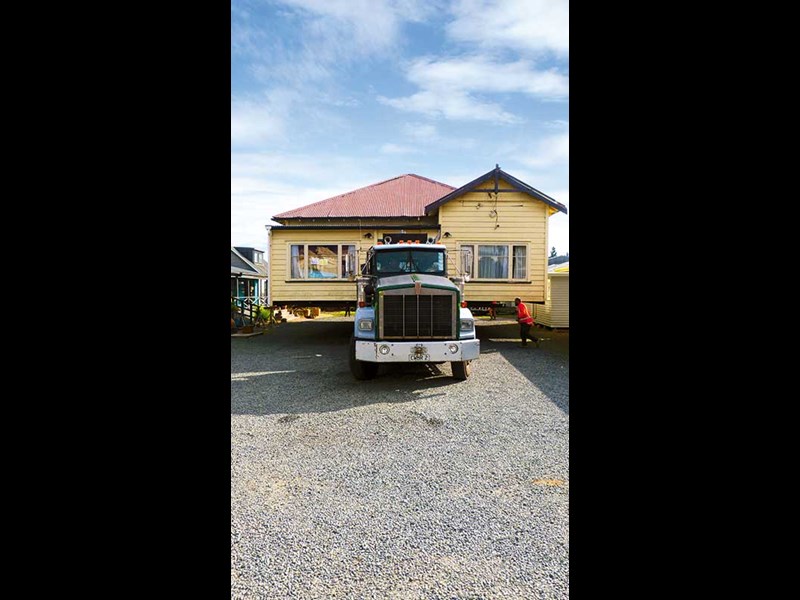 A house being moved in the CWBR yard

Deals on Wheels went along to the Craig Walker Building Removals Ltd Kumeu yard, to find out the secret to his longevity in the business in the house moving game
If you'd have asked Craig's old headmaster back in his school days if he thought Craig would ever own a business that employed 20 staff and had a fleet of 50-plus vehicles and associated machinery, he'd have probably let out a big laugh.
Craig can recall the conversation he had with his head teacher in which it was none-too-politely suggested that the young lad's efforts would be better spent anywhere but at Massey High School.
Heeding his teacher's advice, Craig set out to find himself a job. His older brother, who was his role model, worked in house piling and foundations.
He helped Craig to find a job with a Hamilton-based house removal firm that had a yard in Auckland and an almost lifelong career in the industry was forged at that point in time.
Aside from doing a two-year stint as a driver and dispatch person with Mobil Oil in his younger years, Craig has been in the building removal industry ever since.
Seeing the potential of having his own business, he formed a partnership with his friend, Ian MacKay, naming the company Auckland Building Removals Ltd. In 1987, Ian and Craig went their separate ways and Craig set up his own firm, Craig Walker Building Removals Limited—a company that has grown to be a leader in the house removal industry.
MACHINERY

Craig says that although his present-day fleet is reasonably large and diverse in its building removal capability, he can recall the early days when that wasn't the case. Whereas today, the company has three C500
Kenworth tractor units in its fleet, all powered by 550hp Cat engines. Back in the early days, he was lucky if he had half that amount of horsepower under the cabs of his Detroit-powered TM Bedford and D1000 Ford with its V8 Cummins engine.
Another huge advancement he spoke of in the industry comes in the form of hydraulic trailers that can not only lift a building above bridge railings and the like but can also be levelled to cope with undulations in terrain.
Craig says the modern-day hydraulic trailer has largely done away with the ubiquitous winch tractor, although he still has a couple of the old-school machines that his teams will drag out on the odd occasion.
With more than 40 years' experience, Craig believes the skill and professionalism of the team at Craig Walker Building Removals is the backbone of their ultimate aim, which is customer satisfaction.
The company has a fleet of fastidiously maintained trucks and associated equipment, enabling it to relocate a diverse range of buildings, from granny flats to huge mansions. Aside from the previously mentioned Kenworth rigs, the company still has an R Model Mack that to this day, gets trotted out from time to time.
Also, there is a mixture of Mitsubishi and Hino 'gear trucks' used for carting associated equipment to and from jobs, along with three smaller Kia trucks, which are used both as gear trucks and by Craig's team of builders.
Craig says the Kia trucks are versatile and have the added advantage of being able to be driven on a car licence, giving younger employees the experience to be able to progress to other licence categories as time goes by.
MOVING HOUSES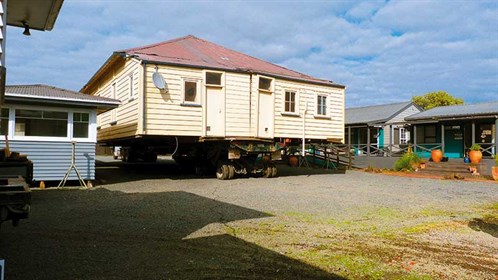 On the day Deals on Wheels visited, we got a chance to speak to Dave Haskins, Craig Walker's operations manager, who also happens to be Craig's son-in-law.
Dave's team was in the middle of preparing a house for transportation the following day, but before that could take place, a much larger building that was already in two pieces had to be temporarily stitched together and moved in order to get the first one out.
With approximately 80 houses in the yard at any given time, Dave said it was often a case of 'musical houses' when Murphy's Law came into play and the latest house to be sold was the one that was sited behind several others, requiring several moves before it was on its way to a new address.
Dave said he started working for Craig in July 1999 as a labourer and had worked his way up through the ranks to his current role.
He says every day at work in the building removal game is what he calls "a project day", with a little bit of everything from deconstruction to carpentry, with a portion of heavy haulage thrown into the mix just for added variety.
"There are different challenges cropping up all the time," he says. It was plain to see that Dave loves doing what he does for a job, although he did say that getting out of bed in the middle of the night to get a house or other building shifted to its new destination on time to be off the road by 6am can be a little daunting, especially in the middle of winter.
A SUCCESSFUL BUSINESS ENTERPRISE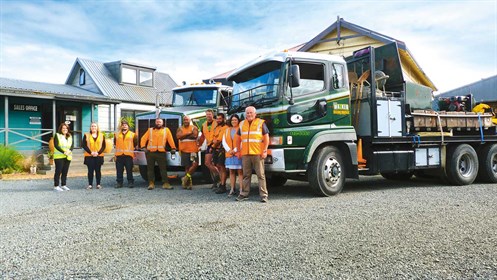 It's not hard to see why Craig Walker Building Removals Ltd has remained such a successful business enterprise.
That was obvious by the good-natured banter that took place between the crew and their boss, as Craig assembled his team for a group photograph; it's clearly a great place to work.
Craig and his workforce aren't the only beneficiaries of the success of the business, as Craig is well known in the community for his philanthropy.
Massey High School has received benefits in many forms, from transportation of the houses it builds at its building academy, to being the recipients of classrooms Craig has donated, along with donations of school uniforms.
To his philanthropy appreciated by the board and management of Massey High that they recently named their technology facility the Craig Walker Technology Centre. The Royal New Zealand Airforce has also benefitted from Craig's desire to put something back into the community.
Craig has assisted the organisation in ways too numerous to mention, and in 2008, he was awarded the title of Honorary Wing Commander for his services.
Craig is a longstanding member of the Heavy Haulage Association and served as a board member for 14 years.
Craig Walker Building Removals Ltd will celebrate its 30th anniversary as this story goes to print, begging the question: what would Craig's old headmaster think of that?
For more information on the house and building removal process checkout, visit cwbr.co.nz.
Keep up to date in the industry by signing up to Deals on Wheels' free newsletter or liking us on Facebook.