Hillhead 2018
---
Glorious weather, a record crowd, and lots of new launches—Chris McCullough brings all action from Hillhead 2018.
With glorious weather and a perfect location, this year's big construction event, Hillhead 2018 in England, was a major success.
Held every two years, Hillhead is recognised as the world's largest working quarry exhibition and provides a super platform to launch new products; this year's event was no exception.
Over the three days at Tarmac's Hillhead Quarry, near Buxton in Derbyshire, Hillhead 2018 hosted 527 exhibitors and attracted a record-breaking 19,687 unique visitors surpassing the show's previous highest attendance record set in 2005.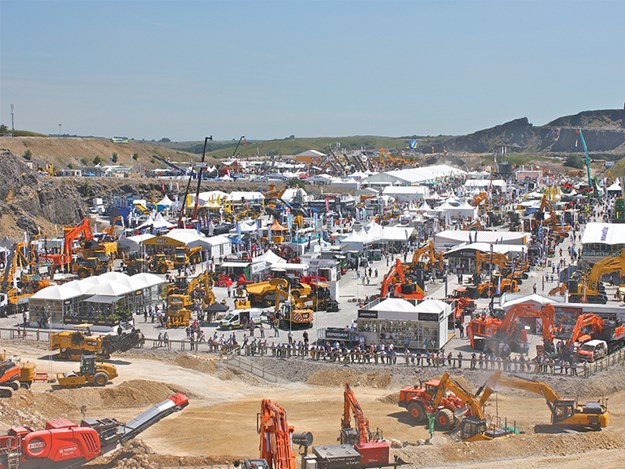 "With clear blue skies, record crowds, and all the majors from the plant and equipment world in attendance, business was buoyant, and the atmosphere among the exhibitors and visitors was superb! Another highlight of this year's show was the Man Engine, which proved to be a real crowd-puller," Exhibition director Richard Bradbury says.
As always, the showground, pavilions, and various demonstration areas were packed with the latest plant and equipment for the quarrying, aggregates, concrete, asphalt, recycling, and construction sectors, with many products on show for the first time in the UK.
Among the multitude of impressive new product launches were the JCB 220X excavator, Volvo L260H wheel loader, Komatsu WA480-8 wheel loader, Powerscreen Trakpactor 550SR impactor, Keestrack H4e hybrid electric cone crusher, Sandvik QE343 screener, and EvoQuip Colt 1000 scalping screen.
Organisers say the next Hillhead Show will be held in late June 2020 with precise dates announced later. Here are some highlights from the show.
McCloskey International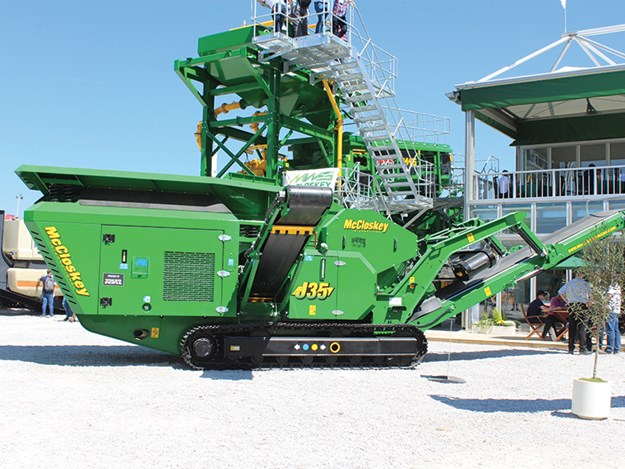 Based in Dungannon, Northern Ireland, McCloskey International exhibited its new compact J35 jaw crusher and the Aggstorm 150 washer from McCloskey Washing Systems, a division of McCloskey International.
The company has just finished field tests on the new J35 jaw crushers and says it is the "perfect solution for projects with small footprints but big requirements".
The versatile mobile crusher nimbly moves around in small spaces, continuing to track while crushing. The J35's small footprint is suited to the demolition and asphalt recycling, aggregates, and smaller scale construction projects. The crusher is less than 2.5 metres wide and can be transported easily from site to site.
The AggStorm 150 washer is a modular designed plant to remove harsh, clay-bound material from natural and crushed gravel, stone and ore feeds that cannot be removed by rinsing or screening alone.
The log shafts rotate in opposite directions and are timed to obtain an overlap of the paddle shoes for maximum scrubbing action.
Wacker Neuson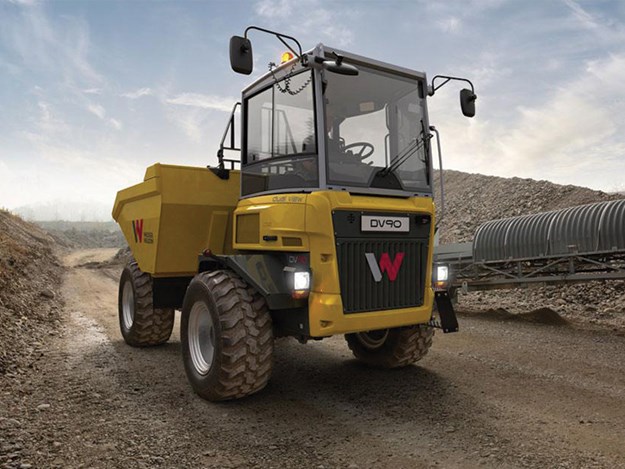 Wacker Neuson exhibited its brand-new dual-view trucks along with new products from the zero-emission range, which included the all-electric EZ17e Zero Tail mini-excavator and the electric DW15e wheel dumper.
The new dual-view trucks, from six to 10 tonnes payload, allow the operator to conveniently and quickly change the seat position through a 180-degree rotation of 
the entire seat operating console.
This ensures the operator always has a perfect view in the direction of travel, during transport, loading, and unloading. The rotation is easily accomplished from the operator's seat using a single handle to unlock the seat console and then rotate the complete console.
In order to keep the environment around the skip in view, a rear-view camera is installed as standard in a well-protected frame. An optional front-view camera completes the perfect view.
Wacker Neuson is pushing the development of zero-emission machines for their customers introducing the EZ17e Zero-Tail mini-excavator. The fully electric EZ17e, powered by lithium-ion batteries, performs and handles like a diesel-powered model, has zero overhang, and is particularly suitable for environments where emissions and noise have to be kept to a minimum; for example, in urban areas or indoors.
Similarly, the new electric DW15e wheel dumper is a good choice wherever work has to be carried out emission-free and as quietly as possible. This newest member of the
zero-emission family comes with all-wheel drive and 1.5-tonne payload. It is equipped with its own electric motor for the travel drive and for the working hydraulics in order to reduce power consumption.
Richard Harrison, managing director of Wacker Neuson UK, says, "We are very satisfied with the outcome of Hillhead exhibition, meeting professionals and having valuable conversations with experts within our industry. "For us, Hillhead is the best opportunity to show visitors and customers our new products and let them experience the uniqueness and high quality of our machines."
Hyundai excavators
Hillhead was also the first showing in the UK of Hyundai's recently launched
HX130 LCR excavator, the third of the manufacturer's compact-radius machines
in the HX-Series range.
Powered by a Tier 4 Final/Stage IIIB-compliant Perkins 854 diesel engine (55kW) that includes a diesel particulate filter (DPF), the HX130 excavator provides optimum power and fuel efficiency without the need for a selective catalytic reduction (SCR) system.
Equipped with a 40.6-inch wide bucket (0.59 cubic metre-capacity), the machine offers a maximum digging depth of 18 feet, a maximum digging reach of 27 feet, and a bucket digging force of 10,369kgf.
The HX130 LCR excavator features an advanced hydraulic system that delivers up to 13% faster cycle speeds than previous models and includes a 'boom float' mode for better grading and a 'fine swing' mode for enhanced load control during swinging.
Volvo Construction Equipment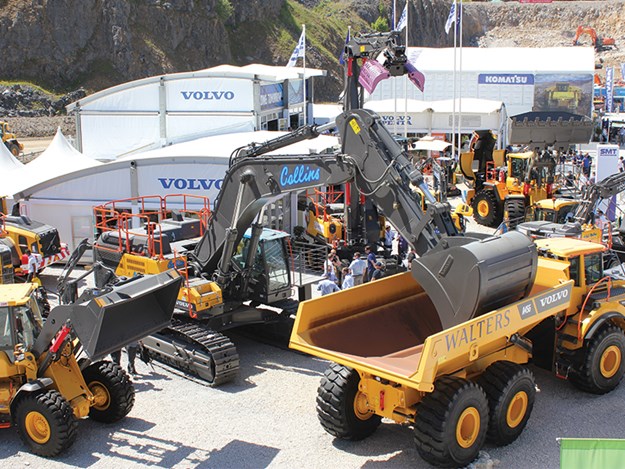 There was a great deal of excitement over on the SMT GB stand, Volvo Construction Equipment's exclusive dealer for Great Britain, where the L260H wheel loader was on show.
Built in response to evolving business demands, the machine can load 26 tonnes 
in just two passes. Compared with its predecessor, the L260H boasts 15% greater productivity, thanks to its intelligently designed wheelbase (increased by two inches) and optimised weight distribution of the front frame and lifting-arm system.
These two features allow for larger buckets to be used and deliver six percent more power and five percent more torque than the L250G, and 10% better fuel efficiency.
Also on show for the first time at Hillhead was the all-new and versatile Volvo EW240E material handler, said to be the company's strongest and most innovative yet.
Specifically designed for the waste and recycling industries, it has a reach of more than 11m and boasts a host of new features, such as a dedicated upper-structure and reinforced undercarriage to withstand the forces in scrap-sorting applications.
EvoQuip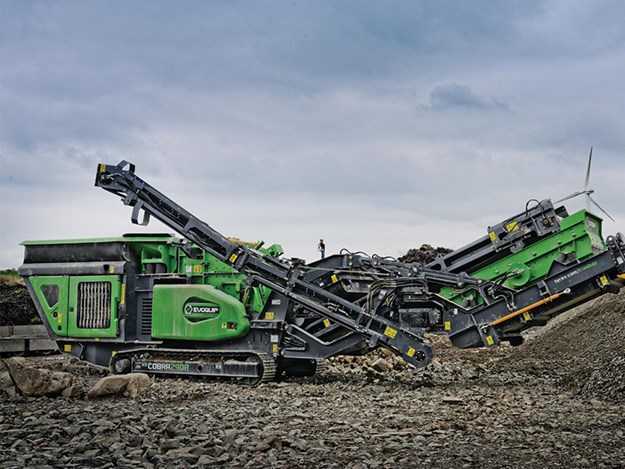 Also hailing from Northern Ireland, EvoQuip launched three new products at Hillhead 2018 in line with the company expanding its compact crushing and screening portfolio.
The new machines were two impact crushers, the Cobra 230R and Cobra 290R, and the Colt 1000 scalping screen. EvoQuip says its range of mobile crushing and screening equipment provides a compact and versatile solution capable of operating in the most demanding of applications, including reinforced concrete, recycled asphalt, construction and demolition waste, coal, and natural rock.
The new Cobra 230R is a closed-circuit version incorporating a detachable 2.44m x 1.2m (8ft x 4ft) post-screen and oversize conveyor that ensures the required product specification is achieved, with oversize material either being recirculated back to the crusher or stockpiled.
The larger Cobra 290R machine also builds on the strengths of the Cobra 230, incorporating a 1000mm x 1034mm (40in x 41.5in) diameter impactor.
The company's latest scalping screen machine, the Colt 1000, is capable of processing up to 360 tonnes per hour, depending on the application.
This highly versatile machine incorporates an aggressive double-deck screen measuring 3.96m x 1.22m (13ft x 4ft). The variable screening angle and numerous screen media options ensure the machine is able to operate in both heavy-duty scalping and precision screening applications and will cope with the most difficult of materials.
Cummins
Cummins revealed its new Stage V power unit range, which comprises a Stage V engine, exhaust after-treatment system, radiator and cooling system, as well as auxiliaries such as mounting feet, hoses, and an air cleaner.
Jeroen van Ginneken, director, Off-Highway Engine Sales at Cummins, says, "To complement our strong Stage V engine range, we are offering a new product to make our customers' processes easier. For key applications such as crushers, screeners, drills, air compressors, and concrete pumps, we are providing a drop-in solution, with more than 70% of the content pre-approved for installation. This makes the integration process simpler, reducing the lead time for customers."
The power units are available from 75 to 503kW (100–675hp). On display at Hillhead was the F3.8 power unit ranges from 75 to 129kW (100–173hp). The 3.8-litre engine has moved from 130hp (97kW) at Stage IV to 173hp (129kW) at Stage V. Peak torque has increased by more than 20% to 620Nm.
The F3.8 has an EGR-Free design, supported by Cummins Single Module
after-treatment and its higher NOx conversion capability. It is lighter and smaller than the equivalent Stage IV after-treatment. This means a simpler architecture that is easier to install, with fewer parts and higher reliability. The engine is more compact with lower weight, less to cool and lower engineering cost for manufacturers.
"Designed to increase machine capability, Cummins Stage V power units will drive construction, quarrying, and agriculture machinery operating in even the most arduous duty cycles. They will deliver increased performance with less maintenance and service intervals of up to 1,000h," Jeroen adds.
Bell Equipment
Bell Equipment showcased the largest range of articulated dump trucks on the market ranging from the compact B20E to the heavyweight B60E. According to Bell,
the latest addition to the range, the B20E, is already proving popular due to its ability to manoeuvre easily within small spaces and its low ground pressure that allows it to operate in excessively muddy or sandy conditions.
At the other end of the spectrum, the B60E has proven itself as a solution capable of moving large volumes of materials in all weather conditions, in a market sector that was previously only contested by rigid trucks.
Bobcat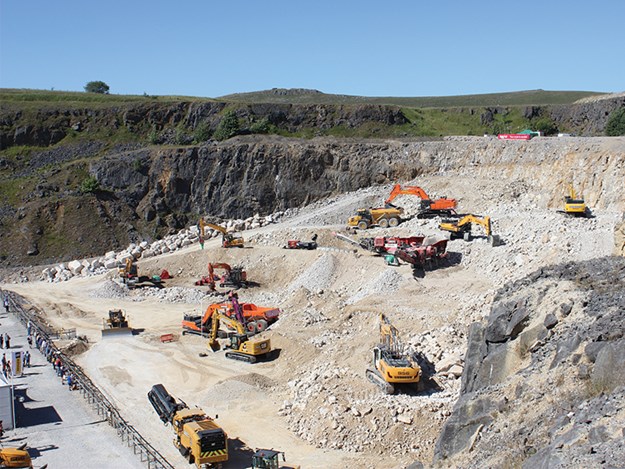 Bobcat brought out its new R-Series compact two- to four-tonne excavators for the first viewing in the UK. Also on display for the first time was its new TL30.70 compact telehandler, which provides a maximum lift capacity of three tonnes and a maximum lift height of nearly seven metres.
JCB
Sticking with excavators, JCB showed off its new 20-tonne 220X tracked excavator, part of the new X Series, which has taken more than four years to develop. The new X-Series excavators featured alongside other JCB machines, including the JCB 7T-1 front-tip, hi-viz site dumper; the Hydradig 110W; and the JCB Pilingmaster backhoe loader.
Takeuchi
New products from Takeuchi included the latest TB2150R model—a conventional 15-tonne fixed-boom excavator packed with enhanced operating features complemented by a powerful breakout capability.
Along with hybrids, short-tail, and conventional excavators, the company says it now has a machine in every weight class with a focus on reliability and powerful excavating.
Terex Trucks
It was a case of showing the old and the new on the Terex Trucks stand with the latest TA300 articulated hauler and a vintage 40-year-old 13.5-tonne R17 machine on display.
Achieving a payload of 28 tonnes (30.9 tons) and powered by a Stage IV-compliant, five-cylinder Scania DC9 engine, the TA300 is designed to withstand the toughest conditions in quarries.
The machine has superior traction and an effective power-to-weight ratio to ensure material is moved efficiently and cost-effectively across all kinds of terrain.
Keep up to date in the industry by signing up to Deals on Wheels' free newsletter or liking us on Facebook.