Profile: Stead Construction
---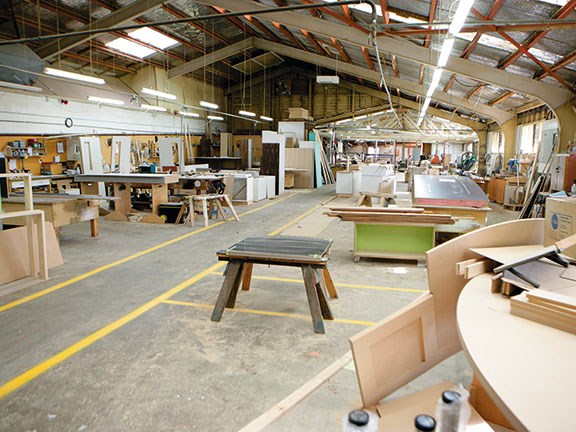 The Stead Construction joinery shop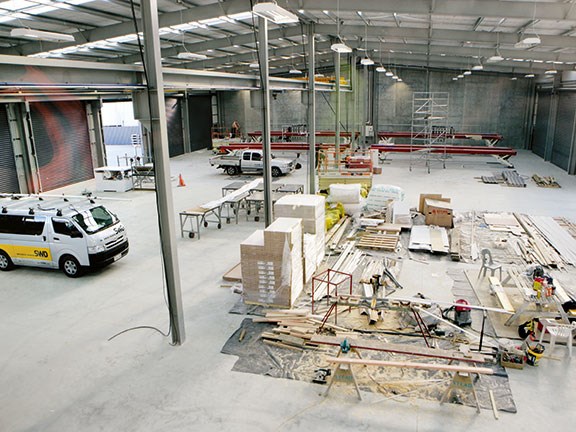 The concrete floor is heated from an environmentally-friendly furnace that burns waste oil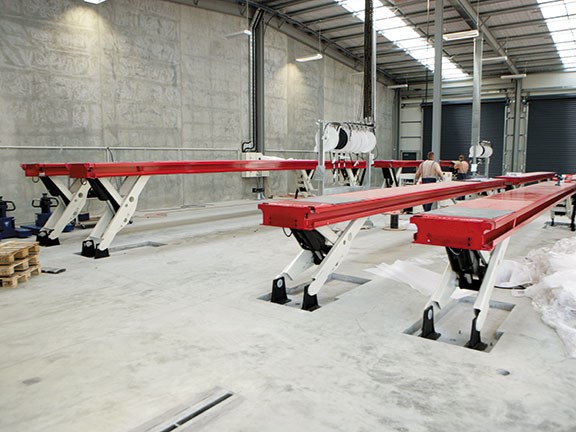 Gone are the days of dangerous workshop pits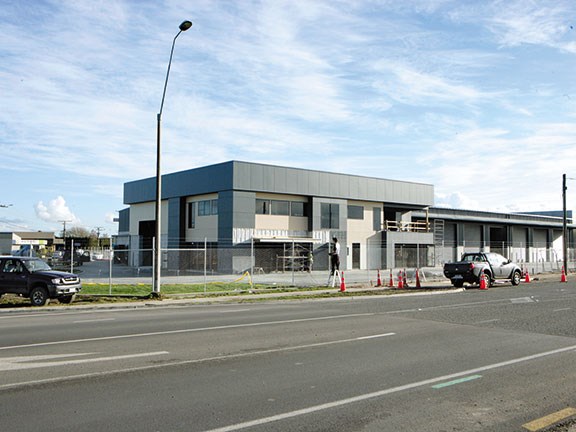 When CablePrice wanted a new branch built in Hawke's Bay, it partnered with a local construction firm that believes in a multi-angled project management approach.
While right now the big regional project buzz in Hawke's Bay is generally centred on the proposed Ruataniwha Water Storage Project up in the rolling farmland of the Waipawa area, there are plenty of big projects on the go down in town, too.
Just ask Stead Construction Limited project manager Brett Phillips.
When Deals on Wheels visited, the company was overseeing the finishing touches on an enormous new CablePrice branch in the busy Omahu Road industrial area on the northwest side of Hastings.
Boasting a colossal 1650-square- metre workshop and a double-storied 450-square-metre administration wing, the new CablePrice building is Big with a capital 'B'.
As Brett Phillips — Stead's main man on site — attests, it's also a high-tech, cleverly-planned facility. And he should know, having been involved with the project for almost a year and having put his training as an architectural draughtsman to good use in developing the building's blueprint with the client.
"We've worked very closely with CablePrice head office in the development of the site. There have been many, many hours spent drawing and refining the design, so it's great seeing it nearing completion," says Phillips.
The plan was always designed to maximise available space on the Omahu Road site (a location returned to green field space by Stead following demolition of an existing building), while still allowing for plenty of multi-axle manoeuvring space around the structure.
To begin with, the brief was for five full bays and three equipment bays, but the way the building needed to be orientated onto the corner site meant an extra two full bays could be added to the design. In addition to ample workshop space for both tracked and wheeled machinery, the building also houses separate sales and parts reception areas, a large double-height parts inventory bulk store area, along with a 'clean room' where engine rebuilds can be undertaken without significant threat from invasive dust.
The building caters for visiting staff to 'hot desk' in communal spaces, while operators waiting for their truck or excavator to be serviced can relax in front of a flat screen TV and help themselves to tea and coffee in a specially-designated area, too.
But, as Phillips explains further, the buildings really clever features are all hidden from view.
"The site has some really innovative aspects to it that people will never see. For example, the concrete floor is heated with six kilometres of piping. The clever bit though, is that rather than cart waste oil off site, it's recycled and used to fuel the undefloor heating.
"The equipment bays feature steel rails set into the floor to avoid excavators chewing up the concrete. It all looks pretty straight forward as you see it, but there was a huge amount of work in setting the reinforcing underground. The equipment bays were poured first and it was a 12-hour pour with a lot of challenges," says Phillips.
Down the other end of the service area where trucks will drive in and out, rather than traditional hoists and inspection pits, the full workshop bays feature impressive Skylifters that will support whole truck and trailer units.
"The Skylifters have phenomenal lifting abilities," enthuses Phillips. "There's a bridging ramp that sits between the two main ramps so truck and trailer units can drive straight on: those things will lift them to the ceiling."
Outside the rear of the building, alongside the truck wash bay, an innocuous patch of grass does a lot more than simply add some greenery to the site. Phillips explains this is actually a swale designed to mitigate CablePrice's reliance on the city's storm-water system.
Because the storm-water system is already at capacity, the swale collects all water from the site in a central sump. The water is then trickle-released from the sump, down under the grass where thousands of litres of storage chambers hold the run-off before slowly releasing it into the ground. The grass isn't just a nice natural cover for the swale: it actually helps scrub contaminants out of the water that might come off the yard (such as oil from a truck, for example).
"We'll see more and more of this type of environmental solution in the future," says Phillips. "The swale has actually become something of a trial for the Omahu Road area and we've had a lot of interest in the system from companies planning development work around here."
Back at their corporate base in Hastings, Stead Construction Limited's general manager Vanessa Treseder gives me some further company background. It's soon not hard to see why CablePrice has entrusted Stead with a project like Omahu Road.
With a decade-long history of quality construction work in the Hawke's Bay region, 58 staff and its own 1500-square-metre joinery shop, Stead Construction Limited has found itself in a strong position to undertake larger commercial builds that demand multi-angled managed solutions.
"For us, it's all about producing great buildings," says Treseder. "Jeremy Stead, who is the sole owner of the company, really believes in the ability of a quality team to put together quality work."
Stead, who is also a qualified builder and quantity surveyor, places great value on his company's forward planning abilities, as Treseder affirms: "Having a good tendering team is key. When you're working in a competitive environment, ensuring forward work flow is vital to the continued health of the company."
In addition to the sort of commercial projects Stead Construction has been working with CablePrice on, the company has also undertaken earthquake strengthening work for the Ministry of Education within Hawke's Bay — project work that comes with its own set of challenges, as the schools need to be kept open throughout construction, offering up a whole new set of logistical issues.
"Regardless of the challenges, we like to think we have the resources and the knowledge to just get on with the job," concludes Treseder.
And 1650 square metres of pristine workshop space down at Omahu Road will certainly attest to that.
For the latest reviews, subscribe to our Deals On Wheels magazine here.
Keep up to date in the industry by signing up to Deals on Wheels' free newsletter or liking us on Facebook.