Michelin car products arrive in New Zealand
---
A range of products from the famous French auto company, Michelin, which enhance vehicle ownership, are now available in NZ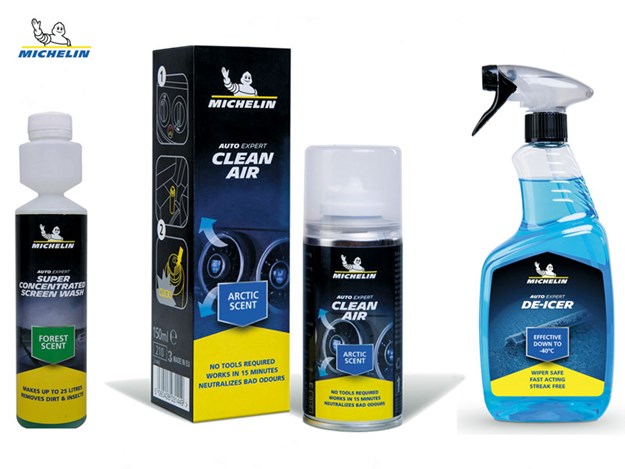 The three new products—Michelin Clean Air, Michelin Screen Wash Liquid, and Michelin De-icer—all make use of cutting-edge technology to deliver a superior result, just like the brand's high-performance tyres, the company says.
"Michelin is world-renowned for its tyres but what many people won't know is that the company also has an outstanding range of other products associated with vehicles as well," says Tim Paterson, national sales manager for Griffiths Equipment, which distributes automotive accessories and products throughout New Zealand.
"Griffiths Equipment has been very fortunate to secure official supplier status for Michelin car care products in New Zealand, enabling us to expand our range of advanced automotive lines."
Keeping air conditioning systems clean to retain optimum performance is behind the introduction of Michelin Clean Air—an easy-to-use interior spray for cleansing the automotive AC system.
The aerosol-based spray cleans air conditioning systems without requiring any tools. The process, which takes just 15 minutes, neutralises any foul odours and cleanses the AC vents, leaving behind a refreshing Arctic fragrance. Michelin Clean Air comes in a 150ml aerosol container.
Keeping windscreens clean is vital for safer motoring, and Michelin Super Concentrated Screen Wash is a powerful and fragrant cleansing solution. It has a sophisticated formulation that allows it to dilute in a ratio of 1:100 to produce 25 litres of ready-to-spray liquid, the manufacturer says.
"It cleanses and leaves the windscreen sparkling without leaving streaks and is ideal for getting rid of even the toughest of residues, such as insects and road grime."
It is provided in a 250ml storage container with marking for measuring the correct liquid dosage.
Heading into winter sees the looming problem of finding your vehicle windscreen covered in a thick layer of ice on a frosty morning. That's when the new Michelin De-icer comes into its own.
"This fast-acting de-icer cuts down the time scraping ice from the glass. The effect can be seen within five seconds of spraying from the high power 360-degree nozzle, quickly removing frost and frozen snow to deliver a clear view for safer driving," the manufacturer says.
The Michelin De-icer works effectively at temperatures as low as -40C and can also be used to de-ice locks. It's safe to use on wipers, all plastics, and paintwork and features a streak-free formula that keeps glass clear for driving on bitterly cold mornings. The new Michelin car care products are available from leading automotive accessory retailers throughout New Zealand.
Find new and used trucks for sale in NZ
Keep up to date in the industry by signing up to Deals on Wheels' free newsletter or liking us on Facebook.