BKT's new 57" Giant tyre
---
BKT's wide range of specialist Off-Highway tyres has a new product—The EARTHMAX SR 468 that's designed to fit out rigid dump truck
So far, the prototype has been made in the 40.00 R 57 size and is ready to be tested in the coming months by BKT engineers.
Although the new machinery to manufacture the tyre reached the Indian plant in Bhuj just before the COVID-19 lockdown, which delayed its installation due to a temporary shutdown of BKT's manufacturing facilities, manufacturing began soon after the necessary safety plan was in place for all staff.
"Despite the pandemic and the extreme difficulties caused by the situation, in BKT we achieved the impossible: going ahead very determinedly but with a similar focus on people, who for us are the company's real assets," says Rajiv Poddar, joint managing director of BKT.
The Giant 57" is the largest tyre size ever made by BKT.
EARTHMAX SR 468 joins the numerous products that make up the EARTHMAX family, a range of radial tyres used on off-road vehicles and equipped with an All Steel structure, which provides greater resistance to the casing and hence against damage.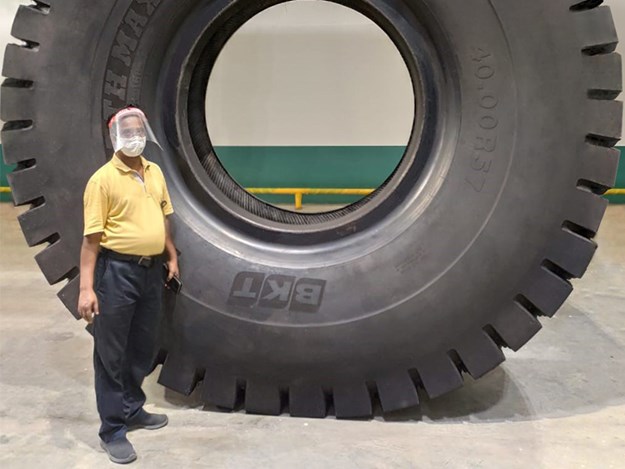 A winning feature of the EARTHMAX SR 468 is the special tread design and the compound created to limit the heat generated, BKT says. The E-4 depth of the tread provides extreme resistance in highly challenging conditions.
Dilip Vaidya, president and director of Technology at BKT added that the tyre will be subject to rigorous testing up to the spring
of 2021.
"Only when we are absolutely sure we can offer our users the best EARTHMAX SR 468 possible, will we officially launch the new 57" Giant."
Keep up to date in the industry by signing up to Deals on Wheels' free newsletter or liking us on Facebook.