New Hammar robots boost NZ sideloader production
---
A new automated robotic welding system recently installed at the Hammar factory in Sweden will help the sideloader company to also boost its production in NZ
Last year, registrations of new Hammarlifts in New Zealand formed only a portion of the total sales/orders received and would have been greater but for limitations on production capacity. The new multi-million investment in Sweden will help cut delivery time along with investments in expanded production facilities in Auckland.
A number of Hammar sideloaders destined for the New Zealand market will now be shipped with a fabricated chassis using the new robotic welding system, thus reducing assembly time at its Auckland production plant. At the same time, the Auckland facility will continue to fabricate complete chassis as before.
The first five sideloaders manufactured by the new robotic welder recently landed here and were completed to buyers' specification and delivered to their respective fleets in around half the usual assembly time.
"Some of the chassis for our sideloaders are now being manufactured at the Hammar factory near Gothenburg using sophisticated robotic welding, which has many advantages for us and for our customers," says Fred Sandberg, managing director of Hammar New Zealand.
"It means that our products are made to even more precise and accurate tolerances.
It also means that chassis fabricated in our Auckland factory, have faced an upgrade in both design and quality. Each chassis fabricated on the robotic welding line in Sweden and destined for New Zealand is then broken into two halves in order to fit into containers and it is a simple task to re-assemble them on arrival here."
Fred adds that the new welding method will help Hammar overcome a production bottleneck that has been hampering the high demand in New Zealand.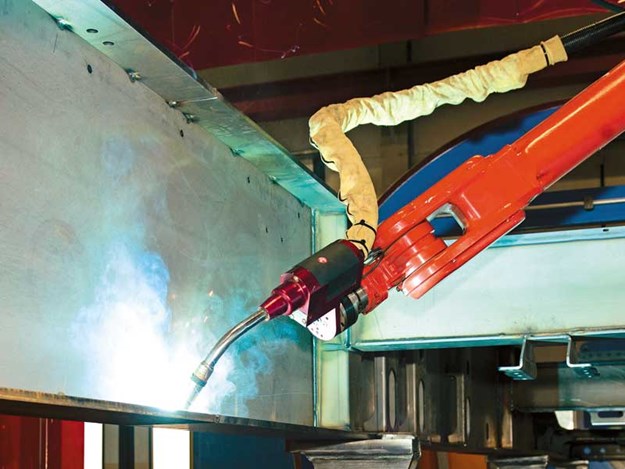 The Auckland factory at Takanini has been extended and subjected to a new layout in order to make assembly operations flow better and faster. A separate workshop was opened two doors down the road for assembly of new Hammarlifts and final testing. But even these moves have not been enough to keep up with burgeoning demand in recent years.
"With the option of ready-made chassis from Hammar HQ in Sweden now requiring less production time when they arrive, our team will be able to complete each sideloader more speedily" says Fred.
Find more trucks for sale in NZ
Keep up to date in the industry by signing up to Deals on Wheels' free newsletter or liking us on Facebook.