Hino success at 2019 Dakar Rally
---
Hino won top honours in the Under 10-litre class for the 10th consecutive year in the 2019 Dakar Rally in Peru
Competing in 10 gruelling stages over 12 days, Teruhito Sugawara and Katsumi Hamura in Hino Team Sugawara's Car 2 were victorious in the category, and finished ninth overall, beating their larger rivals to the finish line.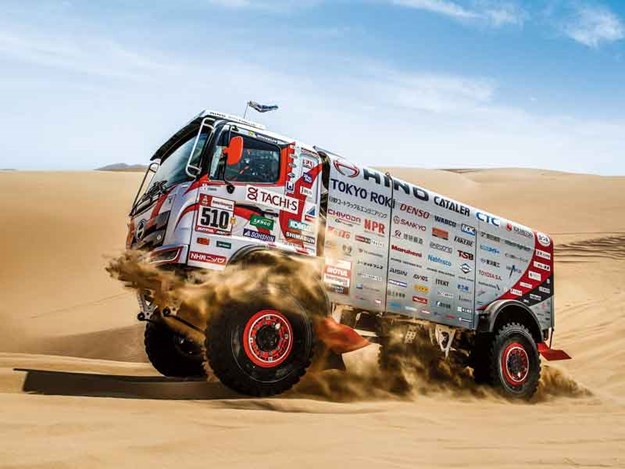 An unfortunate problem saw Car 1, crewed by Yoshimasa Sugawara and Ahito Sakurai, withdraw in the early stages, meaning Sugawara was unable to complete the 36th consecutive Dakar Rally he's competed in.
Yoshio Shimo, president and chief executive of Hino Motors, says the course was tough and congratulated the Car 2 duo for delivering Hino Team Sugawara its 10th victory in a row in the Under 10-litre class.
"As always, we will use our experiences in this year's Dakar Rally to further enhance our products."
Teruhito Sugawara, the Car 2 driver, was pleased with his result and promises more in the future. "With the new truck, we have seen opportunities to improve, and we're looking forward to taking these learnings to achieve even greater results."
Yoshimasa Sugawara, who drove Car 1, is the Guinness World Record holder for most consecutive entries (35) and most consecutive finishes (20) and was understandably disappointed with his second successive retirement.
Both of the Hino Dakar Rally 500 Series vehicles used an enhanced version of the Hino A09C six-cylinder engine, the production version of which is available as an option in the 500 Series Wide Cab trucks.
Key specifications of the two 2019 Dakar Rally Hino trucks include the 8.86-litre direct-injection turbocharged and intercooled engine matched to a six-speed direct-drive gearbox with secondary transmission, two-speed transfer, and a part-time four-wheel-drive feature in Car 1 and full-time 4WD in Car 2.
Keep up to date in the industry by signing up to Deals on Wheels' free newsletter or liking us on Facebook.