Foton re-enters the trucking market with new releases
---
A welcome back to Fonton who has re-entered the light-duty truck market with three new Aumark Euro 5 trucks that offer a solution to four common customer problems
Foton New Zealand has re-entered the light-duty truck market with the launch of the Aumark Euro 5 being described by Foton New Zealand CEO, Roger Jory, as: "Just what a truck should be—solid, reliable, good value, and does what it says it does."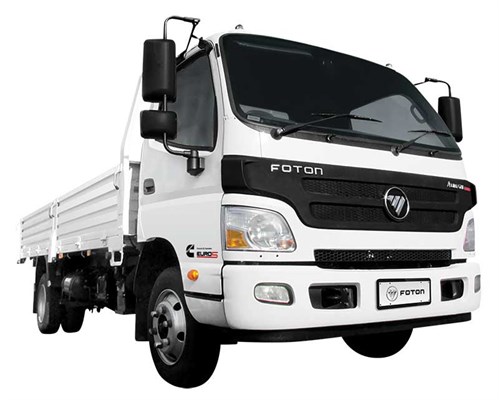 Three models have landed in New Zealand, providing what Foton NZ says are four solutions that will appeal to a broad range of customers. The four solutions with only three vehicles have been obtained by the dual role of the mid-range BJ1079 model.
The truck has a GVM of 5995kg, enabling it to be driven on a car license, but alternatively, it can be registered as a 6500kg GVM for added load capacity.
Of the two other models available, the smallest BJ1051 model with a GVM of 5650kg, has a recommended retail price of $29,715 plus GST. The BJ1051 is also available with a tray, 'job ready', from only $29,995 plus GST, making what Foton says is one of the best value new trucks available in New Zealand.
The largest BJ1099 model has an 8995kg GVM limit at the top end of the six- to nine-tonne range. Priced at $39,165 plus GST, the truck comes with full air braking, and according to Foton, is the only truck in its New Zealand class to have this feature.
The Foton's three New Zealand models are powered by Cummins ISF engines: BJ1051 with a 2.8-litre and BJ1079 and BJ1099d with 3.8-litre. All trucks in the range are said to meet Euro 5 emission standards.
Additionally, Foton says their Industry Best Component Sourcing policy allows the new Aumark Euro 5 models to benefit from ZF transmissions and Bosch electronics.
"The Aumark is a great option for New Zealand truck buyers. Foton are one of the world's largest commercial vehicle groups, so they've got great credentials in this space, and they've produced a range of light-duty trucks that are quite simply compelling value when compared to the competition," Roger says. The trucks are available throughout New Zealand.
Keep up to date in the industry by signing up to Deals on Wheels' free newsletter or liking us on Facebook.