NZ Trucking Association: Pedestrian safety
---
The NZ Trucking Association warns truckers and pedestrians to stay safe and alert on the road
Regularly, NZ Trucking Association, contacted by members with their stories of sharing the road with other road users.
At times, these stories are good news stories about positive feedback from other road users. It may be a friendly wave for letting a queue of following traffic past or it may be the car that slowed down to let them pull out of a side road in heavy traffic.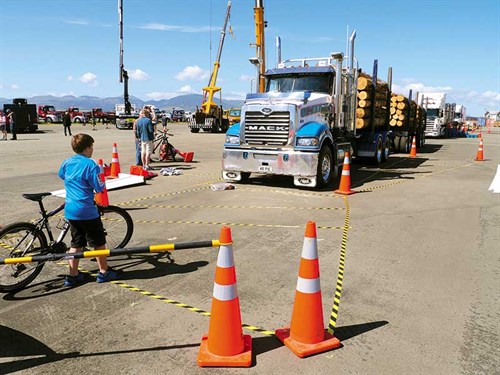 Often though, the reports are of disturbing near-fatal misses with other road users.
Recently, a member reported a close call a driver had with a young schoolboy. The driver of the 50 MAX Truck and Trailer was stopped at a set of traffic lights on a main freight arterial route that was also adjacent to a large school.
While waiting at the lights, a group of young boys passed in front of his truck giving him a wave and gesturing that he 'sound' his horn, which he was happy to oblige with a smile in return, thinking that these boys were of a similar age to his own son at home and that it was good to see them walking to school instead of getting a ride in the family car.
Next, the lights turned green, and he was just about to move when the driver of the truck behind him screamed over the CB radio for him to stop.
Just then, a small boy with his backpack on popped out from between the truck and trailer with a smile on his face, oblivious to the fact that he had only just avoided becoming another one of the growing numbers of pedestrians who are killed on our roads each year.
Needless to say, the truck driver just about had a heart attack.
Annual road fatalities in New Zealand
On average, 36 pedestrians are killed and 1000 pedestrians are injured on New Zealand roads every year. Vulnerable road users account for a significant number of the annual road fatalities.
Between 2006 and 2015, there were 348 pedestrian deaths and 90 cyclist deaths. This year, to date, twice as many pedestrians have been killed as last year for the same period.
The greatest number of deaths and injuries are people aged between five and 24 years. More than 90% of pedestrian casualties occur on urban roads (those with a speed limit of 70km/h or less). More than half of these occurred on major urban arterial roads.
There are many causes of these fatalities and injuries, ranging from a lack of understanding of vehicle dynamics, blind spots and stopping distances, driver distraction, inattention by pedestrians, visibility, alcohol and drugs, and unsupervised children.
Caution to young road users
Children are our most vulnerable group of road users and are not little adults, so don't expect them to act as adults do.
Children, especially those under the age of nine, may not have the abilities and skills needed to be  safe in traffic, so you need to be careful when driving near them.
Young children have a narrow field of vision, meaning they may not see vehicles as easily as an adult does. They have trouble judging the speed of moving vehicles.
They may let a slow vehicle past and then try and cross in front of a fast vehicle. They often don't understand how long it takes a vehicle to stop, especially a big truck.
Children often have difficulty working out which direction sounds are coming from.
Because they are young, they can't see over the top of vehicles and bushes. It also means they can't easily be seen by drivers and can often seem to appear out of nowhere.
Children tend to be thinking about one thing at a time and are not always aware of what is happening around them.
Because they are always on the move, they may have trouble stopping at the kerb and could just dart out in front of drivers.
Children often freeze when they find themselves in danger, instead of quickly removing themselves from the situation like an adult might.
The NZ Trucking Association regularly runs the Share the Road Safely with Big Trucks road safety awareness programme at schools and community groups.
Steps for road safety
As a vehicle driver, there are many steps you can take to help avoid pedestrian deaths and injuries:
Always be ready to stop. Especially near schools, rest homes, bus stops, and pedestrian crossings.
Be careful when driving past parked vehicles. Pedestrians may walk out without warning.
Slow down to 20km/h when passing or coming towards a school bus. This should be regardless of which side of the road you are on.
Watch out for elderly people. On mobility scooters, or people with disabilities.
Take special care near roadside stalls and parked vendors. Pedestrians around mobile coffee vans  may forget to watch out for traffic when crossing the road.
Slow down when coming up to pedestrian crossings. Be ready to stop for any pedestrians stepping on the crossing. This includes people obviously waiting to use the crossing, regardless of which side of the road they are on.
Watch out at courtesy crossings. Although not official pedestrian crossings, they do provide a place for pedestrians to cross. Drivers should be considerate of pedestrians using a courtesy crossing zone.
Give way to pedestrians. Especially in a shared traffic road zone. Pedestrians should also not impede traffic.
Stop when the School Patrol sign is out. School crossings, also known as kea crossings, provide a safe place for children to cross the road. They generally only operate before and after school. When the school patrol sign is out, vehicles coming from both directions must stop and not move until all signs have been pulled in.
Remember the 40km/h speed limit outside many schools. Drivers should be prepared to stop at any time outside schools.
Give way to people on footpaths. When you are entering or leaving a driveway that crosses a footpath, you must give way to people using the footpath.
Keep up to date in the industry by signing up to Deals on Wheels' free newsletter or liking us on Facebook.