World premier for new Hammar sideloader in New Zealand
---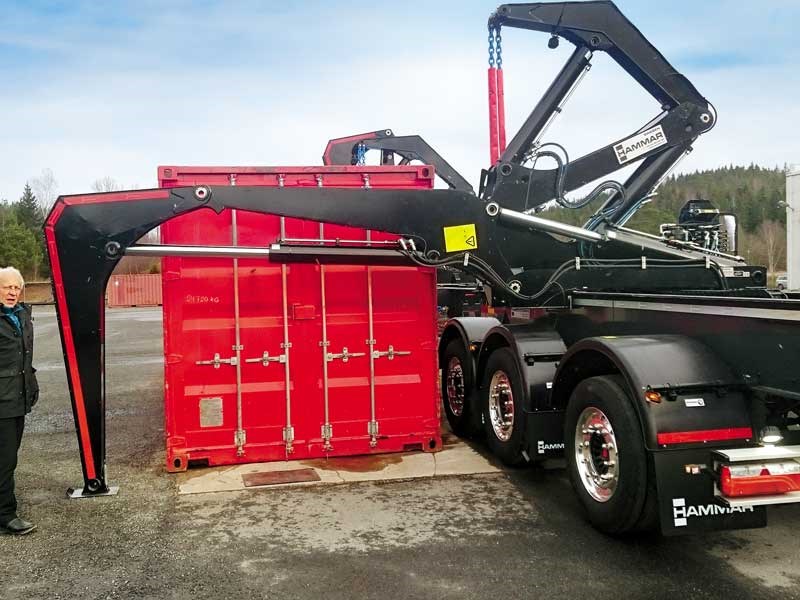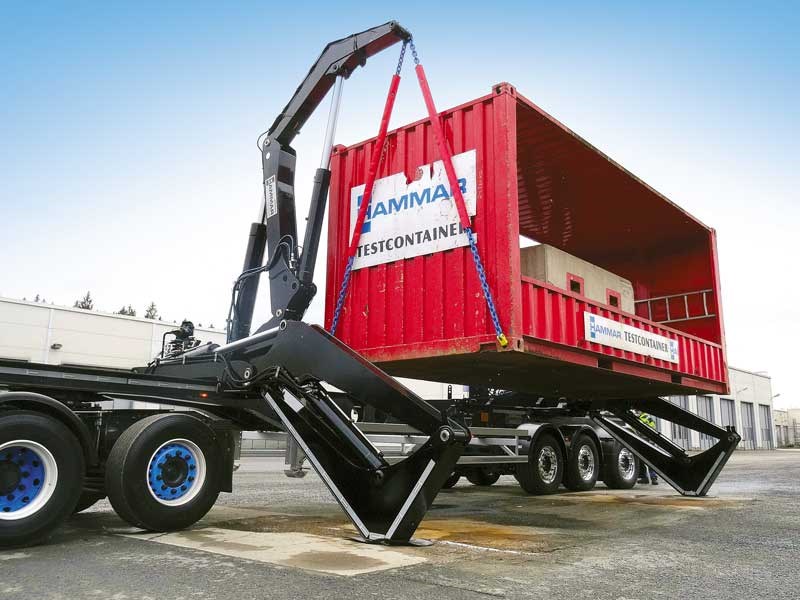 The Hammar 110 was recently unveiled at THE Expo transport and construction machinery show in Mystery Creek near Hamilton.
Hammar has taken the wraps off what they say is a completely new sideloader in New Zealand that delivers a unique two-in-one lifting capability, while at the same time dramatically lowering the tare weight.
The new model features a double-action system that can either deploy the 'StepOver' leg technology developed for the popular Hammar 155 for stacking or transferring containers, or a new, patented, fast ground handling ability that has been dubbed the 'SledgeLeg'. The double-action system operates in a single cycle, making it easier to utilise.
In 'SledgeLeg' mode, it sees the legs extended to less than half their maximum outreach to rest on a knuckle built into the upper part of the longer 'StepOver' leg, as it folds into itself. This enables the Hammar 110 sideloader to operate in much tighter, confined spaces. And because the leg does not need to completely unfold, loading and unloading containers are said to be much faster using the 'SledgeLeg'.
Hammar New Zealand boss, Fred Sandberg, describes it as both an "evolutionary and revolutionary" development and says the 110 model was designed with markets like New Zealand in mind.
"Space is becoming a premium at many businesses in large cities and towns these days, which makes it difficult for truck drivers to operate a traditional sideloader when delivering or picking up a container," he says.
Fred says the swift deployment of the stabiliser legs in the 'SledgeLeg' mode means trucks can be in and out of customer premises in no time, describing the operation as "super-fast" compared to traditional sideloaders. And with the ability to still transfer a container or stack on top of another with the fully extended 'StepOver' legs, the new 110 provides more options for transport operators.
The best news of all, however, is the much-reduced tare weight, which is now down to 8.3 tonnes.
"Traditionally, our sideloaders have been a little heavier than some others, but we've always had the quality and durability on our side," Fred says. "Thanks to progress in technology and design, as well as lighter, stronger materials that are now available, we have been able to provide our customers with the ability to carry more goods and, therefore, improve their bottom line whilst still building them a Hammar." 
Keep up to date in the industry by signing up to Deals on Wheels' free newsletter or liking us on Facebook.