Book reviews: June 2022
---
Deals on Wheels reviews the latest titles to hit NZ bookshelves
If That's What It Takes
Les Allen
Illustra Press
$37.95
Reviewed by Steve Atkinson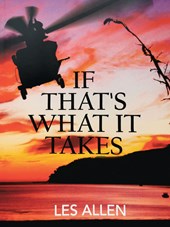 Debut novels will either reel you in or smash you to the floor, but unfortunately, this was the latter of the two and is a culmination of probably five novels squeezed into a couple of hundred pages.
Things start in Northern Ireland early 1970s, as a soon-to-be ex-SAS sharpshooter defies orders and pumps bullets into a couple of law breakers. Exiled to New Zealand, with a new identity he makes a new life near Whangarei, yada, yada.
At this point or somewhere around there (I couldn't find where it changed), we suddenly step ahead maybe 10 years or so and a whole new character takes centre stage, as do a number of others in quick succession.
It soon becomes a bunch of rambling yarns with 20, or maybe even 30 characters – I lost count. Our original SAS guy now only pops in on the odd occasion. The storyline has racial undertones in the form of a thug Maori and a money-hungry Croatian-named businessman, both there to cause trouble.
It's all very bizarre and could have been so much more if the author had sourced a professional editor for advice and Google to get simple facts right. Alright Boomer, you get two-points for effort.
Seventy Years' Worth of Travel
Pat Backley
Self-published
$24.95
Reviewed by Steve Atkinson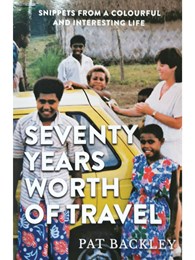 Don't judge a book by its cover, and in this instance the saying is true – well somewhat anyway. This series of short yarns follows our intrepid traveller as she journeys throughout many parts of the world and at times provides some good tips for those who choose to follow in her footsteps decades later.
While the trips are somewhat interesting, what our writer fails to cotton onto, is that anyone can write a travel guide – but the real interesting stuff is what's happening in the background, such as her relationships with family and friends, especially her two (or is it three) ex husbands and what cemented her decision to move across the world to live in New Zealand.
While she only lightly touches on these subjects, the book would have been so much more if those stories had been included. Nonetheless, it's a good light read that won't tax the brain cells too much.
The New Zealand Morris Minor Story
Reiner Schoenbrunn
Transpress New Zealand
$59.95 (includes postage on local deliveries)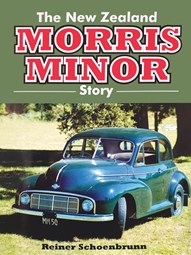 It took reading an English magazine for me to find out that this book existed, even though it's now around 20-years-old – I was surprised when I found out it was still available.
Written by Reiner Schoenbrunn who was born in Germany, he saw his first Morris Minor on a trip to Holland as a youngster. When he came to live in New Zealand in 1987, he was pleased to see quite a few of the iconic marque still on the road and even more surprised to learn that they were actually assembled in this country.
The vehicles came into NZ in CKD form (Completely Knocked Down), a term that is somewhat of a misnomer for reasons that are explained in the book. It's a story of a self-sufficient country that actually had a vibrant car, truck and tractor manufacturing industry in which The Dominion Motors Ltd, along with many other forward-thinking businesspeople provided meaningful well-paid work for injured soldiers who'd recently returned from WW2.
The book is a well-documented history and is chock-full of high-resolution photos of the cars and the buildings they were built and sold in. Available from transpressnz@outlook.com and price includes postage on local deliveries.
Find new and used heavy machinery for sale in NZ
Keep up to date in the industry by signing up to Deals on Wheels' free newsletter or liking us on Facebook.