Cover story: Camera systems for NPD fuel tankers
---
NPD uses multiple cameras from Cloud Vehicle Technology Ltd on their fleet of Scania fuel tankers helping provide security and safety for their drivers
If you live in the North Island, there's a good chance you've never heard of NPD, however, that's changing rapidly.
With a distribution network of some 90 fuel stations, primarily in South Island, Kiwi-owned NPD is on an expansion plan through the North Island, making their presence known in the Auckland region, with one site already operating in Wiri and two currently under construction in Otara and Pukekohe. This is already after establishing a pathway through Palmerston North, New Plymouth, and Hamilton. But you may not have read anything in mainstream media about NPD or their quest to open up new outlets, as it's not as glitzy as writing about EVs and charging station installations.
The company-owned line-up of outlets includes large, self-serve, fully-covered fuel-only stations, some smaller outlets, and full-blown retail premises, complete with customer-focussed Refresh-branded premium cafés with real people providing top-level service with a smile.
So, it comes as no surprise that the same level of seriousness has been placed on NPD's fleet of Scania tankers, because in reality, if the wheels stop turning, the fuel stops flowing.
Fleet management
Tasked with keeping the tanker trucks running as efficiently as possible is fleet manager Iain Donnelly, and he has supported the ongoing installation of a full telemetry package, which includes camera systems from Cloud Vehicle Technologies and systems from other providers, such as Teletrac Navman and Scania.
"We started rolling out the camera systems in 2018 to give us a full overview of what our drivers were encountering out on the road and to provide a level of safety and security for our people, especially at times when they are working alone in quiet places," says Iain. "These are not just drive cams; they are a full security system."
According to Iain, most suppliers were able to provide up to four cameras, but only Cloud Vehicle Technology was in the position to supply multiple camera systems that could be accessed remotely.
"Most of NPD's trucks that have had the system installed have seven cameras set up: front facing, rear facing on top of the truck cab, two side facing, two in-cab, and rear-facing on the trailer," says Andy Slater Cloud Vehicle Technology director.
"One of the in-cab cameras is full facial recognition and will alert the driver when it recognises sleepiness, distraction, as well as many other alert options that can be sent to cell phones," says Andy.
Fleet safety
Iain says there's a misconception that camera systems are there to keep an eye on what drivers are up to. While he acknowledges that there's the ability to follow everything a driver and truck gets up to during the course of a workday, the reality is they have professionals behind the steering wheel and the cameras play a bigger part in providing security for drivers, especially when it comes to interacting with other road users.
"With all the impatience out there these days, we occasionally will receive a phone call from a road user. The system will allow us to review footage and get a factual understanding of what has taken place," says Iain. "It's interesting how some people's perception of what happened and the reality of the situation can sometimes differ."
Then there's the aspect of security when carrying out deliveries to fuel stations or customer sites, especially when the premises are closed.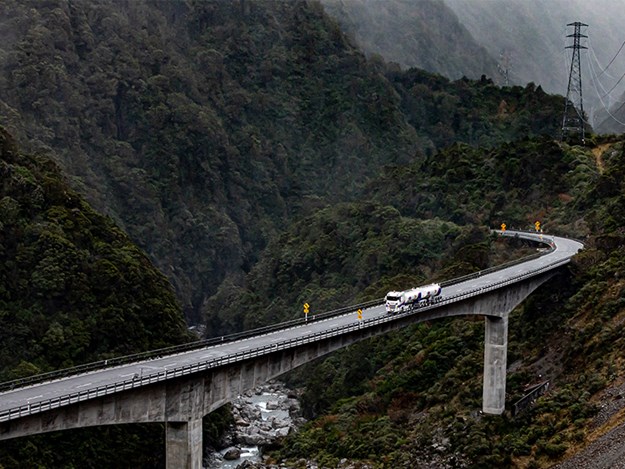 "Having the cameras operating when drivers are unloading gives us peace of mind, as we have a level of security for our people, or if an incident occurs, we can review the footage," says Iain.
Another benefit for drivers is that the in-cab display helps remove blind spots, enabling them to keep across vehicles following or passing the truck.
"Cameras can be set up to automatically switch from one to another, so the driver can see the progress of a passing vehicle as it makes its way past the truck," says Andy.
"Also, if a driver indicates to turn right or left, the camera will automatically display that side of the truck on the in-cab monitor, and this gives the driver confidence that no other vehicle or pedestrian is alongside as the truck makes its turn."
Technology at your fingertips
But having camera systems installed on trucks is only one side of the story. In reality, fleet managers need to be able the access the content, and this is where Cloud Vehicle Technologies system allows users to easily access live or recorded information.
"Fleet managers can access the cameras through their desktop computers or via an easy-to-use app on their cell phones," says Andy.
"This allows managers and owners to be across their fleets 24/7 if they so desire and means they don't need to be sitting in front of a computer all the time. As long as they have connectivity, there's no reason something couldn't get addressed from the other side of the world, which has happened a few times."
Custom solutions
While NPD has comprehensive camera systems for their fleet, Cloud Vehicle Technology provides custom solutions for many different types of applications.
"There are all types of trucks and heavy machinery we fit systems to," says Andy. "They enable a high degree of confidence for owner and operators and in the whole scheme of things are relatively inexpensive to fit, while we provide the support and backup when needed."
"Our business is constantly looking at how we do business, safely, and efficiently. Our latest camera systems provide a step up from where we were a year or two back. The hardware install to provide the ability to download is a recent addition from earlier this year, and this will continue to evolve, so we stay up to date as technology progresses," says Iain.
For more information, visit cloudvehicletechnology.co.nz.
Find new and used trucks for sale in NZ 
Keep up to date in the industry by signing up to Deals on Wheels' free newsletter or liking us on Facebook.