Comment: An introduction to LTSA
---
In Deals on Wheels' new column, we find out more about the Log Transport Safety Council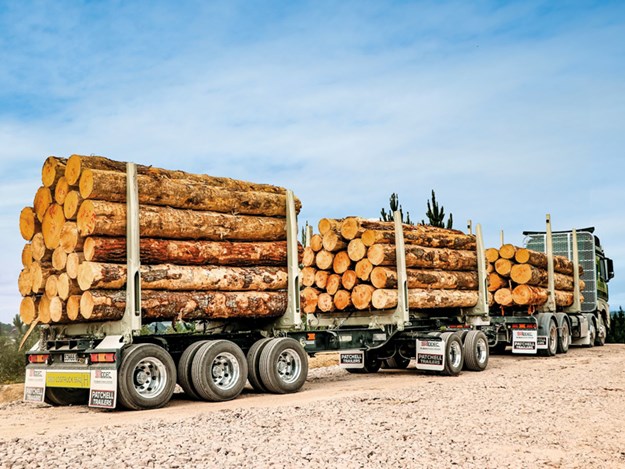 It's great to be partnering up with Deals on Wheels to be able to tell the readers about our organisation and the initiatives that are coming out each month. To start off, we thought we would just let you know a bit about the organisation.
Who are we?
The Log Transport Safety Council (LTSC) is a pan-industry collaborative of truck operators, transport researchers, trailer manufacturers, forest owners, legislators, and enforcement agencies. Our aim is to keep our sector and those coming into the sector safe as well as keeping you up to date with the latest happenings in the forest industry.
LTSC is a single unified entity that can and does canvas opinions, seek input, coordinate, and formulate the sectors outlooks and ideas regarding industry issues and initiatives that encompassed the views of all major industry sectors.
What we've achieved?
Since the formation of the LTSC in 1996, considerable groundbreaking work has been achieved in several areas within the Log Transport Sector, e.g.:
Off Highway Vehicle operating guidelines NZ Qualification in Log Truck Driving
0800 signage
Bolster attachment code
Load and dimensions (22-metre rule)
Static Rollover Threshold (SRT) 0.35 to 0.42/0.45 Reduction of rollovers (through design and education)
Load security
Log transport safety accord
Heavy vehicle braking central tyre inflation
Fatigue management chain of responsibility
Professional development
We're all about recognising quality work design and professionalism and have two valuable membership programmes operating. Recognition in educational achievement is important to LTSC. Our training pathway was developed to do exactly that with our Bronze, Silver, Gold, and Platinum pathways.
Each stage comprises theoretical and/or practical learning, with completion of each stage relying on time served in the industry and successful completion of the previous stage. Financial members have access to the entry-level stage as well as the LTSC approved assessors.
Our other programme, the LTSC Contractor Certification tool, can be used by multiple customers and forest managers, reducing the number of audited log transport contractors complete.
With certification increasingly more recognised among associated sectors as a credible tool, members have access to beginning and becoming leaders in the H&S within the industry.
Further reasons to join LTSC is that we manage the 0800 call centre information and financial members are allocated a custom, registered truck ID number, which is used to report back on any complaints.
There are also a number of company safety administration roles we manage, such as distributing 22-metre permits, chain lifting stickers, and being a financial member of LTSC, we will sort that all for you.
A membership with LTSC will cover NZTA permits and sticker supply. We've active communications going out to our members through our Facebook page, through newsletters and through general e-mail passing on relevant industry updates.
We're always looking for a good story and in future publications, we're looking forward to bringing you profiles of our members. If you realise, you need to be part of our organisation, then sign up today.
Go to logtruck.co.nz for more information and membership registration.
I look forward to bringing you further news and updates on LTSC as we progress through the next 12 months. Stay safe and maintain all your necessary COVID-9 protocols. The world is looking very different ahead of us.    
Membership fees
Fleet operator
25 vehicles and over

$2750 + GST

Operator under 20 vehicles

$110 + GST (per truck)

Trailer manufacturer

$550 + GST

Associate member

$275 + GST
Key sponsor spotlight
Log Transport Safety Council is pleased to have Patchell Group on-board as a key sponsor of the Deals on Wheels campaign, and we thought you would like to know a little more about them.
An industry leader, Patchell Group began as a small general engineering workshop in 1972 and have since grown to more than 240 staff nationwide. Its head office is located in Rotorua and manufacturing facilities occupy nine nearby sites.
Initially, the company's primary focus was on the manufacture of attachments such as bulldozer blades, rippers, bush canopies for bulldozers working in the forest, and structural repairs to heavy equipment of all types, including log transport equipment.
After repairing repeated failures in Road Transport Trailers in the late '70s, Patchell Industries entered into their own design and manufacture of on and off-highway logging trailers and associated truck equipment in conjunction with their manufacture of in forest tracked log loaders and attachments for heavy earthmoving equipment where an emphasis on high-quality design, manufacture, and customer service has made it a leader in the New Zealand market.
When the company began its stainless-steel tanker manufacturing division in 2004, followed by its procurement of the highly regarded Swinglift® Brand Container Side Loader product in 2005, it added another arrow to the Patchell bow.
A depth of practical experience, excellence in production engineering, and commitment to "right-first-time" design has put the Patchell Group in a unique position to deliver vehicles, which meet the challenges of the logging, container, and liquid food grade transport trailer environment today and in the years ahead.
In engineering, a range of vehicles is often used in a harsh physical and commercial environment. The Patchell Group has developed significant expertise in the cost-effective design, fabrication, and repair of high-performance structures and has applied this to a variety of fields, including manufacture and design.
They say they remain New Zealand's number-one heavy transport trailer manufacturer.
Patchell trailers are legendary for their ease-of-use and are designed for different client applications, practically custom-built. The team at Patchell Group are equipped with the knowledge and skills to assist their customers with anything.
Glenn Heybourn, the sales and marketing manager for Patchell, sits on the LTSC executive council and oversees the training and education sub-committee as well as the innovation and design sub-committee.
"We're passionate about supporting the Rotorua community, and actively support local charities and events such as the Cancer Society, The Salvation Army, CanTeen, and Rotary International. More recently, we've sponsored the new forestry awards that are held nationally with the regional wood councils," says Glenn.  
Find new and used trucks for sale in NZ 
Keep up to date in the industry by signing up to Deals on Wheels' free newsletter or liking us on Facebook.