Special feature: Trucking remains one of NZ's most dangerous professions
---
Improvements to vehicle technology, roading, and driver behaviour must be made to reduce the amount of injury and deaths involving trucks in NZ
Not only do trucks have a devastating record when it comes to the annual road toll but trucking is also one of the most dangerous occupations in New Zealand when looking at deaths and injuries.
According to Worksafe NZ, for the six years from 2013 to 2018, there were 413 fatalities in the workplace in New Zealand.
Of those, the most dangerous industry was 'transport, postal, and warehousing', with 112 deaths since 2012.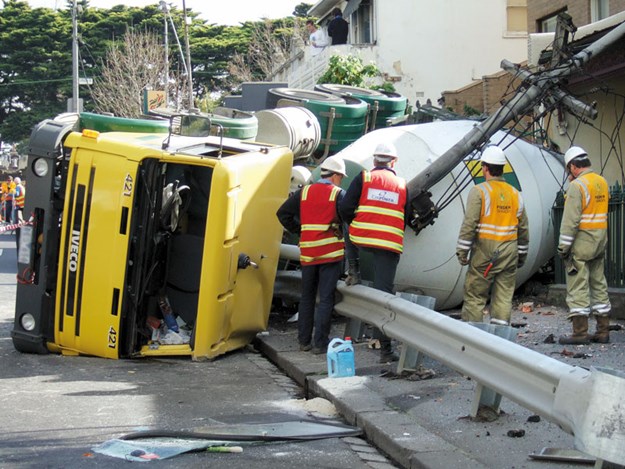 There were 62 workplace fatalities from November 2019 to October 2020. Of those, three worked in construction and seven in transport, postal, and warehousing. This was more than agriculture (109 deaths 2012–2019), construction (71), or forestry (48). According to the NZ Trucking Association, more than 50% of truck driver deaths are due to rollovers.
The Government's careers website notes that New Zealand truck drivers "work in conditions that may be stressful, including poor weather and heavy traffic," and drivers "may work locally or travel long distances, which can mean spending nights away from home."
With reports the trucking industry was "desperately" short of drivers, driver safety is becoming increasingly important. With unemployment across the country increasing due to the COVID-19 crisis, it was hoped new workers would be brought into the industry. However, this has not eventuated.
In the US, trucking remains one of the deadliest occupations across the country, according to the latest federal data on workplace deaths. More than one of every seven on-the-job deaths occur in heavy-duty trucking, according to the National Census of Fatal Occupational Injuries.
There were 843 trucker deaths in 2019, a 1.4% increase on the year before. Including professional drivers of light-duty trucks, the industry suffered 1005 fatal occupational injuries last year, the highest since the agency started tracking the category in 2003.
In 2019, there were 67 deaths on New Zealand roads in crashes involving trucks.
According to the Ministry of Transport, in 2019, there were 10 deaths involving heavy goods vehicles, an increase from six for the previous year, while there were 268 injuries, 58 of which were serious, up from 52 serious injuries in 2018.
There were three deaths involving ag vehicles, and 655 injuries, 109 of those serious.
For that same year, there were four deaths involving light goods vehicles, with 1413 injuries, including 229 serious injuries.
The stats do not include drivers who died while not on the road, including Taranaki trucker Trevor Biesiek, who died suddenly on 7 January, aged 67, after suffering a heart attack while unloading at Fonterra in Eltham.
Road Transport Forum chief executive Nick Leggett says improving road infrastructure to reduce traffic hazards would go a long way to improve safety.
Advancements in driver assistance technology, including forward collision alerts, automatic emergency braking, and blind-spot alerts would also help reduce injuries and fatalities.
Nick says professional truck drivers are held to a higher account than other drivers.
"Their compliance and enforcement history can result in job loss and prohibition from driving heavy vehicles," he says.
He adds that while there have been massive improvements in performance and safety systems in modern trucks, changing driver behaviour was a long-term game.
"[It] relies on an in-depth look at what's going wrong on the roads, licencing, and ongoing driver education.
"Truck drivers are out on the road every day with people who aren't held to account until it's too late.
"They face the ultimate accountability when they look up from their phone and see a truck bearing down on them because they are on the wrong side of the road. No matter how slow you make the traffic go, if a car hits a truck, the car comes off worse," he says.
Nick says the road network is the trucking industry's primary place of work and as such, the sector is committed to improving road safety.
"We believe there's not enough focus on driver behaviour and distractions, which are the main causes of accidents.
"Dealing with driver behaviour and giving drivers the tools to drive themselves out of any trouble they might get into must be top of the list if we want to get serious about reducing the road toll."
Find new and used trucks for sale in NZ
Keep up to date in the industry by signing up to Deals on Wheels' free newsletter or liking us on Facebook.