Book reviews: September 2020
---
The Deals on Wheels team reviews some of the latest titles to hit the bookshelves
The Telling Time
Pip McKay
Polako Press
$34.95
Reviewed by Steve Atkinson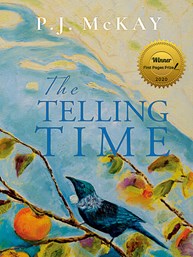 Written by a New Zealander and the recipient of the 2020 First Pages Prize, this book is a somewhat unusual read to be found on these pages but with the Croation community having a strong presence in the earthmoving industry, could present a solution for those looking for a gift for a friend or loved ones.
Situated in two time periods, the first part takes place in the late 1950s and follows a young immigrant as she's shipped from the then Yugoslavia to New Zealand for an unmentioned misdemeanour but what we understand could be forbidden love—the usual go-to for writers.
In New Zealand, she housekeeps for a long-settled Croatian family, eventually marrying into it. The storyline thus far is standard fare, but nonetheless somewhat interesting at times. Part two fast forwards to 1989 and follows the immigrant's daughter, a youngish lawyer who wants to know more about her mother's past so follows her family roots back to Croatia.
It's all very soap opera-ish and even includes an unnecessary and slightly clumsily written left-field scene that didn't really enhance the storyline. All-in-all though the book is a good first effort and would find an audience with those more in touch with their emotions, so I recommend it as a gift for that loving partner, mother, aunt, or friend.
Automania—Iconic New Zealand Collections
By Don Jessen
Bateman Books
$49.99
Reviewed by Cameron Officer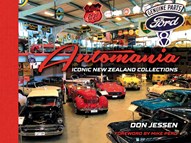 This book is thoroughly dangerous. If, like me, you're prone to stockpiling your online auction website 'watch list' with old metal you've neither the time nor the space to bring back to life or care for adequately—but still harbour a strong desire to try and do so anyway—you might wish to look away now.
Don Jessen has authored multiple books on caravans and aviation, all with a distinctly Kiwi flavour. And this latest pictorial is no different in that it shines a light under the garage doors of Kiwi enthusiasts who have given into the collecting bug in a big way. Don has been given the keys to sheds large and small; there are plenty of great photos here.
Some well-known collections are featured, such as the Omaka Classic Car Museum, the Rush Collection, and the quirky Yaldhurst Museum of Transport & Science. But it's the smaller, slightly stranger collections that really keep you turning the pages of this massive 300-plus page coffee table tome.
Who knew, for example, of large military vehicle hordes existing in secret bunkers (well okay: workshops) down country? Or private collections devoted to marques as diverse as AMC and Austin?
My favourite, however, are the multiple collections of car fans who like a bit of everything: a large garage with metal as diverse as a 2008 Morgan Aero 8, a Triumph Stag, a mid-'50s Rolls-Royce limo, and a 1970 Plymouth Superbird (among many others) all under one roof is a collection I can get behind. Now if you'll excuse me, I have to go check on an auction closing soon.
For Reasons of Their Own
Chris Stuart
Original Sin Press
$35.00
Reviewed by Steve Atkinson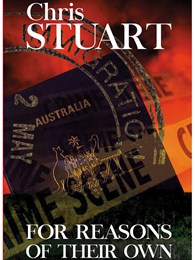 If you're looking for a good read from a Kiwi-born writer, then this book is worth checking out. Situated in Melbourne, the storyline follows a Kiwi detective and her Aboriginal constable sidekick, first coming together as they investigate a body found in a swampy marsh on the outskirts of the city.
The storyline moves through numerous different scenes and themes as they hunt for the killer. So, while what I've described so far may probably on the face of it not seem much different to almost every other hunt-for-the-killer book, this one, thanks to the superb writing, lifts it far above other counterparts. Buy it, hire it, whatever, but my suggestion is to read it. This, in my opinion, is a book deserving of an award.
Keep up to date in the industry by signing up to Deals on Wheels' free newsletter or liking us on Facebook.