Hyundai hydrogen trucks
---
Hyundai sends first fuel cell trucks to Europe
The Hyundai Motor Company has shipped the first 10 units of the Hyundai XCIENT Fuel Cell, the world's first mass-produced fuel cell heavy-duty truck, to Switzerland. The delivery is part of 50 XCIENT Fuel Cell trucks planned for Switzerland this year, with handover to commercial fleet customers starting in September.
Hyundai plans to roll out a total of 1600 XCIENT Fuel Cell trucks by 2025, which it says reflects the company's environmental commitment and technological prowess, as it works toward reducing carbon emissions through zero-emission solutions.
"XCIENT Fuel Cell is a present-day reality, not as a mere future drawing board project. By putting this ground-breaking vehicle on the road now, Hyundai marks a significant milestone in the history of commercial vehicles and the development of hydrogen society," says In Cheol Lee, executive vice president and head of commercial vehicle division at Hyundai Motor.
"Building a comprehensive hydrogen ecosystem, where critical transportation needs are met by vehicles such as XCIENT Fuel Cell, will lead to a paradigm shift that removes automobile emissions from the environmental equation.
"Having introduced the world's first mass-produced fuel-cell electric passenger vehicle, the ix35, and the second-generation fuel cell electric vehicle, the NEXO, Hyundai is now leveraging decades of experience, world-leading fuel-cell technology, and mass-production capability to advance hydrogen in the commercial vehicle sector with the XCIENT Fuel Cell."
XCIENT Fuel Cell
The XCIENT truck is powered by a 190kW hydrogen fuel cell system with dual 95kW fuel cell stacks. Seven large hydrogen tanks offer a combined storage capacity of around 32.09kg of hydrogen.
The company says the driving range between refuelling for XCIENT Fuel Cell is about 400km in the 4X2 truck, fitted in the refrigerated configuration while operating a 34-tonne truck and trailer combination.
It says the design was developed with an optimal balance between the specific requirements from the potential commercial fleet customers and the charging infrastructure in Switzerland. Refuelling time for each truck takes between eight and 20 minutes.
Hyundai says fuel cell technology will be particularly well-suited to commercial shipping and logistics due to long ranges and short refuelling times. The dual-mounted fuel cell system can provide enough energy to drive the heavy-duty trucks up and down the mountainous terrain in the region.
Further developments from Hyundai Motor is a long-distance tractor unit capable of travelling 1000km on a single tank equipped with an enhanced fuel cell system with high durability and power, aimed at global markets including North America and Europe.
Green hydrogen ecosystem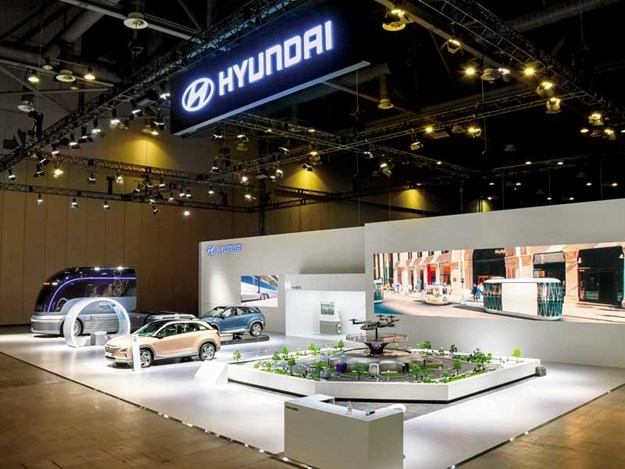 In 2019, Hyundai Motor Company formed Hyundai Hydrogen Mobility (HHM), a joint venture with Swiss company H2 Energy, which will lease the trucks to commercial truck operators on a pay-per-use basis, meaning there's no initial investment for the commercial fleet customers.
Hyundai says they chose Switzerland as the starting point for its business venture for various reasons. One of those is the Swiss LSVA road tax on commercial vehicles, which does not apply for zero-emission trucks. With that factored in, the company says it nearly equalises the hauling costs per kilometre of the fuel cell truck compared to a regular diesel truck.
The company says their business case involves using purely clean hydrogen generated from hydropower, however, to truly reduce carbon emissions, all of the trucks need to run on only green hydrogen.
Switzerland is the country with one of the highest shares of hydropower globally and can, therefore, deliver sufficient green energy to produce hydrogen. Once the project is underway in Switzerland, Hyundai plans to expand it to other European countries as well. 
Hyundai Hydrogen Leadership
As Hyundai looks to the future, they say, zero-emissions mobility will play a significant role in the company's strategy. In addition to the XCIENT Fuel Cell trucks, Hyundai is also the manufacturer of NEXO, its second-generation hydrogen-powered SUV. By 2025, the company aims to sell 670,000 electric vehicles annually, including 110,000 FCEVs.
In December 2018, Hyundai Motor Group announced its long-term roadmap, Fuel Cell Vision 2030, and reaffirmed its commitment to accelerate the development of a hydrogen society by leveraging its global leadership in fuel cell technologies.
As part of this plan, Hyundai Motor Group aims to secure a 700,000-unit-a-year capacity of fuel cell systems for automobiles as well as vessels, rail cars, drones and power generators by 2030.
HDC-6 NEPTUNE concept
In early July 2020, the Hyundai Motor Company showcased its hydrogen and mobility solutions at the H2 Mobility + Energy Show 2020 in Korea. One of its features was the HDC-6 NEPTUNE Concept, a hydrogen-powered Class 8 heavy-duty truck, which was debuted at the North American Commercial Vehicle Show in October 2019.
The company says one of the key design inspirations for the HDC-6 NEPTUNE Concept was New York's iconic streamliner railway trains of the 1930s, one of the greatest technological advances of the early 20th Century.
The HDC-6 NEPTUNE employs a solid structure with a smooth and rounded front design to create an entirely unique frame for the hydrogen-powered electric truck. It will help lead the transition into an eco-friendly commercial vehicle era and Hyundai plans to launch it by developing an enhanced fuel cell system with high durability and power, optimised for heavy-duty trucks within the next three to four years.
Hyundai partnered with Cummins to provide hydrogen fuel cell systems for the North America commercial vehicle market in September last year. Along with this, Hyundai says it's currently in discussions with other major companies in the US and Europe regarding hydrogen fuel cell applications.
The company plans to accelerate its entry into the European hydrogen-powered heavy-duty truck market with XCIENT through its joint venture with Swiss company H2 Energy as seen with the first deliveries imminent of the truck.
Hyundai signed a Memorandum Of Understanding (MOU) with the US Energy Department on fuel cell technology innovation and expansion of its application earlier this year, pledging to share its expertise in the field and proof data of hydrogen energy's competitiveness.
Hyundai Motor plans to incorporate the fuel cell system into the smart mobility ecosystem, with the company's team working to reduce the weight of the fuel cell system while increasing the power output. In the future, this will allow fuel cell systems to be used in trains and ships.
Hyundai says they are collaborating with a wide range of organisations domestically and globally across public and private sectors to establish and vitalise the global hydrogen economy by supplying fuel cell vehicles, building more hydrogen charging stations, and expanding the application of fuel cell systems into various industries. 
Hyundai XCIENT specifications
Configuration

4x2

Wheelbase

5130mm

Overall length

9745mm

Width
2515mm 

Height

3730mm

Max gross weight

19,000kg

Empty vehicle weight

9795kg
Fuel cell stack

190kW

Hydrogen fill pressure

350 bar

Hydrogen capacity

32.09kg

Battery

661V/73.2kWh
by Akasol

Motor/inverter

350kW/3400Nm by Siemens
Keep up to date in the industry by signing up to Deals on Wheels' free newsletter or liking us on Facebook.