New music and technology releases in June 2020
---
Deals on Wheels brings the latest in music and technology for June 2020
Pass Labs X260.8 Monoblock Amplifier
$25,500
Pass Labs calls its new amplifier a "refined musical instrument", which might seem like a stretch of the imagination for something that can't actually be played, but I see what they're getting at.
With its lovely mix of retro and contemporary looks and a throbbing 260 watts of pure power, the X260.8 is a Class A/B amp with only one percent of distortion at full power and at lower volume, its true Class A finesse will blossom. Like any serious power amp, it's heavy at 88 pounds, so don't go putting this monoblock pair on grandma's collapsible card table. Held up by the Coronavirus thing, but available soon! parmentersound.com
Monitor Audio Bronze Range
$700–$2200
Most audiophiles are a little sniffy about using their speakers for television and movies and tend towards two-channel fetishism. But out there in the real world, most of us have one lounge and have to use the same system for movies and music.
Monitor attempts to address this problem with its versatile Bronze range: designer-speakers that enhance the look of a living room and come with Dolby Atmos-enabled upward-firing speakers to give that Netflix show some added audio sparkle.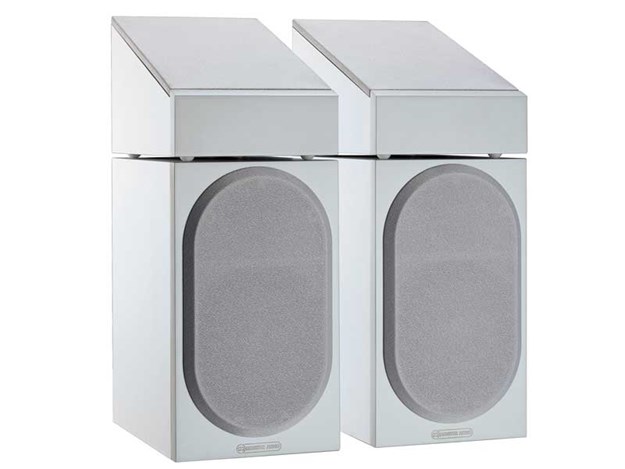 Designed for even sound dispersion and with smoother, tighter bass than previous models, the Bronze range are versatile enough to do justice to both stereo and surround sound reproduction, though ideally, you'd still switch between a two-channel amp and multichannel receiver. Available in white, walnut, urban grey, and black.
dencoaudio.co.nz
GoldenEar BRX Bookshelf Speaker
$2500
A few years back, GoldenEar stunned audio snobs with its Triton tower speakers, which not only offered full frequency sound down to true sub-bass levels and a gloriously sweet top-end but also did so at a price that made the hi-fi industry wince.
Few expected the innovative American company to attempt to replicate those smarts in an even lower-priced bookshelf iteration, but here it is. The shiny and spiffy-looking BRX contains the very same High Velocity Folded Ribbon tweeter and six-inch woofer as the tall Reference speaker.
And while it won't match the powered Reference for window-ratting low bass extension, the clever Planar Passive Radiators inside these beauts ensure that there's a surprising amount of bass "oomph" for speakers of such diminutive dimensions. In short, anyone looking for superb bookshelf speakers at a very nice price needs to audition these babies. pqimports.co.nz


Tribute to rock stars
COVID-19 and cancer has seen the demise of a raft of important figures in rock music over the past few months, so this month, we thought we'd pay tribute to a few of them. In the week before this issue of Deals On Wheels went to print, no fewer than three major icons of popular music passed into history.
The first was David Greenfield, the organist with English post-punk band The Stranglers. Infamous for their rather salacious, non-PC lyrics, and violent tendencies, the group nevertheless released a surprising amount of classic rock over their first decade and David's burbling organ was crucial to their sound.
They were signed to a few different labels over that time so it's hard to find a compilation featuring all their greatest songs, but you could always create a playlist featuring songs such as 'Get A Grip On Yourself',  'Peaches', 'Nice'N'Sleazy', and softer but no less great later hits like 'Golden Brown'.
Florian Schneider of pioneering German electronic group Kraftwerk also succumbed. Florian—famously name-checked by David Bowie on his Heroes album—and his highly conceptual group had an immense and continuing influence on successive generations of music, from the synth-pop bands of the early '80s to the hip-hop groups of the mid-'80s and on to later dance music genres.
Check out albums such as Autobahn (their 1974 ode to German motorways) and Trans Europe Express with its click-clack train rhythms. Lastly, rock and roll legend Little Richard died at the respectable age of 87.
With an outrageous personality that was hugely influential on later acts like Prince, and a raw, energetic and libidinous sound, 1950's hits such as 'Tutti Frutti' and 'Lucille' revolutionised the music scene and kicked into life a whole new sound that's best experienced on compilations.
Keep up to date in the industry by signing up to Deals on Wheels' free newsletter or liking us on Facebook.