Restoration project: D750 Ford Restoration Part 5
---
While working through the cab-section of the restoration, it became apparent early in the piece that there would be some rusted parts that we'd need to find sooner rather than later
One such part was a weird quirk of early D Series Fords, a foot plunger-operated windscreen washer unit that appeared to be complete except for the fact that the rubber plunger had disintegrated.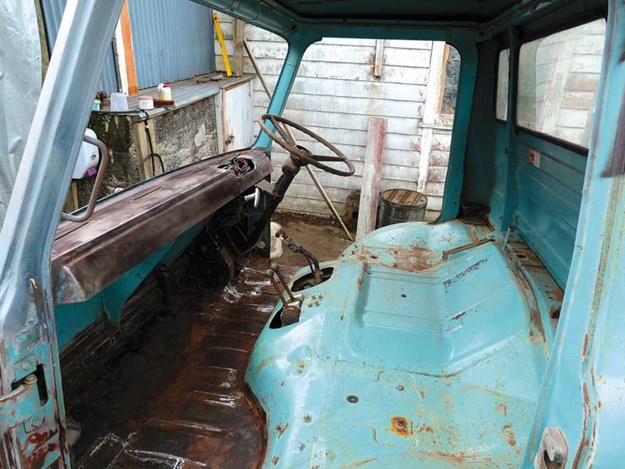 My first thought was where on Earth will I find one of those? Thinking back on a conversation I'd had with my old mate Gareth Mullins when I started working on the Ford, I recalled that he'd said he knew where there was a diesel D Series sitting in a paddock just up the road.
I remember Gareth saying that the cab was "a little bit buggered", not quite the way he described its condition, as he actually used a term that I think must be a technical word that I don't quite remember having heard before.
Suffice to say that I wasn't expecting to find a truck that was in pristine condition when I finally got to see the vehicle in the flesh.
I gave Gareth a call to set up a time to get up close to the truck and see if it had some parts that I could use for my restoration.
As previously said, I wasn't expecting the rig to be up to much condition-wise, but the sight that came into view as we rounded the corner into the paddock pretty much took my breath away.
I've included a photo of this most unfortunate vehicle, which can only beg the following question: If my mate's take on a piece of equipment that is slightly 'compromised' looks like this, what on Earth would something that he thought was really bad look like?
All mickey-taking on the way Gareth sees the world aside I was able to salvage a complete (albeit very rusty) windscreen washer plunger unit, along with some quarterlight window rubbers.
Fortunately, oxidisation doesn't affect rubber in the same way it decimates steel. While the metal frame of the plunger was severely rusted (no surprises there), the unit was nonetheless complete and will provide a pattern from which to make another unit should I be unable to source another one in better condition.
Although I took a battery-operated angle grinder along with me on my parts-finding expedition, it was hardly needed as most of the parts that I thought I could use were able be gathered simply by tearing them off the cab by hand.
I must say that I have never seen such a badly-rusted vehicle in my entire life. The attached photo of some of the salvaged remains of the poor old Ford will serve as an indication as to just how sick some gathers are, especially this particular restorer of old trucks.
While in reality it looks to an outsider to be a pile of old trash, if you look carefully (perhaps very carefully), you'll see that the quarterlight rubbers are reasonably intact, which sadly wasn't the case with the rubbers that came out of the truck I am in the process of restoring.
It's quite amazing how some vehicles manage to last into old age when others don't. The truck that's being restored is a 1970 model and is now 50 years old. By virtue of the fact that it looks like it was professionally rust-proofed from new and had been shed stored throughout its life, it's in remarkably good condition and isn't giving me too many headaches in carrying out the refurbishment work.
Furthermore, I'm fairly certain that the truck was in regular use up to around 10 to 15 years ago, which has added to its chances of survival.
By contrast, the unfortunate truck in a paddock is probably a 1980 model, which makes it about 10 years younger and could never be repaired without a total cab replacement, which just goes to prove the other adage of 'using it or losing it'.
Back at the coalface, further dismantling has been underway with the entire dash panel needing to be taken out in order to get at the heater and its associated controls and ducting.
The floor is in reasonable condition overall, with there being just a few rust holes to be welded up or in some cases cut and patched.
There are several patches already in place that seem to have been done to a reasonable standard, although, these can be better-accessed now that the interior of the cab has been stripped and some additional welding carried out.
Unlike another restoration I'm working on in tandem to the D Series job, it appears that all previous repairs carried out on the truck have been made by professionals, making far lighter work of the job at hand.
The other restoration I referred to is a 1969 Daimler V8, which I'm doing up as the fleet owner's car to go in as part of the fleet of trucks I'm hoping to create.
Sadly, unlike the professionals who had maintained the D Series in its past life, the Daimler has been set upon by an individual or a group of individuals who never ever should have been let loose with a spanner within a country mile of the car.
As I'd never seen a vehicle as badly rusted as the Ford in the paddock, I also have never come across an engine that has been thrown together in the same manner as was the case with the Daimler.
Although my trucks are kept stored in large covered sheds, the Ford truck is too tall to fit into the workshop, so I've had to content myself with a tarpaulin attached to the workshop, which is fine when the weather's good.
So to stay ahead of the wea​​ther, the next step is to get the dashboard back in place in order to get it and the panels surrounding the windscreen painted before reinstalling the front screen.
As we still potentially have around three months before the weather takes a turn for the worse, I'd better crack on and get the painting on the cab out of the way post-haste.
FGK Morris update
With an LT400 certification in hand, it's back to the testing station for another round in a week or two
Coming up...
Deciding on a paint scheme
Keep up to date in the industry by signing up to Deals on Wheels' free newsletter or liking us on Facebook.