East Coast Museum of Technology
---
A visit to a Gisborne museum reveals some interesting historical facts about the district
A group of volunteers, many of whom are keen transport and technology enthusiasts, started what's now the East Coast Museum of Transport and Technology (ECMoT), in 1969.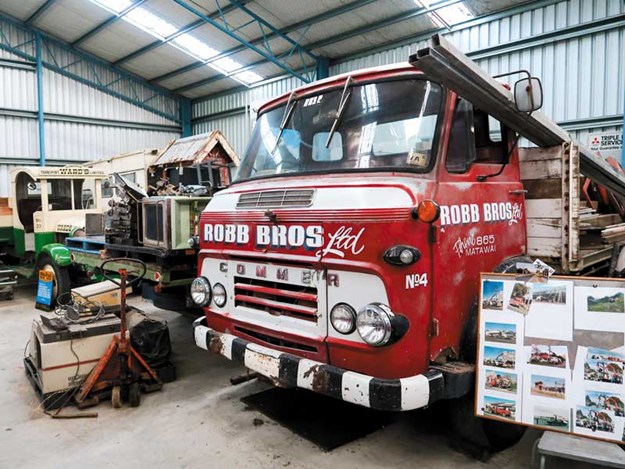 It's down to such dedicated people, places like these exist. They collectively possess a broad set of knowledge and skills and are usually humble about their contributions.
Graeme Revell is one such person. He's been lending a hand at ECMoT for 30 years. He's a keen amateur photographer of vintage trucks. He refers to the early years of New Zealand transport, as "an interesting period but now, I think trucks all look the same; you have to look at their badge to see what brand they are."
You'll find Graeme manning the office every Tuesday but he also comes in on other days to keep the engines turning. Another volunteer I spoke to was Rob Beale who works in the military barn and is knowledgeable about such machinery.
Fire trucks
A large collection of fire trucks is housed at ECMoT. As Graeme explains, most are from the East Coast.
"The start of our collection was the Gisborne Fire Board machines. Each city ran its own fireboard until the NZ Fire Commission took over in 1976, and then everyone came under one umbrella. The 1912 Commer Car was Gisborne's first fire engine and the 1924 Denby, our second. It's a test of a driver's skill because it only has two-wheel brakes and a crash gearbox. Not everyone can master it."
A 1944 Fargo comes from Auckland and was originally open at the back but was enclosed during the 1950s so the fire crew could sit inside. According to Graeme, "the Auckland union was stronger than other places; the firefighters didn't want to sit on the back in the rain, so it got rebuilt. It's quite unusual to see a truck of that age with seating inside. The Fargo served the Tikitiki area until 1979 and was then privately owned before arriving at ECMoT in 1993."
A 1956 F8 Dennis EM1813 was the first modern truck in Gisborne; it came from the UK, has a wooden frame and cab, and was state-of-the-art in its day. It found its way to ECMoT in 1984 having been in action in the fire service until 1984.
In the past, along with having to supply their own fire brigades, councils also had to supply their own water tankers and there are a number of them at ECMoT.
"All these little fire brigades usually got an ex-beer or petrol tanker and repurposed it to carry water. There's a Leyland, an ex-beer tanker from Lion Breweries in Auckland that went to Leopard Breweries in Hastings before serving as a water tanker in Tolaga Bay. Wairoa used an ex-milk tanker as their water tanker and then there are also several Bedford's and an Austin used for this purpose," Says Graeme.
"A Dodge 1977 with a Chrysler V8 motor came to Gisborne as a first response truck for smaller jobs but it didn't work out because it was impractical for the fire brigade to have crews going off in separate directions."
Military vehicles
After World War II, the US Army left behind thousands of military vehicles in New Zealand such as GMC trucks, Bren gun carriers, and tanks. The New Zealand Army also brought many of their military vehicles back from overseas, which were later put to good use.
"After the war, there weren't many trucks available; that's all you could get. In fact, that's how our forestry industry began. The GMCs were turned into logging trucks or concrete mixers or for agricultural use. As soon as the Kiwis got them, they overloaded them. They were doing three times as much as they were designed for," Graeme says.
"The GMC went into bush, some were 6WD so the front axles drove, too. It was very muddy, and the GMCs were suited for that work. After the war, a lot of road service buses were Macks left over from the 1940s."
Graeme tells an interesting story of a Mr Gillies from Lower Hutt who apparently "bought a whole paddock of GMCs, did them all up, and sold them to logging contractors and as mobile concrete mixers for years afterwards, well into the 1960s."
Bren gun carriers were modified, too, with the top cut off and a tray built in its place hitched to an ex-army truck they performed well on farms for carrying heavy loads.
In an era of thrift, nothing was wasted.
The museum property
In 1988, the museum purchased the former Kia Ora Dairy Factory premises at Makaraka. Later, the adjacent Makaraka Railway Station site was purchased and is being developed into a vintage railway complex.
Graeme tells me "we don't say no to anyone offering us old stuff," and looking around the masses of gear sitting out in the paddocks, I can see that's true. There's a wonderland of vintage machinery gradually succumbing to the ravages of nature. Rust never sleeps and neither does plant growth; foliage sprouts through truck grills and trays; blackberry and lichen run riot wherever they can.
But it has a strange beauty of its own and with the hills of Gisborne as a backdrop, it makes for a marvellous panorama and is an interesting look back through time.
The museum is always evolving and changing says museum secretary Helen Ovenden. "We are constantly working through the piles of rusting vehicles. These have been allowed to rust away, as we don't have enough volunteers to restore what is left.
We are currently gearing up to re-house the Reo Speed Wagon; it came from Gisborne and is registered through Motor Caravan Association as MCA 1. We have triaged many projects on our plans stretching out over a 10-year period, typical of most organisations like ours."
The next 'Live Day' at ECMot will be in January 2020 and will be advertised on their Facebook page.
To find out about the other collections at the museum, visit ecmot.org.nz.
Keep up to date in the industry by signing up to Deals on Wheels' free newsletter or liking us on Facebook.