Meet Mack, the Hopeful Black Dog
---
Mental health awareness has traditionally been a taboo subject in the trucking and construction industries, but TR Group and I AM HOPE mental health advocate Mike King have teamed up to put that right
The topic of mental health is a subject close to the heart, as my wife and adult son both work as professionals within that industry.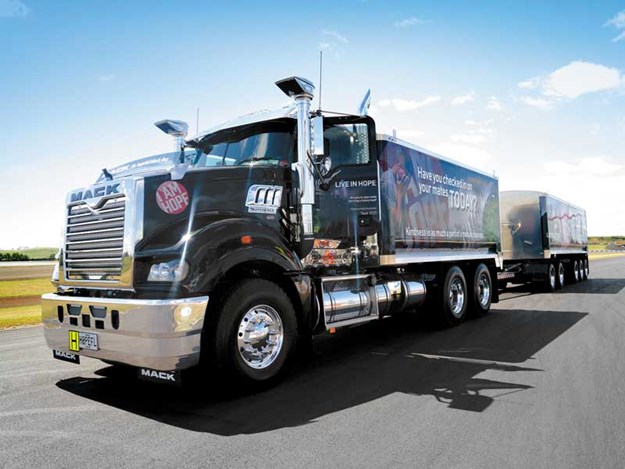 So, while I am never privy to any information that is held in confidence, our family discussions often revolve around mental health and how they deal with it as professionals. What I have grown to learn is that beneath all those layers is often one core root problem, that once addressed will turn a person's life around.
And there are certainly conversations that can be had by us as non-professionals, which can help individuals re-centre themselves by finding the courage within to deal with anxiety and other mental health issues before they snowball into an unstoppable monster.
For those in trucking and construction, industries well-known for strong personalities, and—dare I say it—not a lot of empathy, the subject of mental health 'unawareness'—as I put it—takes on a whole new meaning, for no matter how strong your personality or how big your muscles are, there's no immunity from the effects of mental health stress.
And this is where advocate Mike King has teamed up with transport logistics provider TR Group to help raise awareness of this with the introduction of Mack, the Hopeful Black Dog—the truck and trailer unit, soon to be seen roaming roads in the Auckland region as part of the Winstone Aggregates fleet.
"Mental health is an issue that we felt as a business we could be doing more to support," says TR Group director Andrew Carpenter.
"If you think about it, people get into business to try and make a difference in their lives and those close to them. The unfortunate thing is that once established, many business owners do not choose to use their skills to do good for the greater community and that is a shame," he says.
"This is where we decided to help address that and with the help of Mike King and Winstone Aggregates, have put Mack the Hopeful Black Dog out there to encourage people under stress to step forward."
Doing our part
According to Mike, none of us are doing enough to help those in need and in his typical outspoken delivery, encourages all of us to do our part in opening ourselves up to allow those with mental health issues to come forward.
"You know, the biggest thing we can give anyone is our time," says Mike. "This is the one most important thing we can give to others."
Another important tool from Mike's toolbox is silencing the inner critic. "This is the little voice inside our head that keeps telling us we're no good and it smashes our self-esteem," he says, adding we can help each other to overcome this.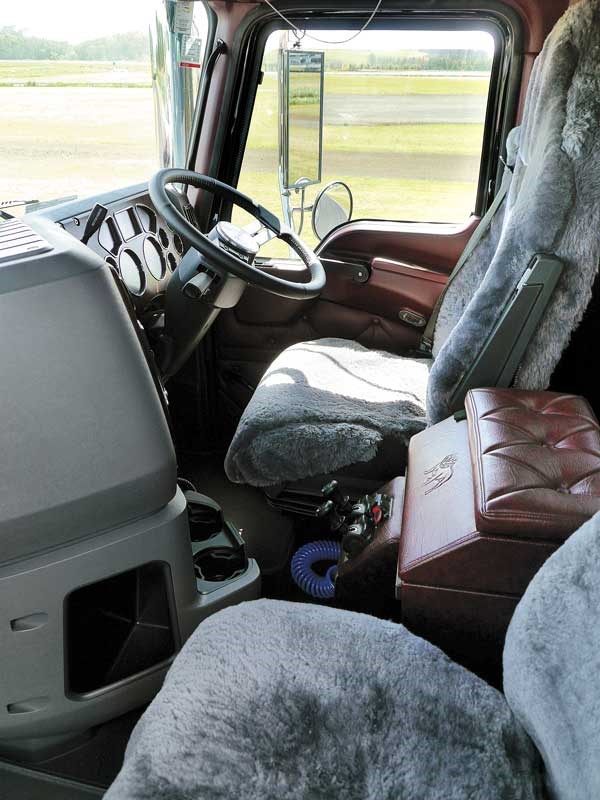 "We can do this by letting our friends know that their thoughts and opinions are valued by you," he says, emphasising the word 'you'.
"My homework I give people is to phone or directly tell two different people each day that they have value in your life," he says. "Now imagine if we could have people in our workplaces that are happy? How cool would that be?"
Raising awareness
Mack the Hopeful Black Dog is intended to raise awareness so individuals can be open to give help to others and, in turn, receive help when needed and is visually recognised by the clever 'I AM HOPE' white wrist bracelets that are slowly permeating themselves around the country.
"If you see someone with one of these, then you can say to them. Help," Mike says as he points to his white wrist bracelet.
So, while many of us rub our forehead and wring our hands trying to figure out what to do to help to support those with mental health issues, often our first problem is trying to identify those who need help in the first place.
As Mike says, it's easy to spot the quiet person in the corner who outwardly displays those classic signs that almost anyone can pick up on, but this also affects outgoing people and those from all walks of life. It is not discriminatory. We must be vigilant.
"We should not be the ambulance at the bottom of the cliff. We as individuals must be at the top of the cliff. When are we going to say enough is enough?"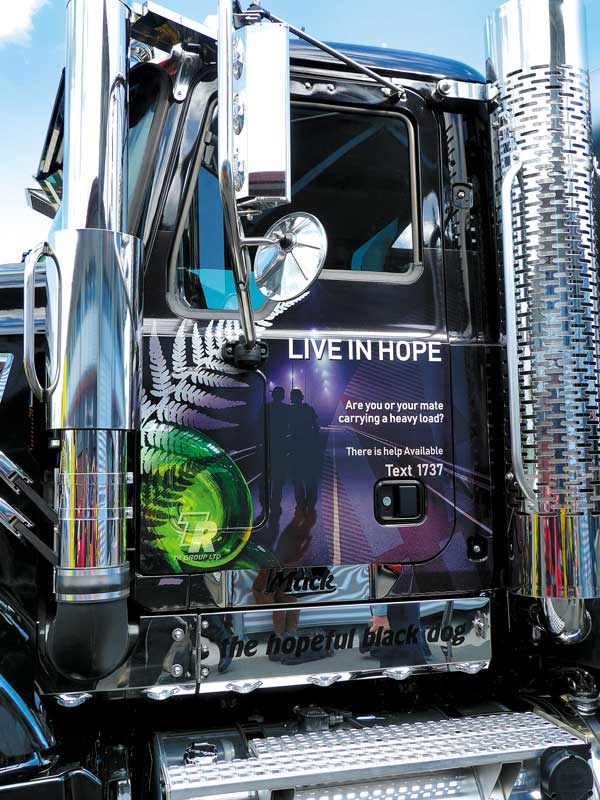 Obviously, then the long game is to reduce the number of preventable deaths, but Mike has another viewpoint on that.
"Some people say that we will be happy if we can stop a percentage of people reaching such a point that they take their own lives," he says.
"But would you be happy if we said it'd be ok if the All Blacks just won some of their games? No, so why would you want to be happy if we could stop only some of the preventable deaths? Our goal here is to stop all preventable deaths. That is the only outcome we should accept," he says.
So, thank you TR Group for getting this conversation going. I know there are others in the trucking and construction industries who are doing their part as well, but there are others who could do more. If this sounds like someone you know, then perhaps it is time you brought it to their attention; we can all play a part in our small way.
If you happen to see Mack, the Hopeful Black Dog trundling around the streets of Auckland, take a moment to pick up that phone and call or message a friend. Tell them they have value in your life. Help them silence the inner critic.
HOPE = Hang On Pain Ends
For more information, visit iamhope.org.nz.
Watch the truck in action
Keep up to date in the industry by signing up to Deals on Wheels' free newsletter or liking us on Facebook.