Building NZ's first hydrogen fuel cell bus
---
On the outskirts of Christchurch, New Zealand's very first hydrogen bus is taking shape
The 13.5-metre long, three-axle hydrogen fuel cell bus will be able to carry 78 passengers and is destined to be rolling around the streets of Auckland from September next year.
For Auckland Transport (AT), this prototype is a way to test the potential of hydrogen power for Auckland's bus fleet, especially for long and high-frequency routes beyond the current capability of electric buses.
AT's bus services manager Darek Koper says the hydrogen trial is part of their commitment to a low emissions future that has an added bonus of supporting New Zealand innovation.
"This ties into our Low Emission Bus Roadmap and commitment to clean technology. It could be part of the answer, along with electricity, for our buses and is also a possible energy source for harbour ferries."
First of many
For Global Bus Ventures (GBV, formerly Designline), who won the contract to design and build the bus, working on New Zealand's first hydrogen fuel cell bus is an exciting time. "We're absolutely privileged to be part of it," says GBV's executive vice president Mike Parker.
While the bus may be a New Zealand first, it's actually GBV's second hydrogen-fuelled bus. They had their first attempt at a hydrogen-powered (but not fuel cell) bus back in 2008 for an international client and describe the foray as 'semi-successful.'
"It's a bit of a sad story unfortunately," explains Parker. "We got it up and running, tested it, and it was ready to ship and they came back with a cancellation of contract on us. It was heart-breaking.
"The reason was they were having difficulty getting the local government to allow certification of it so they went to the university to do an emissions analysis. While the bus was 99.99% zero emissions, the electricity used to make the hydrogen came from a coal fired power station, making the hydrogen bus almost two times dirtier than a diesel bus."
Luckily, New Zealand is more suited to hydrogen technology, thanks to our abundance of renewable electricity. Parker believes the business case for hydrogen buses and other heavy vehicles such as trucks is beginning to stack up.
Economic viability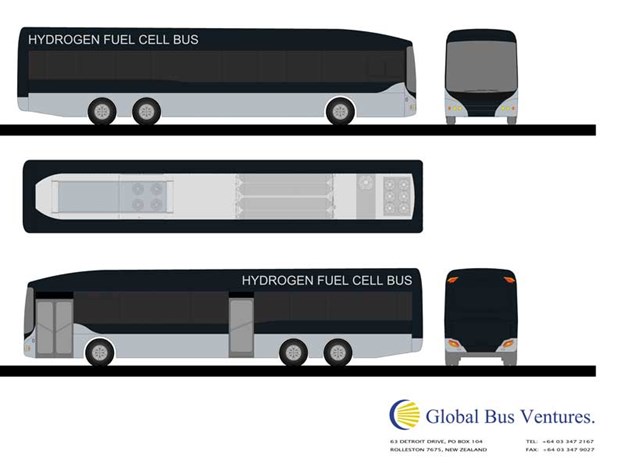 Among its selling points, hydrogen produces zero emissions except clean water, is capable of distances of up to 500 kilometres a day (about double the range of a current electric bus), and is able to be refuelled far faster than an electric bus.
"Electric buses have to come back in at night and it takes them four hours to charge up, at least. If you've got a fleet of 100 of them that's quite a big power supply. You'd also need hundreds of these charges plonked around, so you need a lot more real estate."
By comparison, a hydrogen bus can be refuelled in under 10 minutes and you only need one or two refuellers for the depot.
Hydrogen fuel cell technology has also come a long way. Their original life span was only 6000 hours, but they are now delivering up to 35,000 hours giving it a lifespan of more than 10 years.
Despite the selling points, there's still a few hurdles to overcome. Safety is one, with hydrogen relatively easy to ignite, though, with the hydrogen tanks on the roof of the bus, any leaks are designed to dissipate upwards and very fast. In fact, hydrogen dissipates up at more than 70km an hour, so it's gone in no time.
"To date, in all the hydrogen buses in Europe, there's been one incident and that was blatant operator error when refuelling. So, some of the safety aspects people need to relax a little bit on. It's not the Hindenburg," says Parker.
The business case for hydrogen has some way to go too. "The cost of a hydrogen vehicle is three to four times the cost of a normal vehicle so there's still a large gap there to sort out before they become mainstream.
"The price will come down with more volume. When the infrastructure comes in, so you can actually get the hydrogen, there will be more competition in the market because at the moment, the hydrogen price is high compared to a diesel vehicle to run. So, it's not just the vehicle costs, it's the running costs too," Parker explains.
Despite this, GBV is in talks with several other New Zealand operators to do hydrogen fuel cell long-range coaches in the near future. The major drivers include councils increasingly demanding cleaner transport options and, in the case of the tourism sector, consumer-driven demand for low-emission transport.
"Obviously, for New Zealand, tourism is a big thing, so that's where clean and green is a huge driver. Apparently, they (tourism companies) get asked quite a lot by international guests why they aren't on a hydrogen or electric bus when they get shuttled around doing stuff, especially considering New Zealand's clean green image."
Fuelling the future
For GBV, their future in the hydrogen bus market is exciting. "When we first started talking about hydrogen, no one wanted to speak to us.
But now they're starting to see some of the limitations of electrics, they're like ok, let's start talking about that." But GBV doesn't see hydrogen replacing electric buses entirely.
"There's going to be a niche market for both of them; longer-range intercity bus travel is where hydrogen will have its strength," says Parker. Needless to say, when GBV's first bus
hits the streets of Auckland, others around the country will be watching its progress with interest.
Find more buses for sale in NZ
Keep up to date in the industry by signing up to Deals on Wheels' free newsletter or liking us on Facebook.