Cover story: Danielle Carrington
---
Deals on Wheels speaks to Danielle Carrington from Farmer's Transport to know more about the challenges involved in carting livestock.
When I caught up with Danielle Carrington in the tiny Central Hawke's Bay town of Takapau, it was only midweek, but since Sunday, she had travelled half-way around the North Island and to the top half of the South Island.
Sitting in her truck en route to Silver Fern Farms meat processing plant, she ran through where she had been.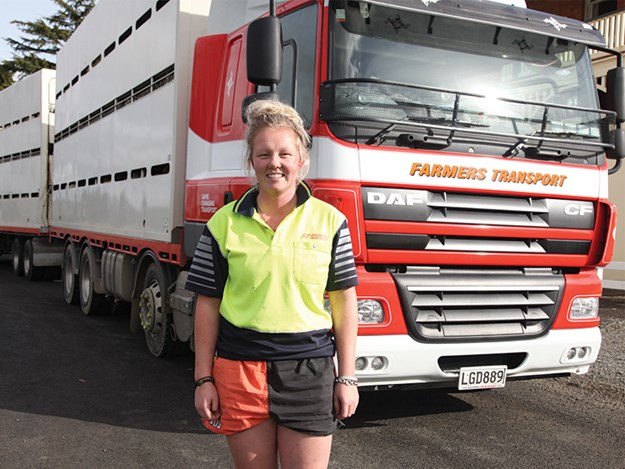 "On Sunday, I went to Hamilton, then up to Whangarei to pick up some heifers and brought them back to Putaruru, reloaded them to take to Blenheim, before driving up to Masterton today. Then I've picked up some stock for the sale in Dannevirke and now I'm off to the meat works at Takapau.
You may think that's not unusual for a truck driver, but carrying livestock is not everyone's cup of tea, and it takes a certain skill to deal with such precious cargo. They not only have to be handled safely but drivers have to ensure they also despatch the livestock in the same condition they were loaded in. And Danielle comes across as a woman who takes everything in her stride; she doesn't fuss over much.
Code of conduct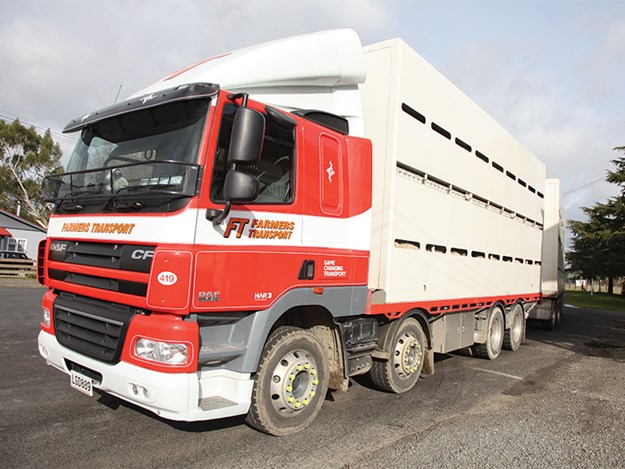 Danielle says handling bulls is equivalent to a deposit on a small house in some provincial towns. That sounds a lot like carrying gold bars. Big beef, big responsibility. But Danielle doesn't waver; in fact, she says she enjoys working with Angus bulls "because they are pretty calm".
Danielle, who is 25, is based in Gisborne where she's from. She's been driving for Farmer's Transport for four years, having started off transporting bobby calves in one of their smaller trucks out of Putaruru.
Driving is in the Carrington family. Danielle's dad Gaine is a truck driver as are two of her uncles who also drove for Farmer's Transport. So there was always lots of support for her ambition.
"I lasted a year but didn't really like it too much. I had a Class 4 licence at this stage and needed a job, so I thought I'd give truck driving a try," she says.
Handling livestock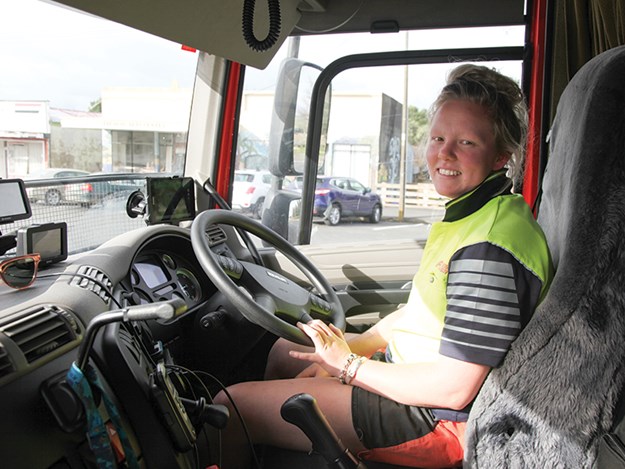 When growing up, Danielle carted livestock with her Dad so it's no surprise that she chose this line of business.
"I've learned lots from Dad, including how to swear!" she laughs. "I also knew lots of drivers, so I was well looked after. They encouraged me. I probably wouldn't have stuck with it if that wasn't the case."
She adds that drivers need to know how to deal with stock: "I've seen a lot of people start and struggle because they've never dealt with animals before. You have to have common sense, and the number one rule is don't stand in their way. I've been caught out a couple of times but never hurt.
"With bulls, just never trust them; they might look friendly but you never know. And I'd rather handle cattle than sheep. You get some stubborn sheep and I don't have the temperament for that."
Some of the cattle from the East Coast are a challenge, often because they've had little or no human contact.
"If they are really bad, we chain all the gate doors back and instead of doing pens of four, we have 12. Then you don't have to go in and shut the gates behind them," she says.
The process of moving livestock is not an easy one, and Danielle says there is still room for improvements in the industry. "There's still a lot of loading on your own, which I don't really agree with, especially with the cattle," she says. "Often, we go to places where there's no one around. If there's an emergency, no one is going to know.
"Also, sometimes, we have to unload and pen them up at the meat works, which I don't think we should be doing either. That could improve. They don't have to help you, but I think someone needs to be there in case something untoward does."
The gender gap
Danielle is one of the only three percent of female drivers in the industry in New Zealand—an issue that's often been discussed in the trucking industry.
We have a shortage of drivers and attracting women into the industry to boost numbers is a good idea.
David Boyce, CEO of the NZ Trucking Association wrote an article (published
in DOW May 2016) titled, 'Is your workplace ready for women truck drivers?' He said, "One of the biggest barriers to getting women into the trucking industry is around the idea that truck driving is the work of men".
Boyce suggested that in order to recruit female drivers, it would be a good idea to
"go outside of the traditional model for hiring new employees. Target women through social media, community notice boards, and job search tools that specifically attract women".
Danielle says she is fortunate to have been encouraged a lot, but so far in her career, she has encountered people who've never met or seen a female truck driver.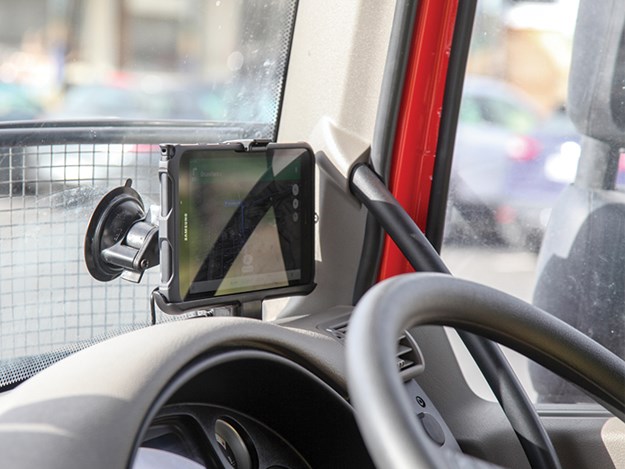 "I met a guy recently who said he'd never come across a female driver before," she says.
"He wasn't being rude, just honest, but I've come across a couple that have been. They judge you the moment you hop out rather than actually seeing what you are capable of.
"I had to deal with one in the past, so I told him that the next time I would leave the truck at the gate and he could show me how he drives. He backed off after that and he's been all right ever since.
"Most people are really good about it, though, especially up in the Waikato because there are many women dairy farmers there."
Four-wheel rig
Danielle's truck is a three-month-old DAF with PACCAR engine and an 18-speed road ranger. Before that, she drove a 13-year-old Volvo.
"I didn't like the DAF at first, but now I'm used to it," she says. "It has more room in the interior and more horsepower than the Volvo. The four-axle trailers and crates are the same ones I had on the Volvo, but I'll be getting new ones soon."
One of the biggest things Danielle enjoys about driving trucks is, as she puts it, "floating about".
"I don't like staying at home. Prior to this job, I'd never been to the South Island. It
was really cool to see what it was like down there," she says.
In the future, she says she might like to get into the operations side of the business, but not just yet; she's too busy enjoying the open road and the challenges of her work.
Keep up to date in the industry by signing up to Deals on Wheels' free newsletter or liking us on Facebook.