Business profile: Aaron's Contracting
---
Deals on Wheels headed to South Auckland to check out a Kenworth truck that's helping a progressive business work more efficiently.
"This is the biggest truck doing this kind of work in the country," Aaron Blackbourn says, as he tilts his head back to take in the height of his 2004 Kenworth K104. The eight-wheeler truck along with a six-wheeler Isuzu form the transportation part of Aaron's Contracting Limited, which is an Auckland-based business carrying out contract chipping, scrub mulching, land clearance, cartage, excavations, and tree work in the region and further afield when the need arises.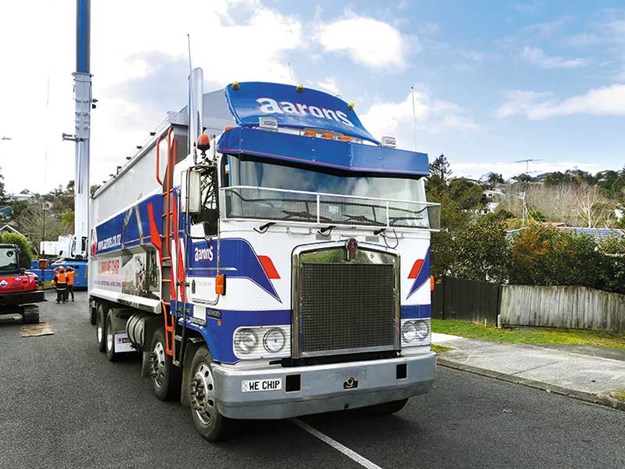 The day Deals on Wheels met Aaron and his team, the focus was on trees in the East Auckland city fringe of Cockle Bay, where the established sleepy suburb is standing tall against the rapidly approaching urban sprawl, now just a couple of kilometres down the road.
What isn't standing tall—or to be correct, won't be for long—are two large poplar trees at the rear of a hard-to-reach property and the reason Aaron and his crew were on-site.
The trees are, unfortunately, a threat to three houses, and the property owners have formed a mini cooperative to ensure both trees are removed before any damage is done to properties or lives.
"One tree is on quite a nasty lean and the angle has noticeably increased since we visited the site a couple of months ago," Aaron says.
"It's lucky the property owners took action when they did because in a coastal area like this, the trees may not have lasted much longer," he adds.
Men and machines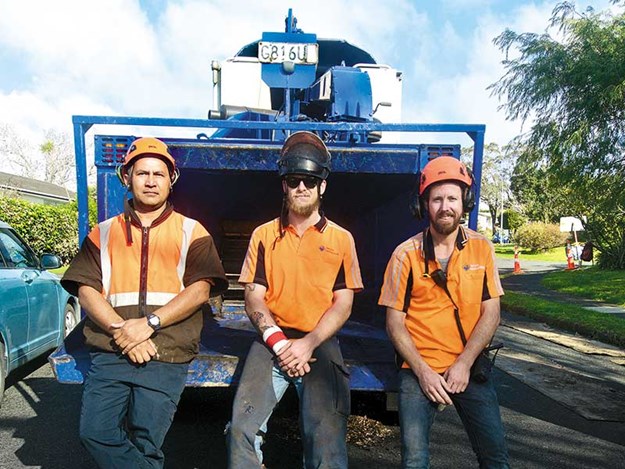 Having the right equipment and personnel on-site is key to the operation and where three businesses have combined to ensure the work is carried out safely and efficiently.
The job is one of the many Aaron's crew sub contract in on annually, and on the day of our visit, the work was arranged by arboriculture manager Chris Bayley of Bark Limited.
"This is a technically challenging job, where we've brought in experienced climbers to remove the trees one part at a time with the help of a 250-tonne crane. Aaron is coordinating the operation and his crew is taking care of the ground-based handling of the cut tree sections," Chris says.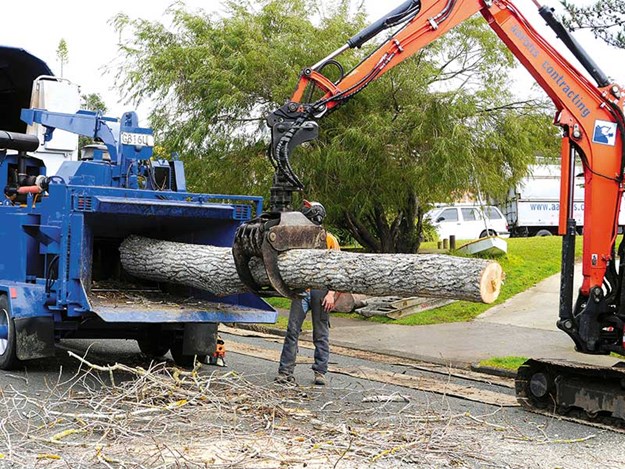 With tree removal work in suburbs, it is sometimes inevitable that public access will be restricted during operations; in this case, the road has been temporarily closed and Aaron's Kenworth sits blocking almost the entire roadway.
"Ideally, we would have the truck a little further up the road, but unfortunately, a couple of car owners must not have read our notices about the work being carried out here today," Aaron says, pointing to two cars sitting alongside the truck.
One car sits surprisingly close to the chipper, but with experienced operators on hand, it will be safe from damage, although, the owner may wonder where the light coating of wood dust came from if the crew departs before the car owner arrives.
Improving efficiency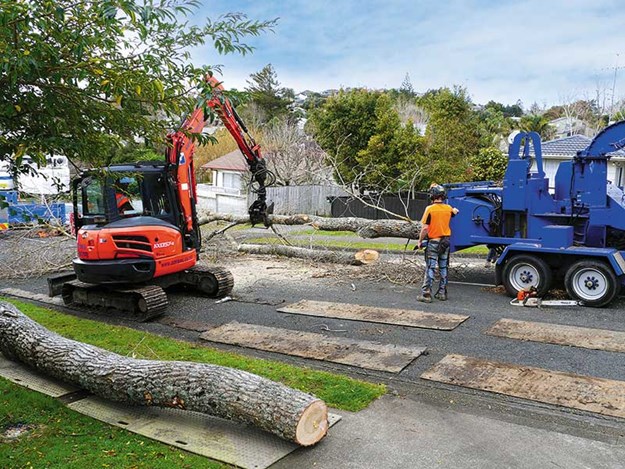 While some may question the reasoning for putting an eight-wheeler truck onto the type of work Aaron's Contracting undertake on a daily basis, the business owner's response makes perfect sense.
"With us, it all comes down to being able to fit as much chipped product into one load as possible," he says."Having the Kenworth and Isuzu together on a job means we can process up to 65 cubic metres of material in one go and usually be done in a lot less time than other companies with smaller trucks and with not as much waiting around."
"The Kenworth is ideal for our work," Aaron adds. "We purchased the ex-McDowalls truck from Southland Truck Wreckers as a cab and chassis, drove it from one end of the country to the other (Paparoa), where Garry 'Gazza' Frazer from Frazer Fabrication built the 40 cubic metre tipping body. He's a brilliant engineer and this is the third body he's built for me."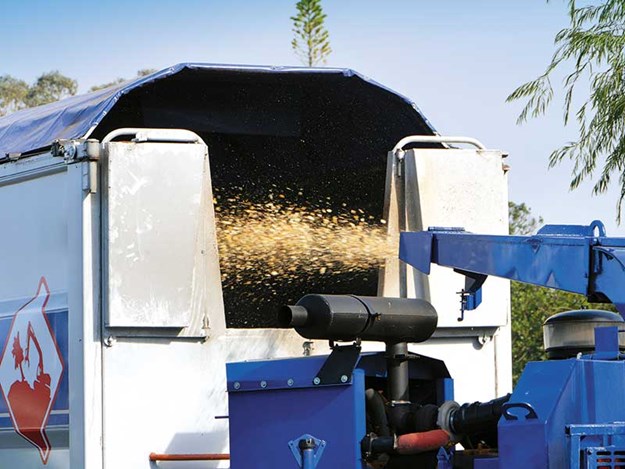 Aaron goes on to say the body was strengthened in certain areas to prolong its life, although is strategically quiet on what was done to achieve his required specifications.
Also fitted to the body of the Kenworth is an automated tarp supplied by Power Tarps Ltd.
"To be honest, there is a bit of investment involved, but when you're working in urban environments, it is important to create as little disturbance as possible," Aaron says.
The custom-made body ensures the truck's usage can be maximised, and it is also set up to transport one of Aaron's three excavators to the site, enabling the Kenworth to move equipment to a job in a single shift.
"We have two five-tonne excavators and a 14-tonne excavator, so we're able to load the Kenworth with a five-tonner and tow the chipper to our work sites," Aaron says.
The team works efficiently, quickly and, surprisingly, quietly, removing the trees in large sections, which are fed almost whole through a 270hp Bandit chipper, which Aaron purchased second hand from Commercial Outdoor Machinery.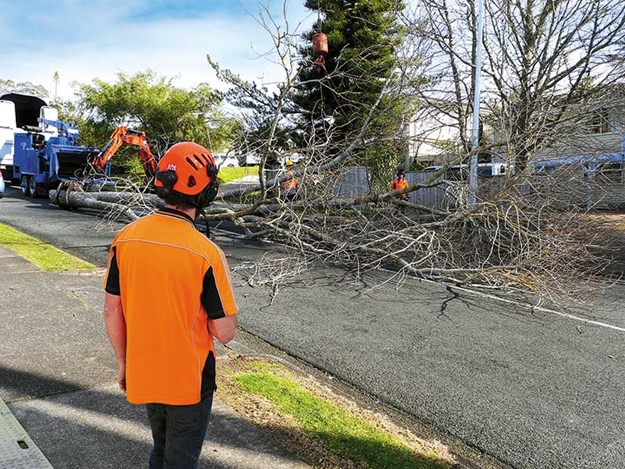 "If we're going at full-noise, we can fill the Kenworth in about 15 minutes in the right conditions," Aaron says. "Our business thrives on reliable and quality equipment to get the work done safely and efficiently.
It's good for us and our customers.
"Our specialty is helping other smaller tree companies out on the big jobs, so they don't have to buy the expensive machinery"
For more information, call 0800WECHIP or visit aarons.co.nz.
Keep up to date in the industry by signing up to Deals on Wheels' free newsletter or liking us on Facebook.