Special feature: Robbie 'Gooserooter' Shefford
---
Robbie 'Gooserooter' Shefford has become something of a celebrity on the local and Australian scene, so Deals on Wheels went to Canterbury to find out more
Think of Ashburton and Geraldine and you'll have a general idea of the lay of the land around Robbie Shefford's home base of Lismore just out of Mayfield; it's where he runs his Basic Engineering & Mechanical Services business from. It's also where I first encountered the instantly recognisable set of chops sitting atop his six-foot-five frame.
Robbie (or Robin to his family) is a physical presence that would do a rugby forward pack proud. However, it's not his bulk we're here to discuss today, but the man behind the social media buzz in the New Zealand and Australian online trucking communities.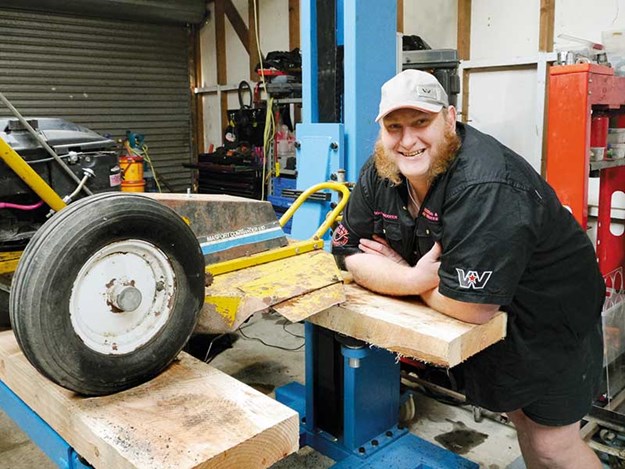 From his rural workshop-studio-man-cave, the big man beams out 'how to repair something' videos, and what I loosely describe as Robbie-isms on a semi-regular basis to thousands of his eager online followers. As an example of a Robbie-ism, a recent video features him riding around on a self-propelled walk-behind lawnmower. Despite the fact that it only runs for around 40 seconds, the clip amassed more than 70,000 views in the first 24 hours it had been online, which is a number you'd gag at achieving if you're in the digital advertising game.
So while he started making videos for laughs and giggles, it doesn't take much brain power to work out that Robbie's offbeat talent is capable of far more, and this could work in his favour, considering real mechanical work has been curtailed due to a recurring knee injury.
"I can't do anything that requires me to bend down anymore," he says. Pointing to a mechanical hoist in the corner of the workshop, he adds, "The hoist is a big help, though, and I can do a lot with that but am limited with what I can do these days."
Kenworth vs Western Star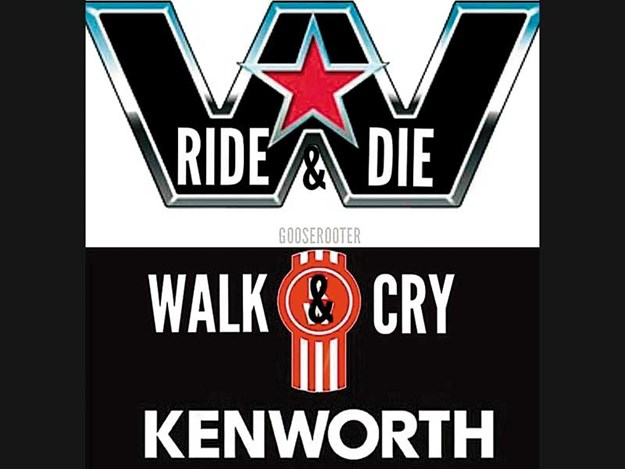 While his lawnmower video may have had nothing to do with trucks, it's the transport industry where Robbie kicked things off three years ago when he came to prominence after posting a rant online about a Kenworth driver who had run out of fuel.
"I was a mechanic/engineer for a transport company. It was the weekend and one of the guys had run out of diesel on Arthur's Pass. He phoned me because he was too scared to call the boss.
"It was a 700km round trip from the workshop, so on the way, I just started recording myself talking about dim-witted Kenworth drivers," Robbie says with a laugh.
During his three- or four-minute expletive-laden verbalisation, Robbie laid it on thick about everything he hated about Kenworth truck drivers. As expected, the online rebound was fast and hard but mainly good-natured. While Robbie dodged jibes from Kenworth owners, support from the non-KW set was equally supportive, and thanks to the ensuing Facebook comments battle and numerous shares, an online personality was born.
To rub further salt into the wounds of bruised Kenworth owners' egos, Robbie dragged Western Star into the mix and before long, Kenworth vs Western Star memes had found their way onto his Basic Engineering & Mechanical Facebook page.
"It's always been there—the rivalry between Kenworth, Western Star or Volvo, just the same as it's been with Ford and Holden," he says. "Just with the trucks, I say it out loud, and where I can, I'll have a bit of a dig."
Answering my unasked question on why he chose to pitch Western Star against Kenworth, he says, "It's all in good humour. If you can't take it, then you shouldn't give it I reckon."
When I confirmed that he didn't really hate Kenworths, Robbie replied, "Well, the thing is, I kind of do mate. Like a lot of trucks, most of the Kenworths have all the same running gear. It's just the cabs that are different and what peeves me off about Kenworths is that it's little things that break, and don't even get me started about the seats."
But while that happens with all trucks, Robbie says that a bad experience driving a Kenworth over the Desert Road for the first time in the middle of winter with no heating, a non-working fuel gauge, and dodgy window wipers was the final straw.
"I moved across to a Western Star, and it was a lot more comfortable to drive, so I guess that positive experience transitioned across to the brand feud," he says.
Transport media personality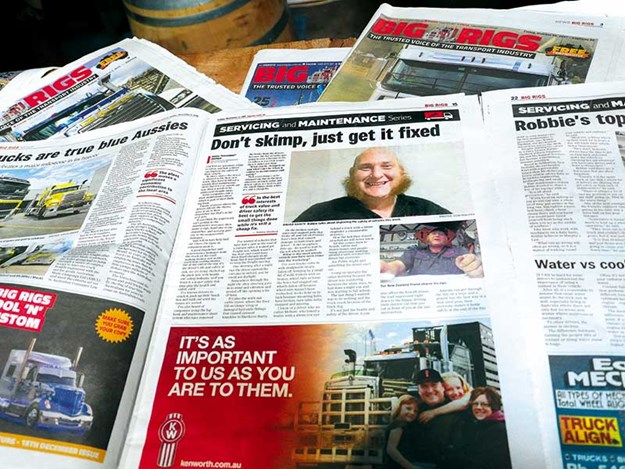 Despite this seeming disloyalty to the most well-known marque in the trucking industry, Robbie's sense of good fun and engaging nature is appreciated by not only Kenworth owners but also by the wider online trucking community both here in New Zealand and across the Tasman, with the Australian print and online publication Big Rigs sniffing a new transport media personality from afar.
"I've done a few things with Big Rigs," Robbie says. "There was a podcast with them, and last week, they used one of my videos and I've featured in their publication a few times as well as some other publications." With a wide smile, he adds, "Someone reckoned I was the best mechanic in Australia, and I hadn't even been there by that stage."
While most of Robbie's online talks follow a light-hearted theme, he is not shy to discuss health issues, such as depression and other mental health illnesses.
"I have had episodes in the past where you find yourself down a rabbit hole, and by bringing it out in the open, it hopefully encourages others to do the same and seek help," he says. "These days, it's nothing to be ashamed of."
Another field Robbie has found a niche is in public speaking and appearance engagements.
"I was across in Australia with Yogi (Glenn Kendall) from Outback Truckers. I put the camera on and sat down with him, saying something about how great it is to be sitting with a real trucking celebrity. Yogi gave a bit of a smile and then I asked him: 'So how does it feel to be finally meeting me?'" Robbie says with a loud laugh.
Meet Robbie at Turners Truck & Machinery Show 2018
There are other engagements Robbie has been used for and his special talents will be on show at the Turners Truck & Machinery Show scheduled to be held on 2 December 2018 at Pukekohe Raceway.
"The show is on a Sunday, so the organisers are looking at putting on a Saturday night get-together at a local bar for truckies who are bringing their rigs in the day before the show and staying over. I'm looking forward to a few laughs and giggles with them," he says.
But probably the biggest question of all is how he got the unusual nickname?
"It's not as bad as it seems," Robbie says.
"When I was a mechanic/engineer in Ashburton, one of the guys used to come across and ask me to fix this or that, but I knew it was urgent when he'd say: 'Hey Gooserooter, can you fix whatever'.
"Others cottoned-on that whenever the guy called me Gooserooter, his job would be prioritised, so before long, everyone was calling me Gooserooter to push their jobs up the list."
If you haven't seen Robbie's unusual brand of humour or learnt some time-saving mechanical tips, then I suggest you check him out by searching Basic Engineering & Mechanical Services on Facebook or catching him in the flesh at Pukekohe in December.
Keep up to date in the industry by signing up to Deals on Wheels' free newsletter or liking us on Facebook.