Special feature: Kirstie Ward from JJP Haulage Ltd
---
Deals on Wheels catches up with Kirstie Ward whose idea of the perfect job is driving trucks
It's not the most common career anyone would associate with a young girl in her 20s these days but for Kirstie Ward, driving trucks is her idea of the perfect job. Kirstie comes from the little village of Douglas Bridge in County Tyrone but her driving skills are well known all over the world.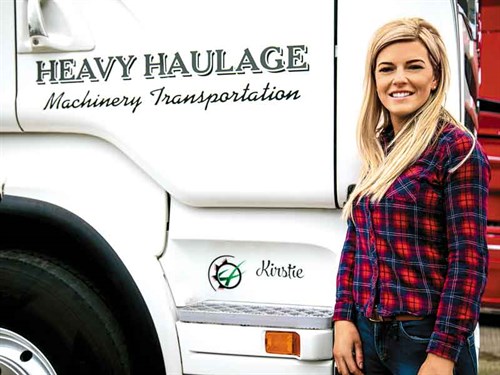 Engaging with her love of driving, Kirstie first started out driving tractors hauling silage and featuring in a few DVDs produced by Ballymena film-makers Grassmen that were viewed across the world.
Even though she is trained as a veterinary nurse, the 24-year-old has her sights set high—high up in the driving seat of a truck that is.
"It all started one day in 2014 when I was carting in silage for a local farm contractor close to home," Kirstie says. "This film crew arrived to shoot some footage for a new DVD and they asked if they could film me as well.
"That film crew just happened to be from Grassmen whose DVDs and video footage are viewed all over the world and they were there to shoot their latest production.
"Little did I know that viewers, who would be mostly men of all ages, would really take to me as a female driver. Usually, we get verbally abused for our driving but I received nothing but compliments for my tractor driving."
When Kirstie was growing up on the family dairy farm, she quickly developed an interest for tractor driving.
That initial interest and experience naturally progressed into driving trucks, and for the past year, since passing her HGV test, Kirstie has been behind the wheel of the big rigs hauling excavators, trucks, screeners, and other types of plant machinery.
Driving big rigs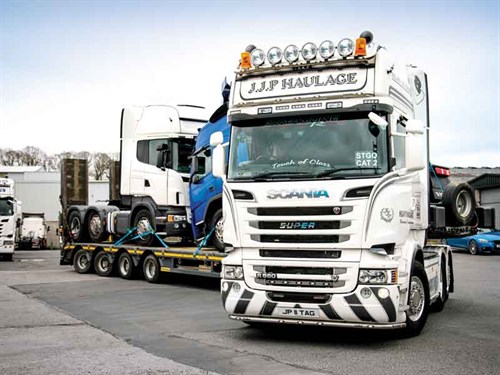 Kirstie currently works for JJP Haulage Ltd based in Dromore, County Down, which takes her all around Northern Ireland and onto the UK mainland as well as into the Republic of Ireland.
"I drive a Scania R560 topline streamline 65-tonner tag doing heavy haulage and machinery transportation," Kirstie says.
"For me, my driving duties are different every week. We cover the UK, Ireland, and Europe, and we are over on the UK mainland every week. I passed my test in January 2017, and I've been on low loader work ever since." Looking back, Kirstie says she went for the HGV licence because she always had an interest in big rigs. 
"I was always driving in tractors during the silage season, and once it was over, I still wanted to drive," Kirstie says.  "I always had an interest in trucks so I went for the test.
"I had a great driving instructor, Stephen Evans from Omagh. He was first-class at teaching me and I learned up in Derry.
I started my driving lessons on a Monday morning and completed and passed my test on the Friday that same week for both the Class 1 and 2 licence categories.
"I currently drive for Jonny Priestley at JJP Haulage Ltd in Dromore. I've been here almost a year and I love it. Jonny and the team including Wilko and Bailie have taught me so many tips and tricks for chaining and strapping difficult loads.
"They certainly are great people to work with. Everyone looks out for and helps each other when they can while still having the crack with each other.
"Jonny has his work cut out for him employing a young female driver. If I book a hair or nail appointment, he tries his best to work the loads around that; he's first-class at looking after me," Kirstie laughs.
Learning curve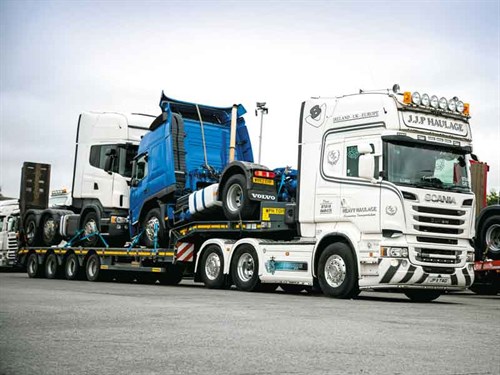 Kirstie's loads are varied and she could be hauling anything from screeners to turbine blades.
"Carrying out low loader work is different every day and that's what I like about it," she says. "I could be moving anything from a wind turbine to the big quarry screeners.
"Loads all vary in size. We work with quite a lot of abnormal loads, which can be long, wide, heavy, or high. Every day is a challenge. You could be sent out with anything from a low loader with tractors to a fully extended power-steered trailer with a bridge section.
"For me, every day is a learning curve and there is not a day that goes past when I don't learn something. Securing loads by either chains or straps was a new task for me but it was something I quickly adapted to. Once I've loaded the machines, I start chaining it down securely.
"If I'm not working around home, I head across the water to the UK mainland with a load. We sail from Belfast, Dublin, or Larne mostly. Once I've got the load tipped on the mainland, Jonny sends me to reload out there and I head back for the boat home.
"Sometimes when I get home, I'd be in the office helping Jonny or Stacie with permits, notifications, or downloads, but Stacie always has that end of it well organised," she says.
On being behind the wheel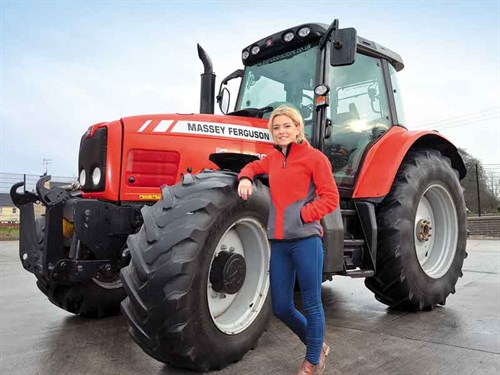 Being a young lady behind the wheel of a large truck, Kirstie has heard many whispers about female drivers from the opposite sex, but not all men are against a woman taking the wheel.
"I know a few male drivers that do Ireland and UK work so if I need anything they are always at the end of the phone to help me. I'd be lost without them," Kristie says.
"My boyfriend Paul is great at understanding how this type of work is, as in not knowing when I'd be home or being away during the week. If I'm loading or unloading around home, he comes along to help me once he's finished work. I love that he's interested in trucks and machinery. We would be on the phone every evening about what I'm hauling.
"He runs his own agricultural contracting business in the summer so he knows about not being home early in the evenings and working weekends to get the jobs done.
"When I asked him what he thought of me doing this work he said he was proud of his girlfriend 'tanging' and doing low loader work across Ireland and the UK, as not many girls would do it. He said the only downfall is that we only see each other at the weekends and they go in far too fast but as long as I'm happy, he's happy."
According to Kirstie, men are very curious about her driving especially when she steps out of the truck when delivering a load.
"At first they are shocked when I land into the yard," Kirstie says. "They just ask how long am I driving and how do I find it. They are really interested and curious.
"I remember ringing a man one day to let him know a rough time I'd be there but he thought I was ringing from the office on behalf of the driver and when I got there he said he wasn't expecting me to step out of the cab."
Personal and professional success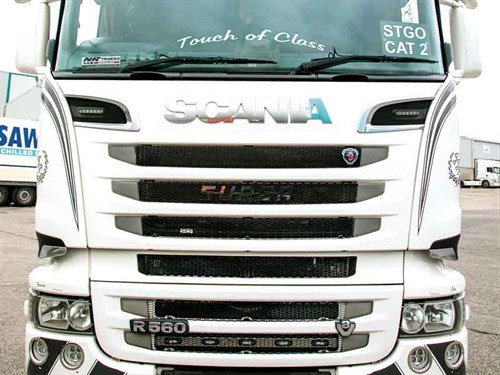 In her first year of trucking, Kirstie has gained a lot of experience in a short space of time and has achieved a great deal both personally and professionally.
She says: "Well for starters, I never ever thought I'd be driving a Scania R560 with my name on it, side pipes, cat walk, lights, and the whole Kelsa bar kit. She's a tag, too, which makes my job so much easier when turning in tight spaces and reversing. Jonny trusts me with her, so I try to look after her like she's my very own.
"The day he sent me to load a crusher that was destined for the mainland was probably one of the most nerve-wracking but exciting days of my driving. I always thought no way will I pull a crusher, that's for the big drivers. But there you go.
"I am much more confident now and I know Jonny will not send me to anywhere that would be dangerous or not safe. He tries not to have me staying any overnights in the lorry as much as he can.
"The lorry is all locked up and I don't feel scared. I wouldn't park anywhere on my own. I'll always be near other trucks and under lights," she adds.
With one year under her belt, Kirstie is well set for a life behind the wheel but insists she will always make time to back to her grassroots—hauling in the grass that is. 
Keep up to date in the industry by signing up to Deals on Wheels' free newsletter or liking us on Facebook.