Cover Story: Cat Wilson—logging truck driver
---
Cat Wilson has been driving for 20 years and reckons nothing beats being a logging truck driver
There was only one thing Cat Wilson wanted to do when she left school and that was to be a truck driver. Lessons, she says, were wasted on her. She preferred to gaze out the window at college at trucks passing by. She's not sure what it was about them but something appealed.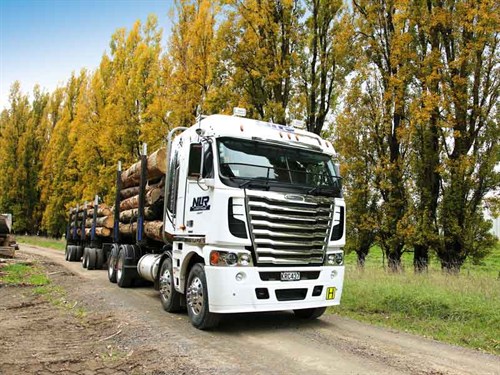 The first foray
A friend of her family owned a milk delivery run, which became Cat's her first stint in the world of truck driving.
"I didn't need a special licence because it was under three tonnes," she says. "I loved it; I used to drive around town pretending I had Jake brakes."
After mastering a small truck, Cat wanted to tackle bigger beasts. So she decided to get the necessary licences, which then led to securing a job at Roadfreighters, carting apples during the apple season.
"A guy called Neil Lavin was really encouraging. There were three of us women who started there at the same time. I remember there was a write-up in the local newspaper. Back then, it was unusual to see women driving trucks," she says.
"I'd never driven with a trailer, so we did circuits of the transport yards with empty trailers. When it came to season, we had 180hp trucks and 24 tonnes of apple on-board, so we couldn't get into too much trouble. It was a great way to learn."
Cat continued at Roadfreighters for six years and gained a variety of experience carting general freight around Hastings and Napier before graduating to bigger and heavier trucks and longer distances. They had so many trucks; you could learn heaps. I worked with flat decks, curtain siders, learned to master all types of loading, as well as how to tarp and do ropes," she says.
Across the ditch and back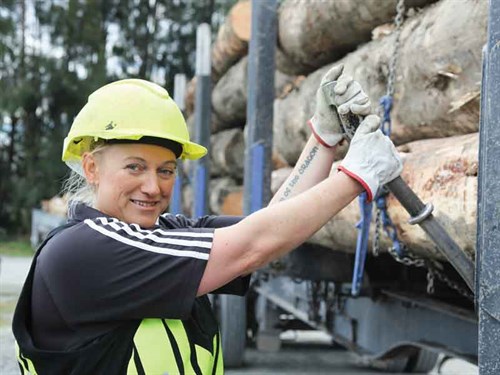 After her stint at Roadfreighters, Cat went to Australia to work on the big road trains, driving Kenworth and Western Star, for five years. "I drove all over Australia. It was an amazing experience," she says.
Returning to New Zealand and raising a family, she continued to drive, first working for Boyd Nodder Carriers, then Toll Group for five years on shifts to Gisborne and Wellington.
"The boss the (she worked for an owner-driver) said he was selling up, so that motivated me to find something else. Logging had appealed to me for some time. I'd never been off highway, so this was a real challenge. I thought, 'I have a few years under my belt, so I'll give it a go and if I don't love it, nothing will be lost.' I went to work for Grant Anderson on stem logs, drove a K200 and was there for two years."
Cat has been with NLR Cartage, owned by Nick Redmond and contracted to Pan Pac in Napier, for just a month and she's enthusiastic about it.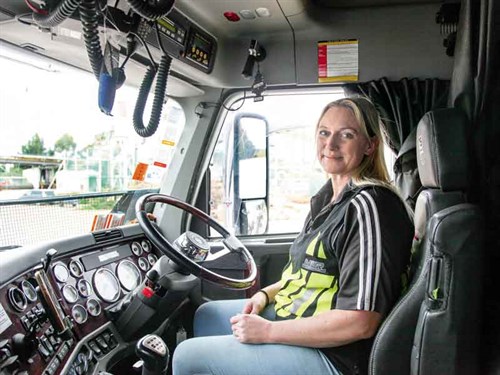 "It couldn't be better. The people I work with are great; we're a tight team. I refer to it as the brotherhood. Bridget Scott (story in DOW 294, p142) is a good friend of mine, and we refer to ourselves as the 'girl brothers'. We all work such long hours, which means we're at work longer than we are at home."
Cat likes the fact she now gets to cover lots of territory, including, Masterton, Tokoroa, Wairoa, and Waiouru."I always took my hat off to truck drivers who went off-road. It's something I've wanted to do for ages and is an extra challenge compared to being on tar seal. Going to work each day is a real pleasure."
Cat says she's fortunate to have a supportive husband—Sam Wilson—who understands her crazy schedule. "I couldn't do this job without Sam. He's got a full-time job, too, but he's on hand with cooking and cleaning and organising the household."
She's up around 1.30am (sometimes 12.30am), which means her head hits the pillow at 7pm. Her children (aged 8, 10, 11, and 12) know to keep quiet when mum turns in for the night.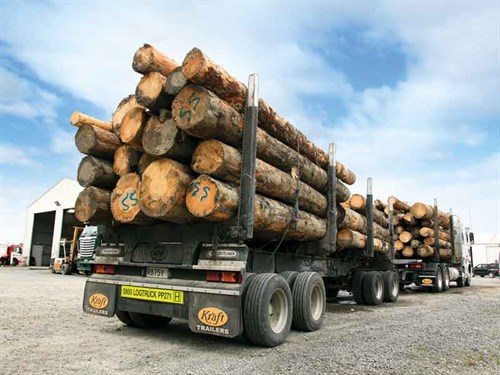 The load of pulp timber she had on the day Deals on Wheels' visit came from Wairoa. She would then head off to Kinleith Mill in Tokoroa, before coming back to pick up a load in Taupo and deliver it to Pan Pac.
Then it's a last local round before finishing around 3pm. NLR's trucks are based in Bay View along with many others. "Lots of loggers live here; it's a bit of a logging community," says Cat.
Safety first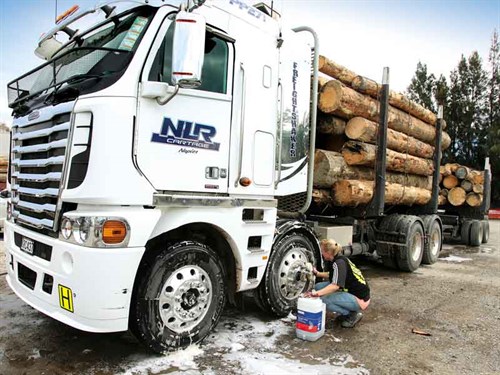 Safety is always uppermost in Cat's mind and she prides herself on her steady approach. "There's a huge amount of common sense in logging and the rules we have to follow.
One thing my boss said to me when I started was, 'Would you feel safe if your family was following your logging truck?' I thought that's a good question. So that's what I think about when on the road: whoever is following me is someone's family and I want them to be able to trust me."
Going off-road, Cat gets to see parts of the country others wouldn't and she's a keen observer. "It's like having a backstage pass to seeing things the general public don't see and I like the whole process, from seeing a forest cut down, being processed, labelled, cut up, and then brought into Pan Pac where it goes through so many stages before coming out other end as a product ready for export."
Cat says she's only ever encountered positivity in the transport industry. "I've never met a person who didn't want to help when asked. I don't have any regrets about my career choice at all. When it comes to my job there's nothing I look back on and say, 'I wish I'd done this differently.' Everything along the way has been a stepping stone."
On being a woman in a male-dominated industry, she says, "I'm aware we women
will never be as physically strong as guys; that's just the way it is. As much as we think women can do lots of stuff, and we can, we have to be realistic we will never be as strong, but we'll give it a damn good go."
For a good cause
Cat is in the process of organising a fundraising calendar to help a trucking mate, who is undergoing cancer treatment in Auckland.
The profits from the calendar sales (hope to be out in August or September) will be going to different cancer charities in Hawke's Bay to benefit loggers affected by cancer.
So far, she's got 12 sponsors for each month and has asked truck drivers to provide photos. Call Cat on 02102263020 for more details.
Cat's truck specifications
| | |
| --- | --- |
| Year and make | 2017 Freightliner |
| Engine | 560 Detroit Diesel |
| Gearbox | 18-speed Roadranger |
| Mileage | 100,000km |
| Trailer | Kraft 4-axle |
Keep up to date in the industry by signing up to Deals on Wheels' free newsletter or liking us on Facebook.