Special feature: Scania R580 V8 unit and Noteboom low loader
---
When costs of hiring-in a haulage contractor started running high, a Northern Ireland earthworks decided to go for a cost effective alternative
Buying an articulated low loader rig can be a daunting task, but when it made financial sense, a Northern Ireland earthworks contractor took up the challenge.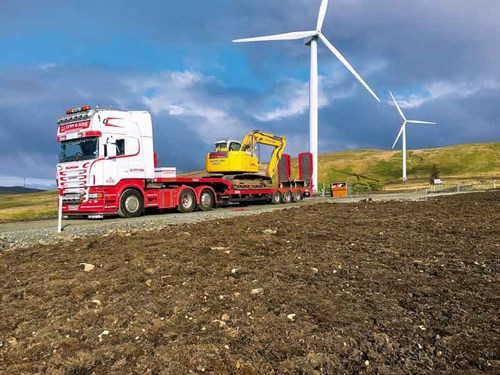 Ivan Lynn runs his own earthworks and drainage contracting company from the family base in Armoy in County Antrim and carries out all manners of excavator work in both the construction and agricultural industries.
However, working on multiple sites with a growing fleet of plant and equipment, Ivan watched his costs of hiring in transport to move his machinery around sites dramatically increase.
The solution to the costs problem saw him investing in a Scania R580 V8 unit and Nooteboom low loader to enable him to shift the machinery around himself. Working on various sites in Northern Ireland, carrying out tasks such as excavating foundations to clearing drains on farms, Ivan needs a large fleet of machinery to assist him and his team.
His three Cat excavators and numerous other plant machineries always need shifting from site to site, sometimes at a short notice depending on the job.
A cost-effective alternative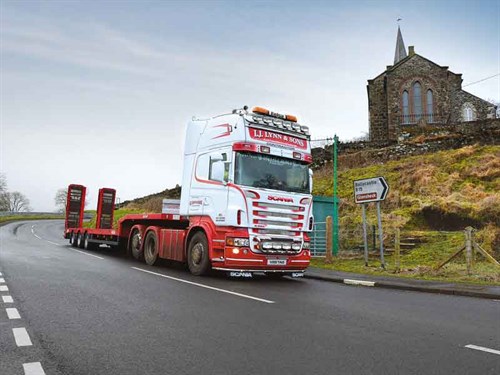 Until now, Ivan had relied on a hired-in haulage contractor to come in and move his plant around his job sites.
"When anything needed moving, we had to call in a haulier to come and shift the equipment to the next job," Ivan says. "This meant we had to arrange the movements in advance and at specific times and later rely on the haulier being there at that time.
"Depending on the site location, like in a city centre, for example, there are certain times when it's best to move plant around with a large articulated unit and trailer combination, such as early morning or late evening. 
"Therefore, it is vital that the haulier is there at the time we need him to do the job. Plus, there are other situations when we have to move plant at short notice if it is required on another site urgently.
"That meant I had to call in the haulier again to move the equipment, which saw my costs adding up more and more.
"Also, when major holiday periods were coming up, I had to transport all the machinery back to my base in Armoy, which is around 50 miles (approx. 80km) from Belfast city centre to store them during the breaks.
"I have to say the haulier we used was dependable but from a cost point of view, these were getting out of control, so I decided to look at an alternative."
In fact, Ivan spent more than £12,000 (approx. NZD 23,470) on transport costs to move his machinery around in 2016, which helped him make the decision to buy an articulated unit and low loader trailer combination.
Men and machines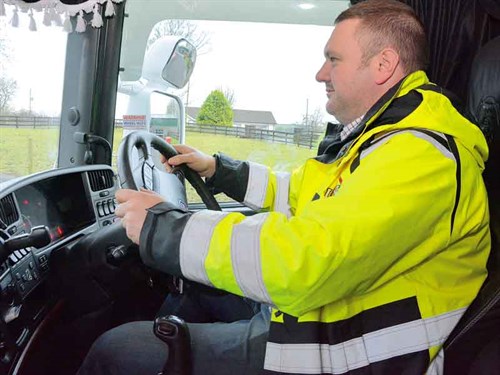 Ivan employs 20 full-time staff who are currently working on a number of sites across Northern Ireland. He runs three Cat 312 excavators, the latest of which was bought in June last year, and finds the brand reliable and trouble-free.
His oldest Cat machine is a 2008 Cat 312C, which he purchased new and says he has never had to replace even a light bulb on it.
"I started the business back in April 2008 after working many years with other contractors since I left school," Ivan says.
"I'm now 38, and I have built the business up over the years taking on more job contracts as we went along.
"I used to drive an older 2004 Cat 312CL for a former employer and liked that machine and the brand a lot.
"When I started the business off, it wasn't long before the recession hit, but we managed to survive through that and are now enjoying a climb up in the right direction. There seems to be plenty of jobs available in current times, so I am expanding at the same time, hence the new artic unit investment."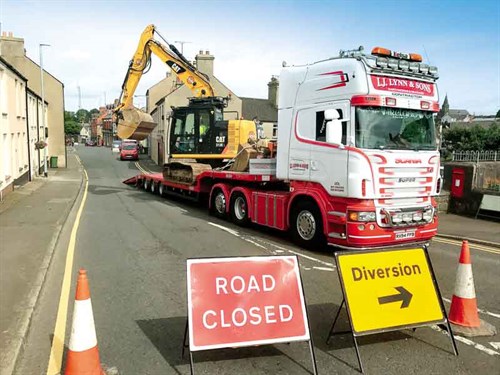 Ivan opted for an older 2005 Scania R580 V8 unit to get him started, together with a 2012 Nooteboom low loader complete with tri-axle tag lift. He also runs a small farm and has a New Holland tractor and low loader trailer that he uses to transport his excavator to local farmland when required.
Luckily, Ivan has held his HGV licence for the past 20 years, so he was one step ahead when it came to setting up his own articulated unit and trailer combination. "I bought the Scania R580 V8 unit in February last year and sent it away for a respray before using it," Ivan says. "It's a 2005 model, as I cannot justify spending too much money on a unit at this stage.
"This unit is a good one to get me started moving all my own equipment around and so far has served me well."
Ivan also runs a smaller 7.5 tonnes tipper lorry for the normal construction work carrying soil or stones to or away from sites.
Saving on costs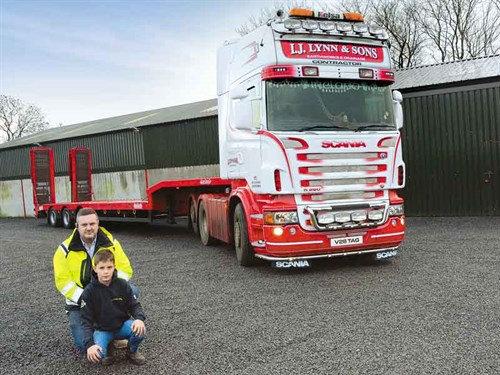 For 10 years, Ivan used the outside haulier to move the plant machinery around for him but now he hopes his investment will start to save on costs. "Having my own artic unit and trailer sitting in the yard and having the licence to drive it is a huge benefit for me," Ivan says.
"It makes logistics that bit simpler, as I can jump into the lorry and move anything when and where required. My plant machinery range in size from three tonnes to more than 16 tonnes, and I can plan myself when to move them from site to site.
"Even if the moving has to be done early in the morning, I have the unit sitting in the yard and can jump into it myself and off I go.
"It's the first articulated tractor unit I have owned. The decision to invest in this was not only a financial decision but also a practical one," he adds.
During the recent Christmas break, Ivan and his team enjoyed a two-week break, but before they could relax, all the equipment had to be hauled back to Ivan's yard instead of sitting on sites unguarded.
"I started early in the morning and was able to have all the equipment back in the yard after a couple of days," Ivan says.
"It's better to have all the machinery sitting in my yard during the holidays rather than leaving them on derelict sites where anything can happen."
On top of the respray, Ivan fitted a full set of new tyres to his Scania at a cost of £3,000 (approx. NZD5866) and put it through the PSV test for another year.
He has also taken the unit to a couple of local shows, which very much pleased one of his sons—10-year-old Connall—who also likes the latest acquisition to Ivan's fleet. On top of his regular site works, Ivan sometimes has the more unusual request that needs his skills.
Ivan carries out general works for the National Trust on a number of its sites in Northern Ireland, including some of its beaches. Periodically, items get washed up on the beach but when a dead whale ended up on one of the beaches, Ivan was called into action.
"A dead whale got beached a couple of years ago, and we were tasked with helping to remove it from the beach," Ivan says. "That turned out to be a big job in the end." 
Check out more trucking features on Deals on Wheels. 
Keep up to date in the industry by signing up to Deals on Wheels' free newsletter or liking us on Facebook.