Cover Story: 1980 GMC TopKick
---
Bought from an owner in Clovis, New Mexico, a 1980 GMC TopKick finds a new home in a Kiwi's backyard
In 2008, Alan and his friend were on their way to a Model T centennial celebration in Richmond, Indiana, but along the way they stopped to check out an automotive auction in Clovis. That's when he spotted the TopKick.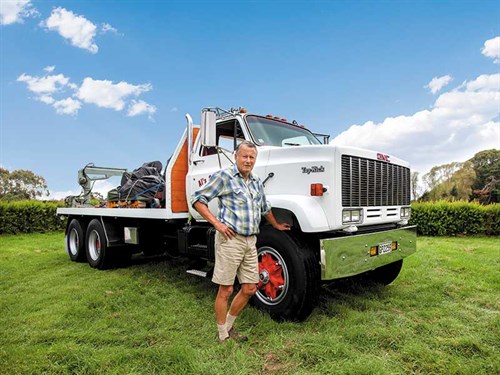 "When it came up, I spoke to the owner who told me the clutch was no good, so that's why it had been parked up in a field for five years. However, it was passed in, as the auctioneer wasn't able to get the price the owner wanted," Alan says.
Undaunted, Alan contacted the owner and made him an offer, which he accepted. The truck then went into storage until Alan made arrangements to ship it to New Zealand. Two years later, Alan has restored the TopKick to pristine condition and has dubbed it Clovis.
The restoration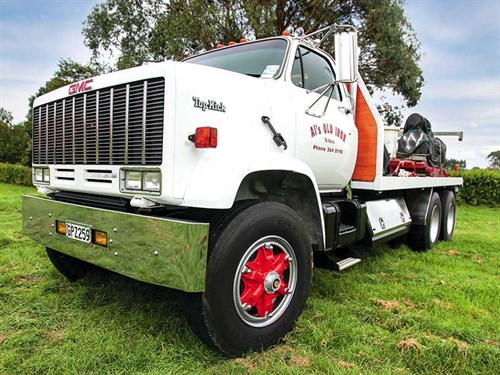 In short order, the truck has a new life: new paint, windshield, tyres, exhaust, upholstery, tip deck, and clutch, and it has been converted to right-hand drive. "I absolutely enjoyed doing the TopKick up, however, I don't like to mess with old trucks too much but prefer to make them like new, just the way they were intended to be," Alan says.
However, an exception to that rule was a modification he made to the chassis: shortening it by 1.2 metres and moving the wheels up 0.25 metres. "It was originally 1.8 metres longer—1.2 in the frame and another 0.60 in the body. I did this because the truck was way too big for what I wanted."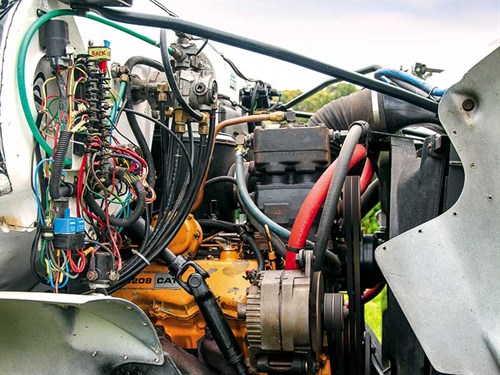 Alan altered the deck from a tub type tray to a flat deck to retain its 1980's style. This enables him to cart anything he needs to from his vast collection—stationary engines, model size machinery (he makes his own), or another vehicle. He also fitted a 500kg collapsible hoist mounted to the rear to enable easy loading and unloading.
The two chrome exhaust pipes behind the cab are in different positions to the original ones. As Alan explains, "The exhaust pipes normally sit just under the vehicle, but I didn't like the way they blow trails of dust."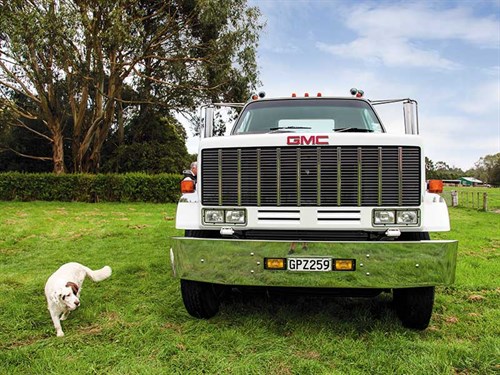 The change from left- to right-hand drive required building a new dashboard. As luck would have it, he found a fibreglass mould—Alan built Chevrolet trucks for 30 years; more on it in a bit—in a pile of old stuff that he had given away to one of his mates years ago.
Past life
Alan's TopKick only had one previous owner and was used in New Mexico as a roofing truck. "A scissor lift on the rear enabled it to reach up two or three storeys. You could back up to the building and raise the deck so you would not only have a platform to work from but you could also cart gear away from the job. A roofing truck such as this was never designed to go long distances, just around town."
Years of experience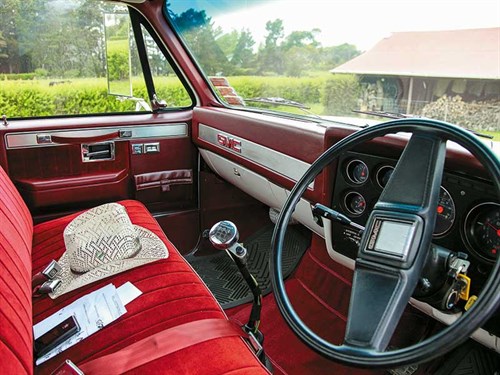 As mentioned before, Alan co-owned Thomson Motor Industries and built Chevrolet trucks for 30 years. They served a niche market of customers, keen to buy their dream truck.
The economic climate in New Zealand in the 1970s was a challenging place to run a business. "In the 1970s, things were quiet and many Kiwis left for other places," Alan says. 
"Do you recall that saying: 'Last one out, turn out the light?' That's how it was. We needed growth and we had none. The motor industry was going through a rough period and many big companies such as Ford and General Motors closed down.
"There was a big change coming that nobody comprehended; we weren't going to build cars here anymore because it wasn't economic. In Wellington, it was devastating because the associated industries that go with the car industry were affected. When built-up cars arrived on our shores CKD (complete knock down), industries that were mammoth employers closed down as well."
Eventually, with "every man and his dog bringing in cars and trucks", it was no longer viable to compete, and in 2002, Thomsons closed their doors. However, Alan's love for machinery and building things is still going strong. In his workshop at Te Horo near Otaki, he always has some project on the go.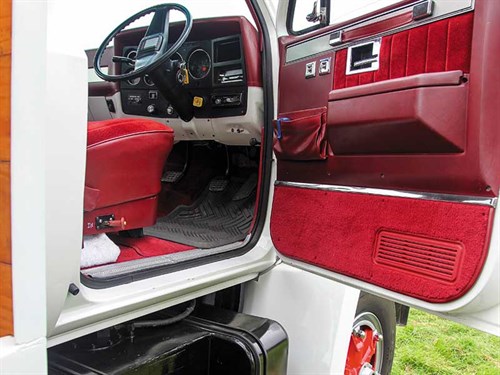 "I've always liked old trucks. I've had four or five of them from way back in early 1960s. My first one was a 1918 United—the first truck in Karori—and belonged to a carrier. I've also owned a 1942 GMC and a 1980 Ford Louisville cab over." But he is especially fond of the GMC TopKick. 
"GMC has always been a little more radical than Chevrolet (both GMC and Chevrolet are manufactured by General Motors), although both are basically the same vehicle except for the grilles and nameplates," Alan says.
"GMC used military names such as General and Brigadier for its heavy-duty trucks. TopKick meant you were the General's sidekick and your next move would be up to General."
When he takes it to shows, the TopKick sure turns heads.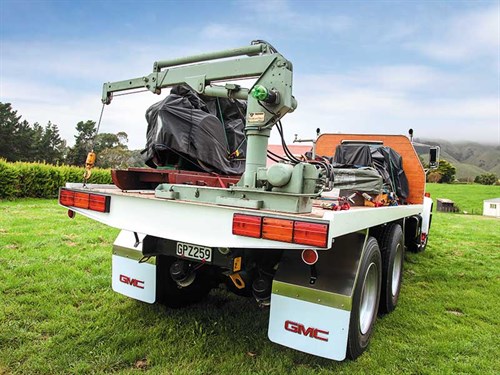 "People tell me it looks pretty tough as if it's on steroids. But it's really only a little truck with heavy running gear, which you can't really see. However, if you look at the size of the tyres, it looks like it's meant to do something seriously big."
Besides this, he says the truck is cheap to run and has plenty of power, too. "I can get up over the Rimutakas quicker than you can turn the wheel." 
1980 GMC TopKick Specifications
| | |
| --- | --- |
| Make | GMC TopKick 1980 |
| Engine | 3208 V8 Caterpillar |
| Power | 220hp |
| Displacement | 75 cubic inches per cylinder |
| Transmission | 9013 13-speed Fuller Roadranger |
| Rear end | 38,000lb Rockwell's/5.83 ratio |
| Tyres | 1100 x 22.5 radials |
| Brakes | Full air |
| Extras | 6000kg winch and two alloy ramps |
Check out more trucking features on Deals on Wheels.
Keep up to date in the industry by signing up to Deals on Wheels' free newsletter or liking us on Facebook.