Cover story: 1993 T600 B Canadian Kenworth
---
When a farmer exchanges his Cat D5 96J bulldozer for a 1993 Canadian Kenworth, you know there's a story behind the swap. Deals on Wheels went to find out more.
As well as being a farmer for the past 40 years, Keith has also been a truck driver. He and his wife Sue live near Takapau in Hawke's Bay and as they explain, it's not always easy to make a living from farming and raise a family of four children on a small acreage—they have 350 acres. So that's where Keith's truck driving skill came in handy; Sue worked as a teacher.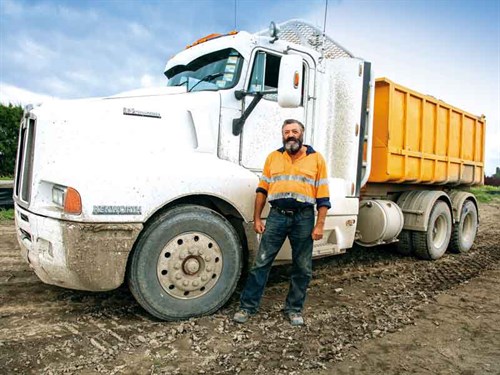 "Since the 1950s, when Dad ran the farm, we've always had our own trucks," Keith says. "They were mostly Bedfords. We had a TK petrol Bedford to cart our own stock, which was followed by a Diesel Bedford, and we used a trailer before trading that for an Isuzu."
Australian experiences
It was in Western Australia (where he met Perth lass, Sue) that Keith gained extensive experience as a driver working in the wheat belt. In fact, Sue says he spent their honeymoon driving for six straight days. "Every road is new road when you'e on a holiday," Keith says. However, even though he enjoyed driving, he wanted to try something else.
"We were driving down the highway and spotted the name of a trucking firm from the side of a truck. It was George Booth & Son and they were transporting sheep to Fremantle. They gave me a job but I needed a trailer licence, so off I went to get one.
"I sat and failed the first one because I hadn't read the manual. Then I drove to the next suburb and sat and failed another, but on the third try, I sat the original test, so I knew all the answers. I had the job by lunchtime."
Keith then worked for Bob Treasure, one of the first live export transport operators in Western Australia. He stayed for a couple of years carting a variety of stock, including goats.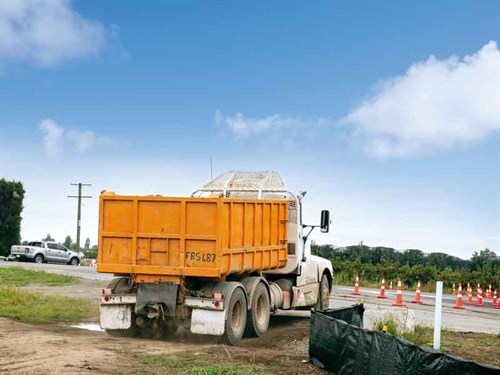 "I liked stock work. Having grown up on a farm, I was used to them, and when I came home to Hawke's Bay, we continued to cart our own," Keith says.
Truck driving became a regular yearly stint. He worked for a couple of Central Hawke's Bay transport businesses carting apples, driving a top dressing spreader, and carting deer and livestock.
In 2008, Keith and Sue leased out their farm for two years and Keith took what Keith calls a long service leave, ending up in Brisbane where he did drove a three-axle truck, constructing a 6.8-kilometre underground city tunnel.
When he returned to the farm, his bank manager told him he was in the top five percent farming income earners. "In my opinion, farming at that stage was a wasted effort, and many farmers had just gone backwards," Keith says. "Ironically, it was the only time I'd ever been in the top five percent, and it was all due to the fact I'd been earning a regular income as a truck driver."
Fair swap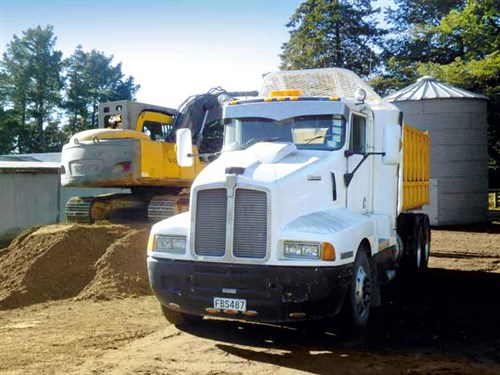 This brings us to the bulldozer/truck swap. Keith had a bulldozer for a few years, and it came in handy when he and his son Trevor excavated an old riverbed on their property to create a diverse farming project—an event centre for a water sport known as Back Paddock Lakes.
After the completion of stage two, there wasn't much need for the bulldozer. So when a trucking firm wanted to hire the bulldozer, Keith, in turn, hired their KW tractor unit of a similar value before they both decided it was better to swap. Keith now works for the same contractor using the Kenworth on a couple of roading contracts near Napier. When Keith bought the Kenworth, it was already set up with a bottom dumper trailer, and that worked well for carting and spreading metal.
"It's the easiest, safest way of spreading metal," he says. It also has a turntable to enable him to add other trailers.
Kenworth fan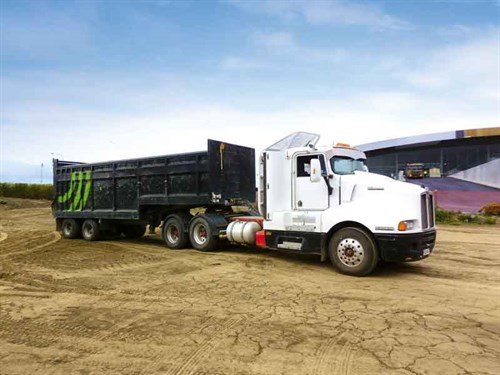 Keith is a fan of the long-nose KW. "If anyone runs into me, they've got to get through two metres before they hit me, so I reckon it's much safer. Also, I think they look cooler and you get a better ride, too," he says.
"My favourite truck is a long-nose, Canadian-built Oshkosh. The army uses them a lot, and when I worked in WA, a truck contractor had one. It did 80km everywhere and looked very cool."
The KW T600 B is Canadian built and quite rare in New Zealand. The 60 Series Detroit engine has compressed air-start function, often used in cold countries to enable ignition start-up instead of electric ignition.
"I've only ever heard of one other air-start KW. It has pluses and minuses. You don't get much time to start it—15 seconds at the most. If it hasn't started by then, you've got no air left, so after that you need to find another source of air," he says.
"For example, when we had that problem with a Mack Superliner, we made up a hose system so we could run it off the tyre. We connected that to the tyre, filled up the air tank, and then had another crack at starting it. We left it running for a bit to pump the tyre back up as well."
Apart from rebuilding the gearbox with his son Trevor, who is an A Grade mechanic, adding a Holden Torana air scoop to the top of the hood—"it does nothing but it looks good"—and a droopy sun visor, the Kenworth was left untouched. It's pretty much an uncomplicated beast, a bit like its owner.
Keith is a man of few words, preferring instead to keep his head down and working. But he does have this to say: "I heard this over the CB radio once and have never forgotten it: 'Being a truck driver is a very honourable profession.' And it's true. I don't find it boring at all. I have a good crew to work with and that's why I do it. The people I meet are really awesome."
Keith's 1993 T600 B Canadian-built KW specs
60 Series Detroit, compressed air start engine
18-speed Road Ranger gearbox
50,000 hours on the clock
Production: 1984–2007
The KW T600 B (also known as the Anteater) was a radical shift in truck design. Its aerodynamic facelift resulted in 22% better fuel economy due to decreased drag.
Keep up to date in the industry by signing up to Deals on Wheels' free newsletter or liking us on Facebook.