Comment: Improving the safety of level crossings
---
In 2017, national rail safety charity TrackSAFE NZ launched a research project to improve safety for heavy vehicle drivers around level crossings. RTF encourages transport operators to get involved.
The project involves market research company UMR undertaking a survey of truck drivers to inform KiwiRail and NZTA of some of the issues that heavy vehicles are having around level crossings. This research is intended to assist with the provision of better infrastructure at level crossings and ultimately save lives.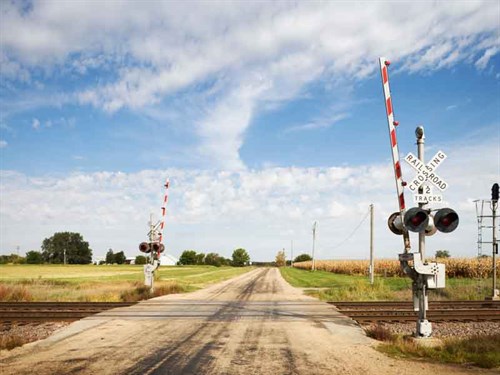 It is the first study in New Zealand that specifically takes into account the views of truck drivers and will directly lead to improvements around level crossings for heavy vehicles. It also must be emphasised that the survey is in no way designed to find blame among drivers and is confidential.
While collisions between trains and heavy vehicles at level crossings are relatively infrequent in comparison with vehicle-to-vehicle accidents on the road, they are usually serious in nature and more often than not lead to loss of life.
Since 2010, there have been more than 23 collisions between trains and heavy vehicles. There have also been more than 300 reported near misses and the frequency of those is increasing. In the first nine months of 2017, train drivers across New Zealand reported 33 near misses with trucks, up from 24 the year before—a 38% rise. In terms of hotspots, Canterbury, Auckland, and Waikato recorded the largest number of near misses between trucks and trains.
TrackSAFE 
TrackSAFE has identified a number of common infrastructure issues at level crossings that can increase the risk for heavy vehicle operators.
It has been found that around 19% of level crossings have short stacking distances, meaning that a long vehicle will not be able to completely clear the crossing while it is stopped at an adjacent road intersection. There are also some level crossings where the profile or the change of rate in gradient may be too steep for vehicles that have low ground clearance.
I'm sure many drivers have come across examples of these and it is this kind of on-the-ground evidence that TrackSAFE is after. TrackSAFE also wants to know how heavy vehicle drivers perceive and regard the risk around railway level crossings and how those perceptions manifest in their behaviour around a crossing.
Questions, for example, may relate to how heavy vehicle drivers behave when approaching level crossings protected by Give Way or Stop Signs, how safe drivers think different kinds of level crossings are for heavy vehicles, or the degree to which heavy vehicle drivers understand train stopping distances.
To provide TrackSAFE and KiwiRail with a clear picture of what is going on, the study is looking for around 1000 heavy vehicle drivers to participate in the online survey. As a bit of an incentive, all participants go into a prize draw for one of five $200 fuel vouchers.
For more information about the research, contact Megan at TrackSAFE on (04) 498 2010 or e-mail tracksafe@tracksafe.co.nz, or to register directly for the survey, you can contact Karen at UMR on (04) 473 1066 or e-mail karen.connell@umr.co.nz.
The research is part of a broader campaign that TrackSAFE and KiwiRail have under way regarding level crossing safety. There are a number of engineering trials to help with the design of level crossings and a system is being trialled that sees crossing alarms activated early if an over-length vehicle approaches a level crossing at the same time as a train. 
Read more about issues relating to trucking in New Zealand on Deals on Wheels
Keep up to date in the industry by signing up to Deals on Wheels' free newsletter or liking us on Facebook.