Special feature: Ian Howe Concrete Pumps
---
Two Mitsubishi cab and chassis units sold in NZ are sent to W. Win Engineering Ltd in Australia to be fitted with a concrete pump—a costly process that turns out to be well worth the expense and effort
Business has been booming at Ian Howe Concrete Pumps over the past year. Ian and his partner Harriet have been in the concrete pumping game for 37 years and have seen a steady increase in their company's customer base and workload over the years.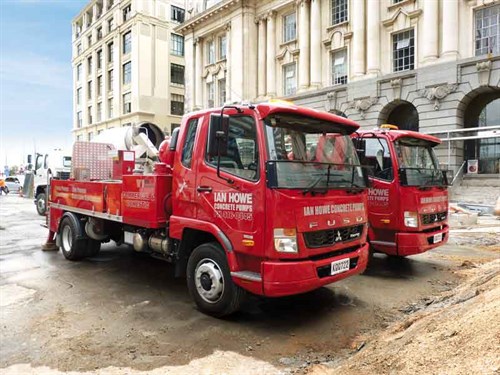 However, that 'steady' increase over the last two to three years has turned into a gigantic leap, which has required a massive investment in plant and equipment in recent times.
Ian told DOW that with the amount of new business the company has taken on, along with the increase in work coming in from existing customers, the business has had to employ an extra four office staff to attend to customer's needs, along with the ever-increasing amount of administration involved in ensuring the company can maintain a strict health and safety regime.
Ian says that having a great staff and good gear has been the key to the company's success. He adds that the same mix of good operators and reliable gear is producing similar results with his latest purchases. The two latest pumps to be added to the fleet are line pumps (rather than of the 'boom' variety).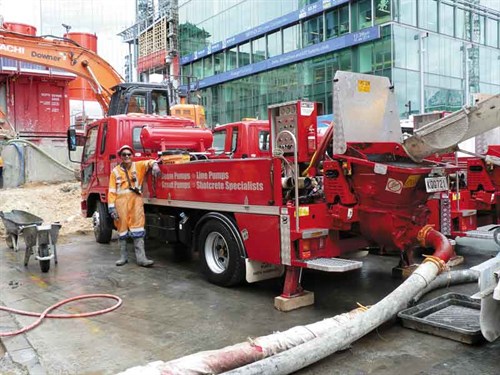 Mounting the line pumps on trucks, he says, is a bit of a departure for the company, as in the past they've preferred to stick to the old method of mounting any pump that doesn't have a boom attached to it on a trailer.
However, with the firm required to do more inner-city infrastructure work where space is typically cramped and where the relatively tight areas need to be shared with a myriad of other contractors on-site at the same time, he can see a time when his trailer pumps will be phased out altogether.
Another advantage, of course, is that in the truck-mounted scenario, only one engine is required to deliver the pump to the site and to carry out the pumping on arrival. There is also an added advantage in being able to carry more pipework and connectors in the bargain.
Mitsubishi Fuso FK1225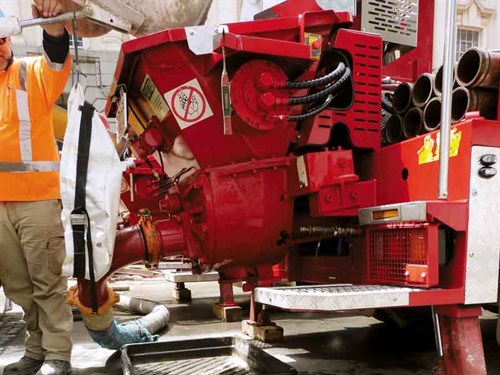 The latest additions to the fleet are two 250hp Mitsubishi Fuso FK1225 trucks with consecutively numbered registration plates—KQQ721 and KQ722—that are currently working on the Inner-City Rail Link in downtown Auckland—said to be the largest transport infrastructure project in New Zealand.
Ian and Harriet have handpicked two operators to work the pumps, Wiremu (Willy) Haare and Honetama (Hone) Wikaira, who are experienced operators. Both men absolutely love their machines and say that they're a dream to operate with wireless remote controls, automatic greasing, and easy-to-access stowage areas and compartments.
Willy says the new Australian-made W. Win WP60 pumps have around double the capacity of the previous trailer pump, being capable of outputting 30 to 60 cubic metres per hour and have the power to push the concrete through a 150- to 300-metre line comfortably to five to six storeys.
Cleanliness is next to godliness in this modern day and age, with this being evident by the spotless nature in which these two machines are presented, despite thousands of tons of dusty building materials being moved from one place to another around them while they're pumping the wet stuff.
Ian says his company has an unwavering policy of maintaining the gear in pristine condition and that a strictly-adhered-to regime of wash down is followed when the pumping is completed, with a further clean carried out at the end of every shift.
W. Win WP60 line pumps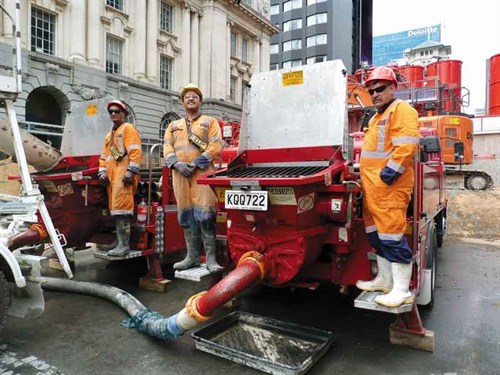 While at a concrete convention in Sydney, Ian was impressed by a display of W. Win concrete pumps on display. W. Win is a long-established Australian manufacturer and supplier of parts to the mining and concrete industries, and Ian saw that their product was sturdy and well-designed, with a butterfly relief valve fitted to its pumps—an innovative alternative to the conventional 'S' valves installed in other brands.
The butterfly valve, he says, makes for an easy clean-out of the equipment—something he knew would go down a treat with the guys who are incharge of carrying out the task.
The two Mitsubishi cab and chassis units were purchased in New Zealand and were then shipped to W. Win Engineering Ltd in Australia to be fitted-out in Sydney—a process, Ian says, only took a couple of months, including the shipping to and from Australia. While it was an expensive process sending two cab and chassis units across the Tasman and shipping two completed units back to New Zealand, Ian says it was well worth the expense and effort involved in completing the transaction.
Harriet adds that the business of buying trucks in New Zealand and having them shipped to Australia to be fitted with Australian-made componentry involved working through a lot of complexities with Australian Customs. And if it hadn't have been for Paul Smit of Custom Solutions 2007 Ltd, who put in an inordinate amount of work to make it all happen, the deal may never have been completed.
W. Win Engineering Ltd carried out every part of the fit-out at its Sydney plant, from fitting the transfer cases to run the pumps, building both bodies, fitting water and hydraulic tanks, to right down to painting and signwriting the machines in Ian Howe Concrete Pumps' livery.
Ian was amazed that two raw Mitsubishi Fighter cab and chassis units could arrive at the W. Win plant and around two months later, two completed concrete pumps were delivered back to him in New Zealand, ready to be certified and registered for New Zealand roads before being put straight to work, all in such a short space of time.
The next generation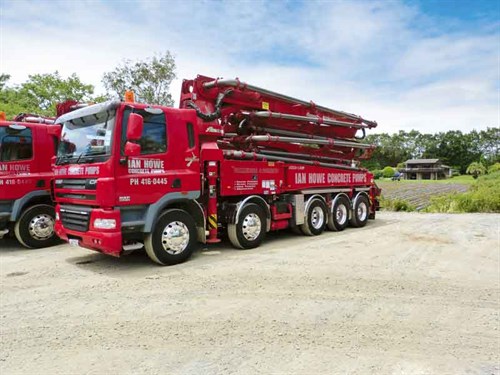 Ian says there will come a time somewhere down the track where Harriet and he will pass the baton on to their 21-year-old son Trent, who has worked in the business since he was a young fellow.
Currently, Trent works in the company as an owner-operator with a 10-wheeler 2016 DAF CF85 fitted with a 38-metre boom pump. However, knowing the business inside out, as he does, Trent reckons he's up to the task of taking on more responsibilities when the need arises. 
W. Win WP60 line pump specifications
| | |
| --- | --- |
| Low pressure output | 60m3/hr |
| Low pressure  | 58bar |
| High pressure output  | 50m3/hr |
| High pressure | 100bar |
| Hopper capacity | 0.5m3 |
| Outlet diameter | 150mm |
| Lubrication system | Automatic |
| Control | Wireless remote/Pump panel |
| Water tank capacity | 400L |
| Max pump flow | 76.5L/min |
Keep up to date in the industry by signing up to Deals on Wheels' free newsletter or liking us on Facebook.