Comment: The importance of good workplace culture
---
More attention should be given to workplace culture, as a good culture is fundamental to the success of a business
The official subject of the 2017 Road Transport Forum Conference was 'Resilience and Adaptability'. However, as the sessions went on and we got to the NZ Road Transport Industry Awards, another theme came through strongly—the importance of a good workplace culture to a road transport business.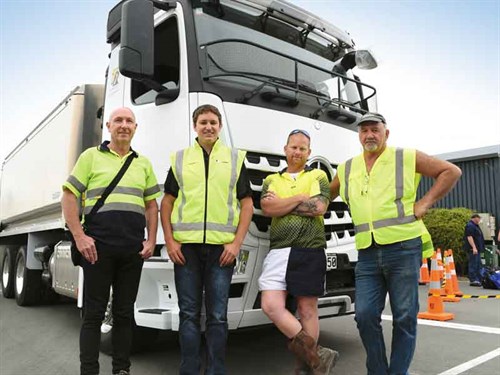 A good culture is one of those intangible concepts that is often discussed in only broad and ambiguous terms. However, most of us do know a good culture when we see it. Successful sports teams such as the All Blacks or Emirates Team New Zealand have a good culture.
It is, in fact, a fundamental part of their success. It is also easy to pick out those teams or organisations without a good culture. They are rarely successful, and it is obvious that they do not engender loyalty among their players or staff.
The hard part for any organisation, whether it be an international sports team or a road transport company, is not necessarily knowing what kind of culture they want, but working out how to achieve it. Delegates at the NZ Road Transport Industry Awards and the RTF Conference were given some fine examples of how this can be done.
Christchurch-based NZ Express Transport was awarded the UDC Finance Outstanding Contribution to Training at the industry awards. Over the last few years, the company deliberately took on a number of young and inexperienced staff and invested in their training.
Young drivers were shepherded through the various licence classes, having joined the company with only a basic Class 1 or Class 2 licence. This commitment and patience to the professional development of young staff has not only provided the company with a workforce it is proud of but it also means it has a group of people who are dedicated to the business and who feel a real sense of pride in what they are doing.
Tranzliquid Jackie Carroll's example
This year's Sime Darby NZ Outstanding Contribution to Health & Safety Award went to Tranzliquid's Jackie Carroll. In her role as company director and health and safety manager, Jackie has built a health and safety regime at Tranzliquid that is about caring for the well-being of her people.
That duty of care was actually one of the expressed intentions of the new Health and Safety at Work Act and while Jackie's work may therefore seem necessitous, there are many companies out there that only do the bare minimum to comply with the legislation.
Instead, Jackie saw it as an opportunity to empower and upskill her staff by putting in place a health and safety committee made up of people from across the business. This shared the responsibility for health and safety around and integrated staff much more closely with management. This sense of ownership is a key element as to why Tranzliquid engenders such loyalty and pride among its staff. It is critical to their culture.
Z Energy chief executive Mike Bennett's example
During the conference, Z Energy's chief executive Mike Bennetts walked delegates through Z's transition to an environment- and community-conscious organisation. A critical part of this transition was the effort that senior management made to listen to the values of Z's many hundreds of employees.
This, Mike said, was about helping to understand the context that the business existed in and its place in the lives and aspirations of its community. In this way, they were able to develop a strong company culture that has been essential to Z's successful transition from a fossil fuel company to an organisation at the crest of new vehicle technologies. 
Reaping the rewards
These few examples illustrate just some of the ways in which an organisation can create and hold on to a strong workplace culture and reap the rewards that come from that. Each organisation has different challenges in its business so there is no one-size fits all approach. However, being attentive to the values and aspirations of staff and providing them with the ability to learn on the job are good places to start. 
Keep up to date in the industry by signing up to Deals on Wheels' free newsletter or liking us on Facebook.