Business profile: Canterbury Slinger Trucks
---
Have you ever seen a machine in a busy city work site cause almost everyone to down tools and take photos on their phones? Cameron Officer had that experience when he rode in Ewan Baron's slinger truck.
Ewan Baron is a man on a mission. He might give himself the tongue-in-cheek title of Chief Stone Spreader on his business card, but Ewan has imported a rather unique piece of kit; one that he is finding to be in constant demand around Christchurch, especially as the rebuild continues apace in the CBD.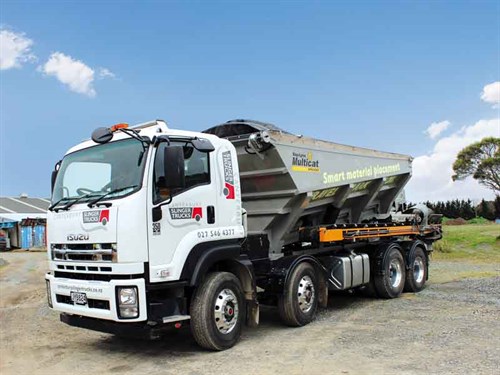 Manufactured by Canadian company Bay-Lynx Manufacturing, Ewan's slinger truck is a relatively common sight in that part of the world. It was during his time as a Quantity Surveyor in British Columbia a few years back, that Ewan first came upon the simple but rather ingenious machine.
Bay-Lynx has been manufacturing slinger and volumetric truck equipment since the 1990s. And with Christchurch undergoing massive transformation in the wake of the 2010/11 'quakes, Ewan decided that bringing the hardware home could prove a big win. More than that, he soon discovered he had a Kiwi on the inside.
"I guess it's like many parts of the world; sooner or later you'll meet a Kiwi working locally," he says.
"When touring Bay-Lynx's facilities I met a guy from New Zealand who even knew my brother, as it turned out. This was great in more ways than one; all of a sudden I had a Kiwi on the shop floor who could complete all the pre-wiring on the Bay-Lynx-engineered bin specifically for New Zealand."
Ewan decided to bring a unit back to New Zealand to start contracting; forming Canterbury Slinger Trucks last year. There has been such interest in the machine though, that he finds himself showcasing the technology just as much as getting the job itself done.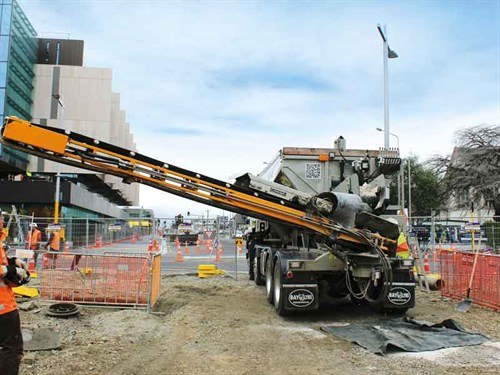 The bin, hopper and conveyor mechanism can be built on any six- or eight-wheeler truck. Ewan reckons his Isuzu FYH350M 8x4 is perfect for the job, allowing for a good mix of on-site manoeuvrability and load capacity. The bin has a 12-ton payload, although Bay-Lynx build bins capable of hauling 20-ton worth of material in the Canadian market. The machine comes into its own when the variety of material it will spread is considered.
"I can place a variety of material with the truck; soil, sand, mulch and aggregates up to AP65," continues Ewan.
"For the most part since landing the unit, I've been subcontracting to Fulton Hogan, as well as working pretty intensively on an ongoing mulch-spreading project for the city council. It works very well in this application because I can get the conveyor into harder-to-reach areas of parkland.
"Shooting material onto the flower beds with the slinger arm is really efficient; 10 to 12 12-cubic metre truckloads of mulch a day works out to about 120-cubic metres with this machine. If I was to use a tipper truck – which would need to be relatively small to get into some of the areas the slinger arm can reach – I might only achieve 20- to 30-cubic metres of material laid during the course of a day. And then of course, there might be some areas that would need the mulch to be wheelbarrowed into."
Riding shotgun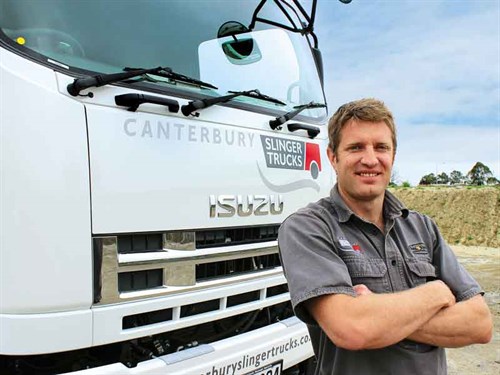 Reach is vital, as demonstrated the day I rode shotgun with Ewan in his Isuzu to a busy – and rather cramped – worksite in downtown Christchurch. A load of sand needed to be delivered to form the bedding material for a bio-swale pit.
Using a radio control unit, Ewan can free himself from the truck cab to stand alongside the end of the conveyor itself and place material accurately; as material shoots out the end of the slinger arm, he continually adjusts the throw to ensure an even spread throughout the pit.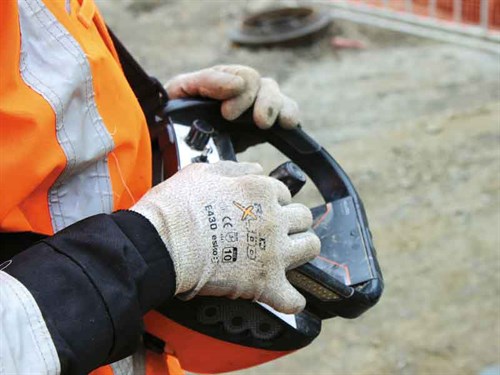 The machine works at variable speeds, but today Ewan manages to shift almost 12 ton of material in 20 minutes with the slinger arm. The sand would have taken much longer to be placed in the required spots with the more conventional method of an excavator spreading from a dumped stockpile.
"This way, I can get in, place the material exactly where it needs to go, and get out again; all in a relatively short time frame, and without the need for secondary plant brought in to move the material on once it has been delivered," Ewan says.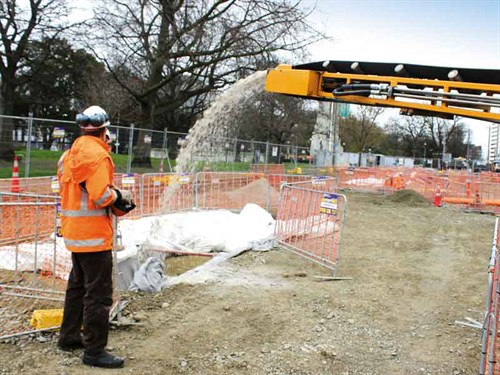 The Bay-Lynx unit can be adapted to a tracked machine platform, for mining and quarrying applications, or even ordered as a static unit. A lift hook at the top of the frame means it can be craned into position if need be. The hopper can also be fabricated from aluminium, rather than Ewan's steel unit, if saving a metric ton on overall weight is deemed crucial.
The slinger arm can throw material up to 20m, as demonstrated on-site today when the foreman points out a second bio-swale pit, further back from the road, that also needs filling with a sand base. Ewan simply backs his Isuzu up another few feet, extends the conveyor arm out and ups the speed; the sand is laid out accurately while several contractors stop what they're doing in order to shoot a few frames of this interesting beast at work on their camera phones.
"This is a bit of a show pony for us," concludes Ewan. "But it has generated a lot of interest. I think it's a really good example of efficient design. On the surface it's perfect for the sort of confined environment we've been working in on this particular job. But it's actually so much more flexible than that. 
"These days civil construction entities need to work smarter to gain more from the bottom line; I think this is the sort of technology that can help achieve that."
Watch the video
Check out the Canterbury Slinger Truck in action.

Keep up to date in the industry by signing up to Deals on Wheels' free newsletter or liking us on Facebook.