FGK Morris Restoration—Part 13
---
Last month's instalment concluded with Tony's promise to have the front wings back to be at around the time the story was going to print. I'm pleased to say he was true to his word.
Once the front wings were back in my possession, the next step in the saga was to offer them up to the cab and determine exactly how badly (if at all) misshapen they would be from all the hammering and welding they'd endured over the past couple of months.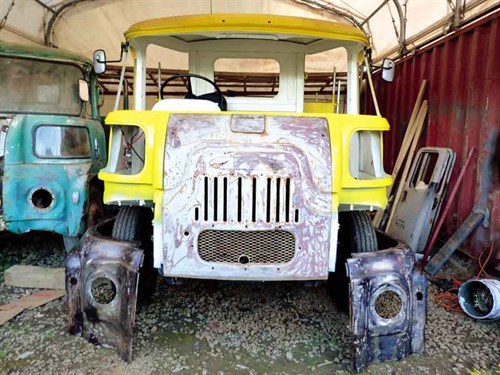 I've always had a lot of faith in Tony's ability as a panel beater. After all, he's been in the game for about 45 years, having started out in the trade as a young lad after he'd decided to give up on a stint at being a jockey when he left school.
He did the majority of my panel and paintwork when I ran a small fleet of trucks back in the '70s, '80s, and '90s, so upon deciding that any effort I'd make at beating the wings into shape would most certainly end in disaster, Tony was my first port of call.
While he'd never tell me so, I reckon there were many times during the course of the past few months that he regretted his decision to take the job on in his spare time, despite the fact that I was paying him for his efforts.
In spite of all the stretching, shrinking, and welding Tony had to do, both wings fitted up to the cab with comparative ease, although, it looks like the right wing (the more badly damaged of the two) is going to need a bit of tweaking at the back where it fits up against the step well.
I must point out, though, that this is less likely to be the fault of the panel beater but rather the fact that yours truly had to virtually remake the part that the wing marries up to. In any event, I suppose the final fitting will make for interesting reading in next month's instalment.
The story of Bob the builder's Morris truck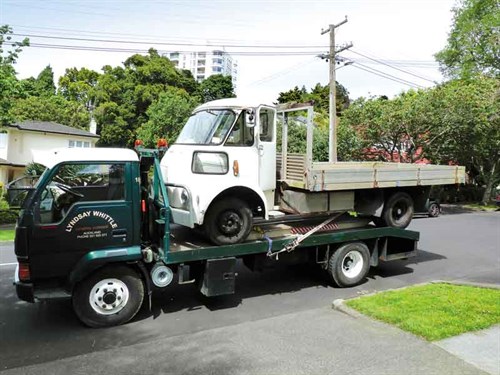 As I explained in Part 12 last month, I had a call from a reader in Auckland whose husband Bob wanted to sell a Morris truck that he'd owned from new and that he used for his building business—Bob the builder (I'm not kidding!).
The truck was sold to Bob in 1961 as a T200. However, it could have also been sold to him as an FGK 40, a two-tonne version of my FGK30 but with a six-cylinder petrol engine.
I've done a bit of research over the past couple of weeks and the best information I could come up with is that if it actually was a T200, it would have been powered with by a four-cylinder diesel.
I'm hazarding a guess when I suggest that the Morris agents in Auckland at the time possibly had a spare six-cylinder petrol powerplant hanging around in the back of the warehouse and decided to plonk that into the chassis instead.
Bob would've been the winner there, though, as the petrol-six most certainly has been quieter and had a lot more power than its diesel counterpart. However, this is purely speculation on my part, given that any information I've been able to gather is sketchy, to say the least. So if anybody out there can shed any proof-positive light on the matter, I'd be more than grateful to hear about it.
Had Bob decided to sell his truck a couple of years ago, I would've definitely been keen to get my hands on it. It was around the same time I was searching high and low to find one of these weird old trucks and had to go almost to the bottom of the South Island to collect the two I finally bought.
Being so far into this current restoration by now, any notion of me buying Bob's almost-pristine example is out of the question—something I find a little bit frustrating, especially as, at the time of writing, it looks like someone else has scored themselves a good deal. But as the saying goes, them's the breaks!
The Morris badge
I shouldn't complain because Bob lent me a plastic Morris badge that used to be on the truck but was in three pieces, although the colours were remarkably sharp. I've glued it together and am currently in the process of finding a plastics company or a CNC expert who can recreate a batch of badges—one to go on the truck and a few extras for spares or perhaps to sell to defray expenses.
I figure that If I'm having trouble locating a suitable badge (I've tried England as well with no luck) then there will probably be others in the same boat, especially when an identical badge was used on J2 and J4 Morris vans as well.
Another advantage is that Bob has a spare windscreen and he says he's happy to sell to it to me. They're as scarce as hen's teeth and in view of the fact that I broke the one that came out of my truck, I'm happy to shell out for that and take better care of it than I did the previous one. Check out the photo I've included of Bob's truck simply to show what a good one looks like. This one's a beauty.
Back to the restoration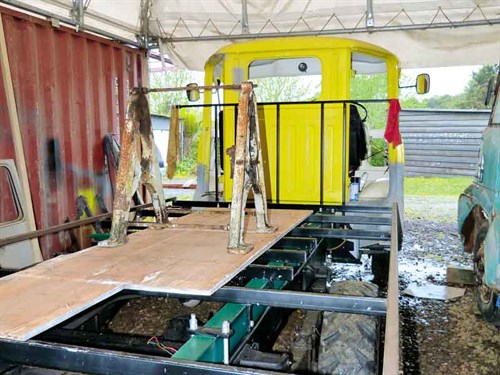 On the restoration front, I've managed to dismantle the winch that's going to go on the back and it's been sent off to the sandblasters for a treatment.
Unfortunately, one of the cast iron A frames had had previous damage and was bronze-welded and fish-plated, which is a bit of a pity but is something I'm going to have to deal with in the near future.
I feel a bit like a one-armed paper-hanger at the moment, with trying to find a badge-maker, dealing with fitting up the front wings (I can see they're going to be on and off a few times), and making a final decision as to what shape the tow wagon body will end up.
To make matters worse, I haven't been able to find a towing rig anywhere, so there's only one thing for it and that's to manufacture one myself, which will place me firmly out of my comfort zone yet again. However, I've said it before—it only goes to make the story more interesting albeit at my expense. 
Tip of the month:
Never shy away from a new challenge!
Coming up...
Will it be possible to manufacture a new plastic Morris badge?
Keep up to date in the industry by signing up to Deals on Wheels' free newsletter or liking us on Facebook.