Cover Story: Greg Inch Earthmoving
---
When Greg Inch, QSM*, isn't busy running his Dunedin-based earthmoving business, he's flat out organising a yearly event that's his life's passion—'Special Rigs for Special Kids'
Brilliant in its simplicity, the concept revolves around taking special needs kids for a ride in a big rig through the streets of Dunedin city and then out into the country, with the trvip culminating in an afternoon's entertainment along with a barbeque.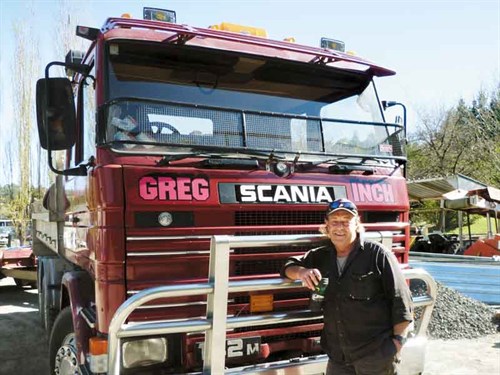 The event takes place once a year, generally around August when the weather usually starts to warm up.Greg came across the idea about 25 years ago from a mate in England, who was driving trucks for a firm based just out of London.
There was an orphanage just over the fence from the trucking yard and, occasionally, the kids who lived there would come across and give him a hand to wash his rig. He figured the best way to reward them for their help was to take them for a ride in his truck. So Greg thought he could possibly do something along those lines in New Zealand.
Planning underway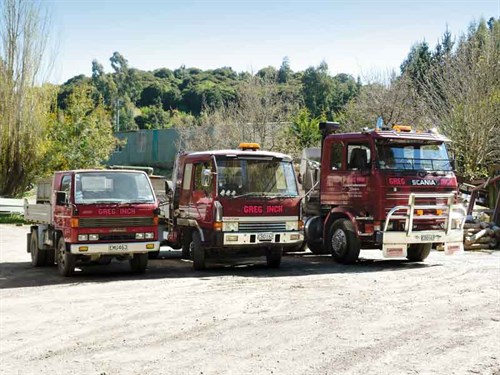 Figuring it'd be good for the trucking industry to gather a few truckers together for a good cause, he set about getting the event underway. The first call he made was to Owen Rooney at Radio Dunedin to see if he thought the idea would fly, and Owen promised to promote the event if Greg got it up and running. 
Around the same time, two other men, Glen Jacobs and Andy Willets, from other parts of town, had heard a song by Red Sovine called Teddy Bear, which Greg says, explains precisely what his planned event would be aiming to achieve (having since listened to the song, I'd say he's right on ___the mark).
Glen and Andy mentioned the song to Owen at the radio station, who put them in touch with Greg. The three men got together, and in Greg's words, they put a stake in the ground and agreed to run something in six weeks' time.
The first big outing
Their initial thoughts were that the event would attract maybe 20 or possibly 30 trucks to take some kids for a ride. But when the big day came, 120 trucks lined up, all of which were full with kids keen to go for a ride out to Outram (where Dunedin Airport is located).
Overwhelmed with the response received, Greg decided to run another event the following year, hoping to get maybe six or seven years out of it. That was back in 1991, Greg says they had their 26th run a couple of months ago. 
Going strong today
It's been going so long that there is now a second-generation of drivers turning up to take the kids for a ride.
Aside from second generation drivers, there is also a second generation of committee members, with Greg's daughter Shannon on the committee and his 12-year-old daughter McKenzie, as he puts it, is "busting her guts" to join the other 11 people committee members.
Greg says he's the only contractor/truck driver on the committee but there are mechanics, caterers, hospital staff, and almost every other profession you can think of. He adds that they put on a barbeque and cater for around 1200 special needs and disadvantaged kids, their families, and drivers on the day and that they go through 2500 sausages, 1000 meat patties, 40kg onions, and brew 1500 cups of coffee on the day.
They also make up 350 goodie bags for kids from donated items, allowing it all to be free of charge to the people who turn up for the event.
Greg says that for the drivers and truck owners, it's all about participation and that there are no prizes for show and shine, but nonetheless, companies from as far afield as Auckland and Christchurch come along simply to be a part of a feel-good day.
He says that some drivers will unhitch a trailer-load of logs in order to take part, while others will even hide a new rig for a week in order for its first outing to be on the day of the run. There is never any shortage of sponsored goods and anything that can't be given to the kids is auctioned-off at a charity auction.
In fact, Greg says that Special Rigs for Special Kids has grown to a point where it's now one of the biggest functions on the Dunedin City Council's calendar, with around 20,000 people along the 50-kilometre route.
All for a good cause
The growth of the event has allowed it to add a welfare arm to its operation, although, Greg says it doesn't give away any money. It prefers to ask organisations to prepare a wish-list and they do what they can to fulfil it by using industry power to purchase goods.
A couple of examples Greg gave were the rescue helicopter needed a second portable ventilator to go in its number two aircraft, which the fund was able to provide, along with a bone drill and a trauma mattress.
Another case in point was the Roxburgh Health Camp that needed some bikes along with other safety gear. Greg and his team approached a local bike shop, who spoke to the bike manufacturer, who supplied the bikes at a cost.
The drivers' fund also looks after the needs of the families of drivers who have been either injured or killed, oftentimes volunteering their services to cut firewood, mow lawns, and carry out general repairs.
Government authorities are even on-board to lend a hand, as the CVIU has generously given a logbook exemption to drivers who participate in the run and the NZ Police provides escorts throughout the day.
Special Rigs for Special Kids has gone on to win not only the Regional Trust Power Awards for their area but also the National Trust Power Awards. 
Greg Inch and his machines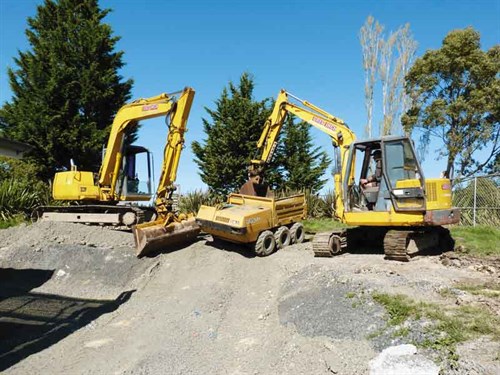 Greg Inch reckons he's been around a while and says he started out a few years back on a Cat D8 pulling willows out of a river. The good old D8 had a hand clutch and he remembers having to carry a 9/16 ring spanner to adjust the clutch at the beginning or end of every shift and all those grease points that needed attention. 
These days, his fleet consists of Japanese trucks, with the exception of his 1984 Scania 142M, which is still going strong even with 2.3 million kilometres on the clock. The other trucks in his fleet are a Mazda Titan 4x4 and a Mitsubishi Fighter.
Machinery-wise, he has two Komatsu machines—a D21 dozer and a PC90 excavator—with an eclectic mix of other brands making up the rest of his inventory: 2 x Ferrari tractors, a Mitsubishi wheel loader, an IHI 50 excavator, and a Terex Posi-Track ASV.
On the day of the DOW catch-up, Greg was working at Fairfield School, where he is on the board of trustees. He was carrying out some finishing work on their new Akorangi Block.
Although Greg is Dunedin-based, he says he carries out earthmoving and cartage work as far afield as Invercargill, Milford, and Twizel.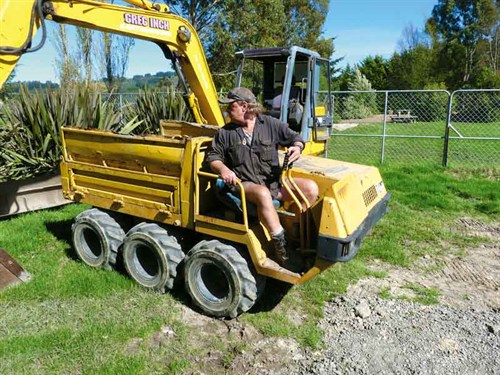 Read more trucking features on Deals on Wheels.
Keep up to date in the industry by signing up to Deals on Wheels' free newsletter or liking us on Facebook.