Restoration Project FGK Morris Restoration Part 11
---
In the latest chapter of the FGK Morris restoration, Deals on Wheels writer Lyndsay Whittle updates on the progress till date
A two-week holiday break and a busy schedule of writing articles for Deals on Wheels and Farm Trader have caused me a bit of 'finger pulling' in order to show some progress on the restoration front this month.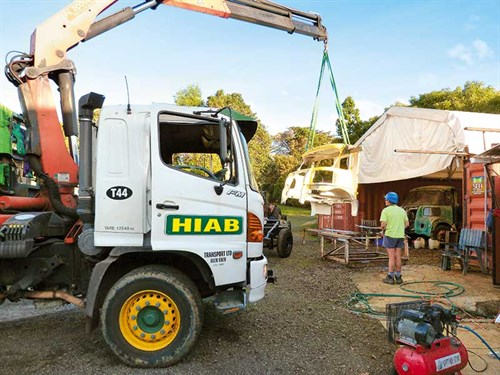 Fortunately, I've had some help from outside sources while I've been away, aside from the fact that some of the other outwork that had already been completed last month has been relatively easy to plonk on the truck and make it look a bit more complete.
Bad weather delays
My panel beater buddy, Tony Kemp, who has had the wings (mudguards) for a couple of months now, told me at the outset that he'd only be able to work on them as time allowed and that the weather was going to be an influencing factor in how much work he could get through.
He'd told me that if the weather was wet, he'd get more done, as he was in the middle of building a new workshop and would be throwing as much time at the process as 'Huey' would allow.
Well, Tony's bad luck, and the luck of everybody else in New Zealand it seems, was my good fortune, as the boy had plenty of time to get on with my work or so I'm told. Just in case you think I gloating about escaping the bad weather at home, I can tell you that the entire 12 days I spent in New Caledonia were overcast. There, hope you feel better now.
Back to work - now with mudguards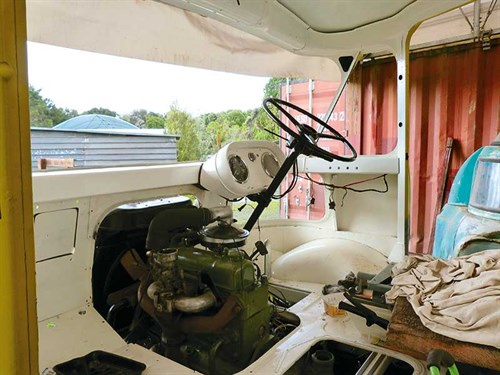 Not-so-great weather aside, I can say I did hit the ground running when I got home, and I guess the break did me some good after all.
Anyway, the mudguards or wings (I'm still not sure what to call them; perhaps we should run a poll on the matter) are now finished. Although still not painted and fitted to the truck as this goes to print, we're getting pretty close with a part of the job that will mark a notable point of the restoration.
In the area of the electrics, I'd made minor repairs to the wiring loom and refitted it only to find that I couldn't get some of the auxiliary items such as lights and wipers to operate and had to resort to calling on my auto electrical mate Areo to come to the rescue.
Areo found a bad connection under the dashboard, which sorted everything except the wipers out, and he currently has the wiper motor in his workshop, getting that going again. Once the wipers are refitted, that will be the electrics finished, and one more item will be crossed off the list.
New fittings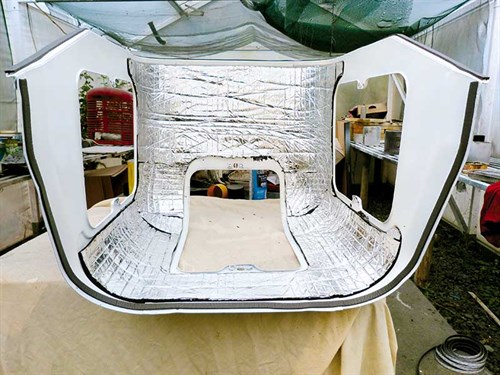 I'd always considered that when I was doing the fit-off of the seats and the rear vision mirrors, I'd have the job almost completed. However, upon trying to reverse the now-driveable truck into the shed one day, I found I couldn't twist my ageing neck enough to see behind me. So now the truck sports new mirrors.
The internet has helped in providing age-appropriate items to make the old truck look like new again, as I was able to source not only the old-style mirror heads but also some silver soundproofing for the engine cowling, ticking another two items off my ever-decreasing things to do.
Please don't get the idea that I'm becoming complacent though, as I'm aware that there's still an awful lot of work to get through before the job is anything like complete. Aside from the work still to get through, there are a few decisions to make on what the finished product is going to look like, although I can now reveal what the truck is going to be.
Deciding the final look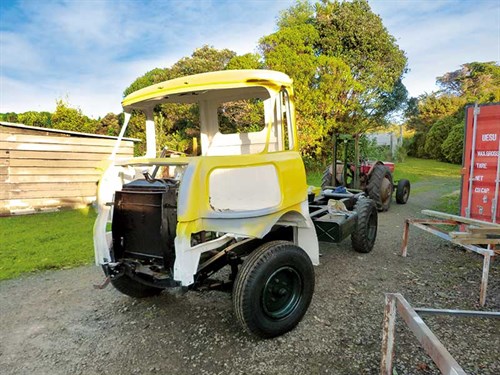 The options as to what would end up on the back of the truck ranged from it being a flat deck or a small tipper to a van body or a tow wagon.
I can now say that the tow wagon idea won, as I'd decided that I already had a working truck in my '53 K Bedford, which has now been back on the road for a couple of years.
It seems to have a load of firewood, basecourse, mulch, or topsoil to deliver on a regular basis, giving its owner a better workout than going to the gym, as the old truck isn't fitted with a hoist.
In saying that the Morris is going to be a tow wagon, it's going to be entirely for show, as the crane will be of the old-fashioned hand-operated variety.
I've searched the length and breadth of the country to find a complete towing rig that will fit a truck of this size, and I've come up with a big fat zero.
I have, however, found the winch part in Masterton, which I've now negotiated a price on and have despatched a truck to go and collect it.
Readers will have a good old chuckle when they see a photo of the winch arriving back in Auckland in next month's issue. Trust me, it will be a real hoot!
In the meantime...
I'm getting underway with building a deck on the back of the truck, and I'm currently experimenting with some designs for both the towing rig and the body it will eventually sit in. 
However, the jury is still out on that score, as I have more pressing items to attend to, such as finishing off the doors and bolting the interior panels in place.
I'm still waiting on delivery of a swaged floor panel I could've made myself (with one hell of a lot of effort) but decided to have manufactured by an expert. I've been promised this in a week or so, and when that is fitted, the interior minus the headlining will be completed.
I've made a tentative booking with my mate Jeremy Tagg from Bespoke Auto Glass to fit the glass in a month or so, but before Jeremy can get to work, I have to have the mudguards fitted and the paintwork in that area finished, not to mention making some repairs to the metal framework around the side windows and quarterlights.
I have to say that the framework repair is causing me a great deal of worry. But more on that next month.
Coming up next month
The hand-crank winch arrives in style
Tip of the month
Take the occasional break. You'll come back to the job refreshed.
Keep up to date in the industry by signing up to Deals on Wheels' free newsletter or liking us on Facebook.