Cover story: Hino Tough competition winner
---
DOW's editor caught up with Hino Tough competition winner Ross MacMillan on the outskirts of Palmerston North
"My mates asked me why I entered the competition, but with the great prize on offer, who wouldn't want to have a free trip to Invercargill and see all the trucks on display?"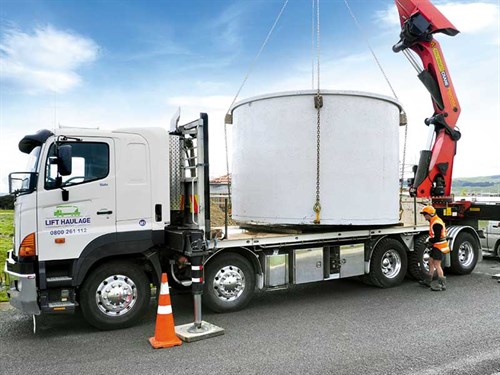 What Hino Tough competition winner Ross MacMillan is talking about is his trip to the Invercargill-based New Zealand Road Transport Hall of Fame awards that he will be attending the week after I met him.
"I'll be taking my father-in-law. He loves trucks and machinery, so it will be a boy's only trip. We're really looking forward to it," Ross says.
If you haven't been following the progress over the last few months, Ross and many others entered their Hino trucks in a quest to find the toughest Hino in the country. There were many suitable candidates, and it was a difficult task to narrow down the field progressively to the final winner. This much I do know, because along with Hino NZ general manager Michael Doeg, I was the other judge.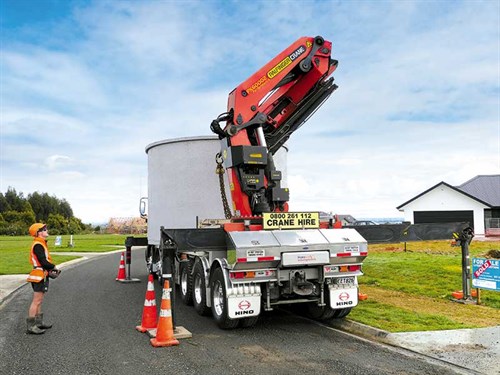 Ross' 700 Series Hino isn't that old—it's a 2007 model—but it fitted all the competition's requirements: essentially, being an everyday drive that worked hard for its owner. On the day of our visit, we got a glimpse of some of the truck's capabilities.
Spring is just getting underway, but the leftovers of winter's weather curve balls, which affected construction businesses throughout the country, are still making many work sites difficult to access.
Rain-saturated ground means it can sometimes be awkward to find stable ground to safely and efficiently work.
Fortunately, our meeting atop a new subdivision just outside Palmerston North where Ross is busy manoeuvring a large tank presents few obstacles, other than some temporary site fencing that is probably one of the easier challenges our Hino Tough winner has had to contend with of late.
History of Ross' 700 Series Hino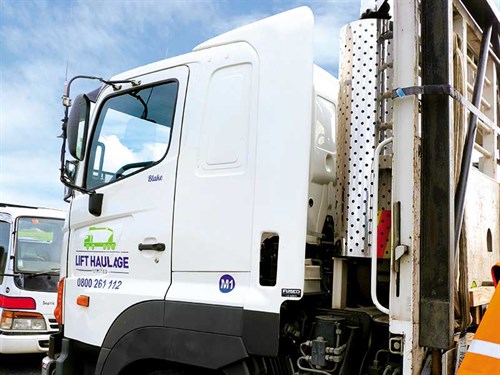 Ross' tough Hino first hit the road in the South Island with a Timaru-based company, before being purchased by Lift Haulage around 18 months ago.
Fitted with a 450hp engine, the truck is set up in a 10x4 configuration, with the last axle being tagged to help spread the weight of the huge 60002 Palfinger crane sitting above it.
But while the truck has just more than 200,000km on the hubometer, the hour clock tells a truer story of its actual workload.
"Yeah, we've just passed the 16,200-hour mark," Ross says. "It really is a great truck. The reach of the crane powered by the Hino is phenomenal. Most other crane trucks need to get right alongside where they're working, especially when delivering house trusses, but our Palfinger can lift two tonnes at 20 metres, so we can sometimes sit on the road and land the trusses right on top of the house."
Ross says his boss Shane O'Hagan lets him run the business much as his own, saying that he called him up one day and said that he bought a crane truck. "When I saw him, he threw me the keys and a cell phone. It's pretty much been mine ever since," Ross says.
Lift Haulage works as an independent entity, so Ross takes care of all the day-to-day business matters from booking work to arranging servicing of the truck. Based out of Bunnythorpe, Ross says Lift Haulage covers most of the lower North Island and will work mostly wherever required.
"Two hours of the base is roughly about me. I'll go further if I have to, but that's about it.
"I like doing this kind of work because it enables me to see my wife Emma and two kids at the end of each day. Some truck driving jobs keep you away from home and won't let you do that," Ross says.
Comfortable cab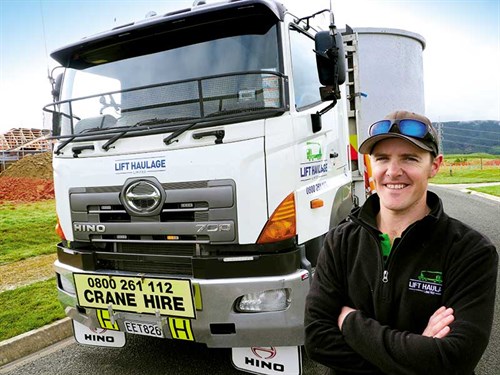 So while the Hino 700 Series truck shows its reliability with some impressive engine hours and a crane that operators must surely envy, it would all be for nothing if the Hino didn't provide a good operator experience and had the all-important street appeal.
"The truck is very good and comfortable. It's got a good seat in it, with good cab comfort," Ross says. "We've also added our own little touches to it—little personalised items that make it look good. 
"I had a brand new one [Hino] previous to this. That was a 2014 model, and I'm sold on them. I love them."
From what I can see, Ross is an excellent brand ambassador for the Hino brand. He's enthusiastic, trusts the brand completely, and knows that if he treats his truck right, it will do the same in return.
On a personal level, I do feel we have chosen the correct winner for the Hino Tough competition—both truck and driver.
A truck is only a truck until you put the right person behind the wheel. Putting the wrong person there will lead to all sorts of issues. I'd say that his boss Shane chose right with both the truck and the driver, just as we did. 
Check out the video
Click here to see the Tough Hino winner in action.
Keep up to date in the industry by signing up to Deals on Wheels' free newsletter or liking us on Facebook.