Restrictions on vehicles in Waterview Tunnel
---
Deals on Wheels takes a look at the restrictions placed on specific vehicles in the Waterview Tunnel
An alternative route for traffic around Auckland was first considered in the 1950s. However, it wasn't until 2012 that the plan was finally put in place and work began. Around 11,000 people at three different worksites were involved in the construction. These included a purpose-built pre-cast factory in East Tamaki, a disused quarry in Wiri, and, of course, the tunnel and motorway connections in West Auckland.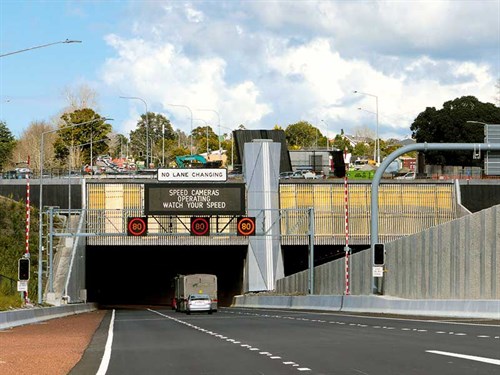 The Waterview connection opened on 2 July 2017 and is 4.5km long, connecting SH20 in Mt Roskill and SH16 in Point Chevalier. The tunnel itself consists of two 2.4km tunnels each with three lanes for traffic. It is now the longest road tunnel in New Zealand, nudging the Christchurch–Lyttleton tunnel (1.9km) to second place.
A specially made tunnel boring machine (TBM) designed in Germany and assembled in China was used for the construction. ALICE—as the machine was named—was transported to Auckland in 2012. Regular readers might remember seeing it gracing the cover of Deals On Wheels issue 238 (Sept. 2013).
Vehicles not allowed from using SH20 Waterview Tunnel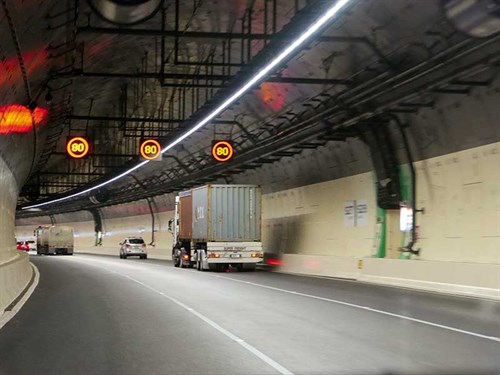 However, even with safety and security precautions in place, NZTA has placed restrictions on certain vehicle types from entering and using the tunnel.
As a result, any Dangerous Goods Vehicle (those requiring a placard), vehicles over 4.3m high, and any vehicle carrying an uncovered loose or bulk load are prohibited from using the tunnel and must follow a signposted detour route. Any HPMV (over-weight) vehicle will require a permit.
The normal speed limit is set at 80km/h but can be reduced to a maximum of 30km/h if required to help with the traffic flow. There are four speed cameras mounted inside the tunnel, so be warned.
Here's a list of the vehicles not allowed to use to the Waterview Tunnel
Dangerous Goods Vehicles. This is all vehicles requiring a placard.
Vehicles more than 4.3m high.
Vehicles carrying uncovered loads. Any liquid based or loose bulk loads (such as soil and green waste) must be covered appropriately to prevent leaks and spills.
Emergency service vehicles displaying a dangerous good placard (even under lights and siren unless there is an incident in the tunnel itself).
Safety measures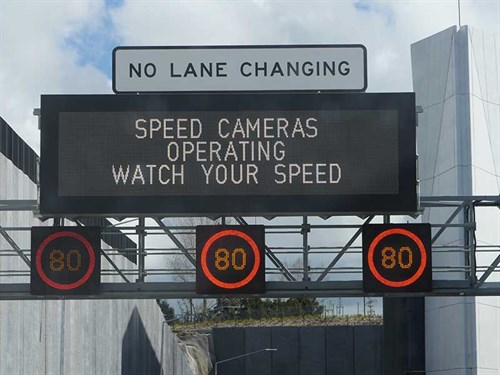 Tunnels, by their very nature, are enclosed spaces below ground level with limited access. The NZTA recognised the risk motorists stuck in tunnels would face if something went wrong inside the tunnel.
As a result, there are 18 connecting pedestrian tunnels every 150m between the two road tunnels to assist people escaping from one tunnel to the other. The tunnel is able to self-regulate in the event of a fire. Sprinkler systems are in place that automatically activates when high heat levels are detected, and there's a comprehensive drainage system that will channel the water away. The last thing the tunnel needs is to fill up with water from the sprinklers!
To assist with any incidents, a response crew is on hand 24/7 at the northern end of the tunnel. There's also a closed circuit TV with cameras every 60 metres. Included are automatic video incident cameras that can detect unusual traffic behaviour such as stationary vehicles or vehicles driving the wrong way. There's a public address system and full mobile and radio rebroadcast coverage, allowing you to listen to your favourite radio station as you traverse through. Ventilation fans are installed on the roof to remove fumes and emergency telephones are located every 150m.
Machinery used for Waterview Tunnel construction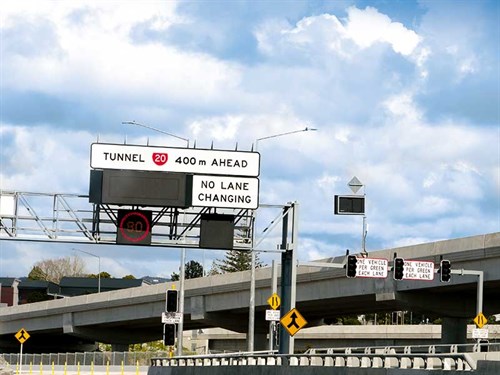 ALICE, featuring the 10th largest diameter (14.4m) in a TBM in the world, worked around the clock to cut through the rock and then install the pre-cast curved concrete segments that line the tunnel as it moved forward.
The top speed was eight centimetre per minute per hour. ALICE would bore approximately two metres and then install the exposed area with concrete rings, using these newly installed rings to then push itself forward again.
As the TBM crawled its way underground, a conveyor belt beneath ALICE moved all the rock and waste product to the tunnel entrance. This was then transported via trucks to a disused quarry where an industrial development is planned for the future.
About 800,000m3 of soil was removed and relocated to the Wiri site. After breaking through the last tunnel in October 2015, ALICE was dismantled and removed in parts from the site. Some key parts of the machine were returned to its manufacturer in Germany. As the TBM was designed specifically for the size and geotechnical conditions of the Waterview project, it was unsuitable for other projects in New Zealand.
Keep up to date in the industry by signing up to Deals on Wheels' free newsletter or liking us on Facebook.